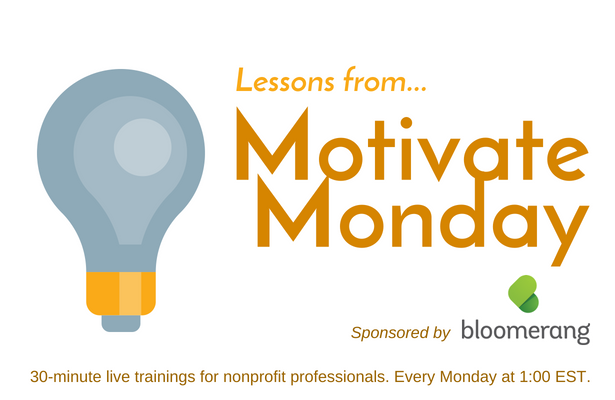 ---
Is today's fundraising climate more overwhelming than ever? Could it be that it's also always been more unpredictable than we've imagined and that the very nature of fundraising makes this so?
In this Motivate Monday session, "fundraising heretic" Mark Rovner of Sea Change Strategies joins us with his presentation, "What is Complexity and Why Should I Care?" To be clear, yes, you should care. Mark lays out what things look like here and now and how fundraisers can best navigate this current situation.
Mark's Bottom Line is this: the fundraising climate is complex because of situations that cannot be controlled or predicted. This new complexity requires new leadership strategies. We had thought fundraising to be predictable and easily replicable. That's becoming less and less the case.
A few of the many takeaways from this power half hour…
Mark explains complexity through hurricanes, showing a map featuring hundreds of predicted hurricane paths. This data has been generated by climate experts, expert tech, and computers. For those reasons, the level of predictability is high. What can't be predicted or controlled is more complex. Fundraising doesn't have these tools, contributing to its complexity.
Mark had an epiphany in 2016, after years of writing lots of content while mostly avoiding the politics of fundraising, that fundraising is mainly limited by organizational culture and structure than strategy and tactical know-how. And organizational culture is a complex system.
Fundraising has actually always been partly unpredictable and difficult to control. It's inherently complex. Each of us is a system and together make up a bigger complex system. Even our donor bases are complex systems. This all amounts to a system of systems!
Specific macro trends are making fundraising more complex, including tax law change, generational change, culture wars, and others.
Looking inward is necessary right now, because you can't expect to transform your organization without transforming yourself. You are a system, after all…
To gain insight beyond these bullet points (trust me, you need it, especially for right now and for beyond!), I suggest you plop down in a comfy chair with your beverage of choice and take a full listen. Navigating fundraising these days involves tricky waters, but when you have the tools that you need and know what to look for, you can gain a little more control in the face of adversity…and complexity.
Motivate Monday happens every week at 1 pm EST and is sponsored by Bloomerang. Grab a spot and be there to kickstart your week, share your wins, and gain fresh new fundraising wisdom.