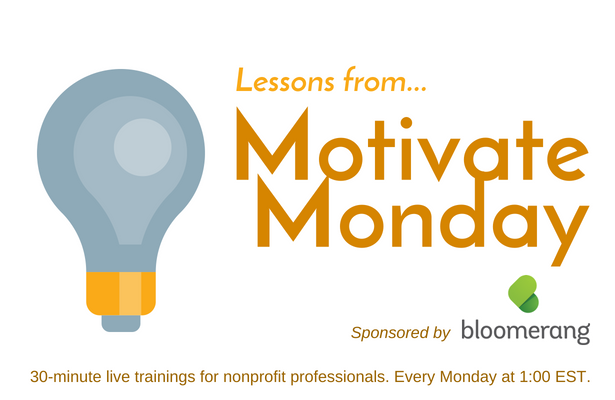 ---
Did you know that 83% of people who land on your main donation page won't end up making a donation? Luckily, with a few surprisingly simple tweaks, you can turn this sad number around.
Does your online donation form make it easy for your donors to give? During a Motivate Monday session late last month, Abby Jarvis, Nonprofit Education Manager at QGiv, delivered a valuable power half-hour with her presentation, 6 No-Fail Tips for Year-End Donation Forms. Abby has been with QGiv for over six years now. In her work there and with local nonprofits, she's focused on nonprofit best practices and data as a tool for raising more money.
A few cool things about Abby's tips? They're cost-effective. They don't require outside help, like designers or experts. You can do this all on your own! These tips are focused on building trust with donors, reducing anxiety, and removing obstacles from the online giving experience. Because as sad as it is, sometimes getting stuck means abandoning ship. As a donor myself, I've been there.
In fact, I've recently embarked on a mystery shopper project, and it involves mobile giving. Specifically, I've been exploring what the donor experience looks like via mobile, and how it can be optimized. Actually going to various nonprofit pages and going through the online donation process on my phone has been a great way to begin figuring this out. It makes perfect sense, then, that Abby kicks off her list with Tip 1: Make it mobile.
Do you want to create high-quality donation form compelling enough to turn uncommitted website visitors into supporters…maybe even monthly donors? Do you want it to inspire not only enthusiastic giving, but encourage your donors to put their trust in you? Do you want to create a fuss-free form that simplifies the whole donation process and moves things quickly? I can promise that if you're looking to make your donation form all it can be, then these tips won't steer you wrong.
So pour your beverage of choice, kick back in a comfy chair, and get ready for Abby's fabulous power half-hour. These are all tips that you can use right now. And you need them right now, because your supporters need you to step up and make their lives a little bit easier.