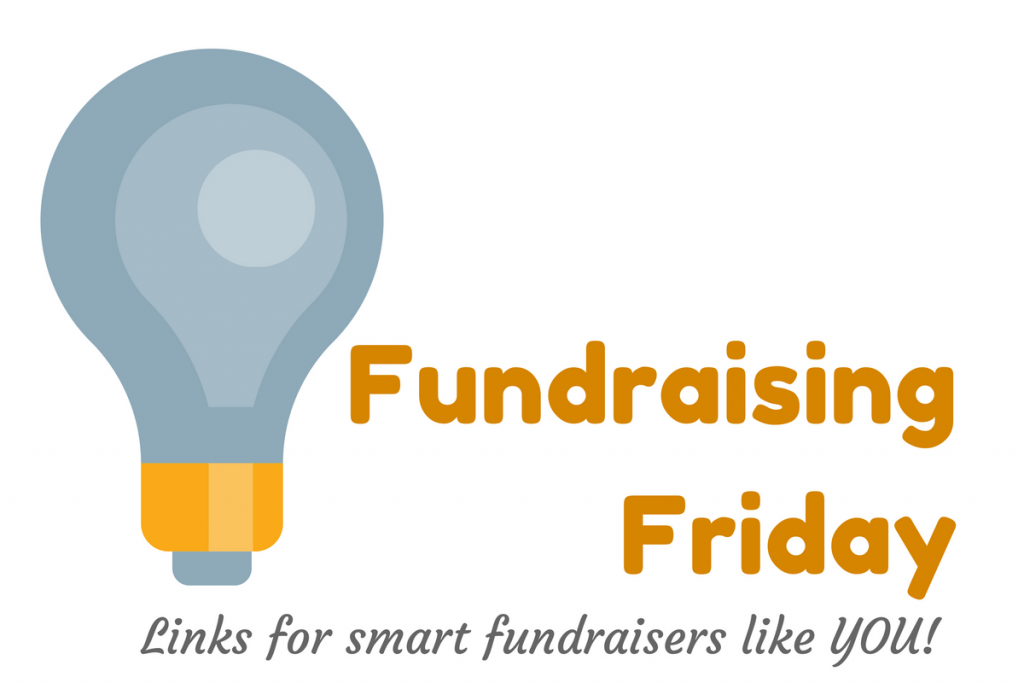 ---
Fundraising & Communications
We all know this simple truth: it takes money to make money. Yet getting your board to invest in fundraising and donor care can be next to impossible. Here's how to make your case — for your budget.
With the retention rate for monthly donors running at 90% and up, establishing your organization's monthly giving program makes sense. But many nonprofits take a set-it-and-forget-it approach. For monthly giving to work, you still need to communicate consistently, continue to ask, and upgrade. How are you upgrading your monthly donors? What's in My Mailbox.
How can you make every donor FEEL like a major donor? A good place to start might be Let's stop recognizing donors by donation levels. New from Vu Lee.
The nonprofit sector is a mass of missed opportunities. How? Helen Brown explains in A missed opportunity – and how to avoid itBoards and Executive Directors need to read these brief words of wisdom from Mark Rovner. An Owner's Guide to Your Development Director. http://seachangestrategies.com/an-owners-guide-to-your-development-director/
Persuasion is less about making people have a complete change of heart and more about finding common ground. The most persuasive people convince us incrementally—not by trying to change us, but by reminding us who we are." On Persuasion from Bernadette Jiwa.
7 Reasons Why You Might Just Love Doing Live Videos Instead of Recorded Ones. New from Kivi.
The very smart Steven Shattuck asks: Are We Sure An Automated Email Welcome Series For New Donors Is A Good Idea?
Spotted on Twitter: "Removing bar codes and donor numbers from envelope windows increased direct mail response by 16%, says @LeifWien from the Norwegian Association for the Blind and Partially Sighted."
I'm a big fan of subscription boxes. Bark Box, Sun Basket, Glossybox, Fit, Fab, Fun. I think I've tried them all! But have you ever considered subscription boxes for fundraising? Mark Phillips asks Where is the value in subscription box fundraising? 
In a truly stunning twist, authors of a study have learned that "nearly 59 percent of nonprofits said live events are critical for attracting new donors, but just 18 percent of donors said they've learned about a charity through a live event." Nonprofit Communications Don't Resonate With Donors. The Chronicle of Philanthropy.
Eight Myths of US Philanthropy. BUSTED. From The Chronicle of Philanthropy. https://ssir.org/articles/entry/eight_myths_of_us_philanthropy
EOY Fundraising Tips
An 84% increase in year-end funding?! See how…
Did you know that 83% of people who land on your main donation page will end up NOT making a donation? Luckily, with a few surprisingly simple tweaks, you can turn this sad number around. Learn how in this recorded Lessons from Motivate Monday. 
What's really driving the increase in online fundraising? Two words. Direct mail. 
Every donor is different. How can you use data to show all your donors love, while still being strategic? Lessons from Motivate Monday and the very smart T. Clay Buck. https://www.pamelagrow.com/11593/lessons-from-motivate-monday-focus-on-what-matters-a-data-inspired-look-at-setting-fundraising-priorities/
Are you struggling to "do it all" in year-end campaign planning? Download this free Fundraising Menu and order up your successful campaign! 
How can you inspire your donors with your donate button? Email call to action buttons go creative.
Archives
What can Van Halen teach you about fundraising? You might be surprised!
Do you think donor newsletters are passe' or not worth the time or trouble? Think again! She raised $20,000 (and no ask!) with her first donor-centered newsletter. What's in my Mailbox.