In the midst of reading a direct marketing book the other day this simple sentence made me pause: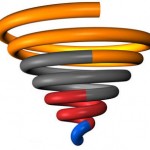 "One-step selling is very difficult."
How true!
Yet we expect every appeal letter to a new prospect to bring in a big fat check.  We expect that by slapping a "donate now" button on our website, the online dollars will begin to flow in.  We launch our first email newsletter and expect our subscriber list to snowball purely by osmosis … and we expect those subscribers to donate!
You'll always experience greater success by creating steps – and lowering your barriers to response way, way, way down … to enable you to capture the most prospective friends and supporters possible.
By creating a multi-step process – a funnel if you will – you'll begin to create a system where your prospect actually feels that he is choosing you – rather than you pursuing him.
What do I mean about multi-step?  For the small nonprofit organization without a lot of resources, social media can provide that very important first step — with its enormous potential for exposing literally millions of people to your mission.  Your next step would, of course, be driving potential supporters to your organization's email list.  Then you can begin the process of converting them to real fans and eventually supporters of your cause.
The mistake many organizations make in using social media is thinking that Twitter or Facebook is going to someday "bring in the big bucks."  Chances are it's not.  It is, however, the first step in your multi-step process!
---
New development director or executive director doubling up as fundraiser? Learn why about.com called Simple Development Systems: Fundraising for the one-person development office "a road map to success that can take the scary out and bring in a sense of comfort, self-confidence, and focus about what can and should be done.