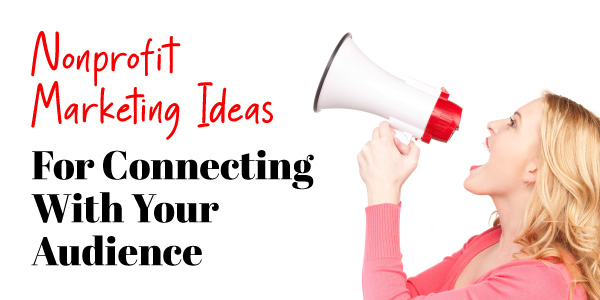 ---
Marketing your nonprofit is essential to keeping your organization well-funded and able to pursue your mission. However, continually coming up with new and effective marketing ideas can be a challenge, especially for nonprofits with limited resources. Fortunately, there's a variety of marketing methods nonprofits can take advantage of to grow their audience, while also being practical about their budget. 
Of course, when determining your nonprofit's marketing strategy, you'll need to consider not just what ideas your nonprofit is able to execute but also what will ultimately create the greatest impact on your target audience. After all, even the most well-written mailed fundraising letters will have minimal effect in courting an online audience. 
To help your nonprofit find the right marketing ideas for your audience, this article will explore six impactful ideas, including how to:
Take a multi-channel marketing approach

Sell branded merchandise

Launch a peer-to-peer campaign

Host a variety of events

Launch an advocacy campaign

Apply for a Google Ad Grant
These ideas range from leveraging existing digital advertising programs to creating entirely new initiatives to help further your mission and gain new support. Assess each option with your nonprofit's resources and operating capacity in mind. Doing so will point you towards the marketing ideas that make the most sense for your nonprofit at any given time. Let's get started. 
1. Take a multi-channel marketing approach 
Few supporters will convert to donors after viewing just one message from your nonprofit. For most donors, nonprofits need to create multiple touchpoints that purposefully move them along their donor journey to making a contribution. 
You can create more touchpoints and attract a wider audience with a multi-channel marketing approach. By contacting supporters on a variety of platforms, you'll build brand awareness and present supporters with more calls to action, increasing the odds that they will act on one. Not to mention, this puts your cause in front of different groups of supporters, drastically increasing the number of prospects who will see your messages.
Here are a few channels to consider using:
Social media.

Social media platforms like Facebook, Instagram, and TikTok have low barriers to entry, and they provide you with the potential to put your nonprofit's message in front of their extensive user bases. Research different platforms to determine which ones your target audience frequently uses and what type of content is likely to succeed on each platform. 

Email.

For supporters who have already signed up for your newsletter, given once, or otherwise interacted with your nonprofit and provided their email address, direct emails can help guide them to take specific next steps tailored to their engagement with your organization. 

Text.

Text messages have a high open rate, and their short format makes them ideal for asking supporters to take quick, specific actions. For example, you might send supporters reminders about your Giving Tuesday campaign, thank-you messages for donating, or alerts about an upcoming event. 

Direct mail.

Traditional mail may not be as fast as digital marketing, but it still has a place in nonprofit marketing, especially when used alongside an effective online strategy. Seeing your nonprofit in multiple contexts online and offline can build brand awareness, making supporters more aware of your nonprofit the next time they see one of your marketing campaigns. 
Adjust your content to each of these formats to make the greatest impact on your supporters while also ensuring each message strives to move supporters closer to making a donation. For example, your social media messages might use storytelling strategies to encourage sharing, whereas an email can provide hard facts and statistics about the benefits of supporting your cause alongside links to other resources. Finally, you might leverage direct mail to send supporters a donation request, then send a text message thanking them for their contribution. 
2. Sell branded merchandise
Creating and selling branded merchandise allows you to raise funds and market your nonprofit at the same time. Every time a supporter wears one of your branded t-shirts or walks around using a water bottle with your logo on it, they are promoting your organization. 
Think of it as the ultimate form of endorsement! Whenever someone sees one of your supporters voluntarily using a product branded to your cause, they'll realize that the individual feels a strong connection to your work and trusts your organization.
Challenge your nonprofit to get creative with your branded items' designs. While just adding your logo to a plain white t-shirt might theoretically get the job done, a more detailed, eye-catching design will go further to attract attention to your cause. Plus, if your items are high-quality and enjoyable to wear for their own sake, supporters will be more likely to use them in their day-to-day lives, increasing the number of situations where they will promote your brand through your merchandise. 
When you're creating your custom merchandise, remember to be thoughtful about which colors you're using in your design and products. Ideally, you want to use contrasting colors so your design grabs the attention of anyone who sees it.attention. Use your nonprofit's core visuals as a starting point, and consider how you can use typography and graphics to add more visual interest to your nonprofit's usual logo and color scheme. 
Set up an online store on your website so supporters can purchase them whenever they want. Additionally, consider other opportunities where you can sell items, such as by setting up merchandise booths at events. For example, during your annual 5K fundraising event, your nonprofit can set up a booth with items appropriate for the event like water bottles, baseball caps, lightweight t-shirts, and any other items your supporters might be interested in.
3. Launch a peer-to-peer campaign
Your supporters can promote your nonprofit to their friends and family and collect donations at the same time through a peer-to-peer fundraising campaign. Your supporters each have their own relationship networks, and peer-to-peer fundraising campaigns encourage them to introduce your nonprofit, putting your organization in touch with more potential donors. 
Hosting a successful peer-to-peer campaign is a multi-step process and can get quite complex as you manage multiple volunteers operating semi-independently. To keep your campaign on track, follow these three essential steps:
Recruit and onboard volunteers.

Volunteers willing to fundraise on your behalf are passionate about your organization, but they will still need guidance on how they can most effectively present and promote your cause. Host an onboarding session to familiarize them with your nonprofit's style and communication guidelines, provide technical help, and generally ensure they are on the same page as the rest of your fundraising team. 

Set up your platform.

As an online fundraiser, peer-to-peer campaigns require you to leverage a digital fundraising platform. Considering that these campaigns leverage your volunteers' personal relationships, look for a platform that allows donors to give directly to volunteers they have a relationship with. You can even explore platforms that add an extra promotional spin on your campaigns, such as one that enables add-on products. That way, you can combine your fundraising and marketing strategies by hosting a t-shirt peer-to-peer campaign or something similar. 

Monitor your campaign.

While your volunteers will host their own fundraisers, ensure your nonprofit stays in touch with them throughout the campaign. Provide encouragement and assistance as needed to help each volunteer keep their fundraiser going strong. 
Peer-to-peer campaigns can also be easily combined with other marketing campaigns to push your promotional efforts even further. As mentioned, you can use your peer-to-peer campaigns to promote your branded merchandise or market other outreach activities like events. 
4. Host a variety of events
Events have a variety of purposes, from raising funds to bringing your supporters together to forge a community around your nonprofit. Events can also be one of your strongest marketing tools for attracting new interested supporters and solidifying your connection with your audience. 
Today, nonprofits can attract a wider audience of supporters and ensure everyone is comfortable attending by offering a variety of events hosted through in-person, hybrid, or virtual means. Here's a breakdown of how each of these event types can help your marketing efforts:
In-person.

In-person events allow your nonprofit to build face-to-face connections with supporters, helping to build new relationships and strengthen pre-existing ones. Plus, in-person events tend to be a bonding experience as everyone involved participates in structured activities. 

Hybrid.

Hybrid events

give your supporters flexibility, allowing those who are able to attend in person to do so, while giving remote supporters an equivalent experience through live streaming. 

Virtual.

Anyone with an internet connection can attend your virtual events, and an event hosted online usually tends to be less expensive than an in-person event as you won't need to reserve an event space or hire catering services. This means many nonprofits are able to host a wide range of virtual events with less set-up than is required for an in-person event, creating more marketing and engagement opportunities. 
Some types of events are more flexible for different formats. For example, a charity auction could start hybrid and allow guests to bid online, then transition to virtual and let guests continue bidding over the next few days. 
5. Launch an advocacy campaign
Launching a new advocacy campaign is much more than just a marketing strategy. However, new initiatives like advocacy campaigns can simultaneously further your cause in a new way, while also putting your organization in front of a new audience. 
Digital advocacy campaigns can draw attention to all sorts of aspects of your nonprofit, from generally spreading awareness about your cause to trying to influence specific legislation relevant to your cause. Supporters who join your advocacy campaign will be encouraged to spread your message, take specific actions, and donate to your cause so you can continue campaigning. 
Of course, while advocacy campaigns can widen your audience and earn your cause more attention, planning one is a multi-step process and individual campaigns can last several months. Ensure your organization has the necessary resources and time to devote to an advocacy campaign before attempting to launch one. What's more, make sure it aligns with your organization's core mission.
6. Apply for a Google Ad Grant
You can promote your nonprofit with help from the world's most popular search engine! Getting Attention's guide to Google Ad Grants explains that through the program, eligible nonprofits earn $10,000 in advertising credits that they can then use to promote the most important pages on their website.  
Applying for a Google Ad Grant does take time, but your nonprofit can get started taking the necessary steps to prepare immediately, helping your application get processed and approved faster. 
Start by ensuring your nonprofit is registered with the appropriate websites and services, such as TechSoup and Google for Nonprofits. These will have their own requirements, such as already being a registered 501(c)(3). 
You'll also need to make sure your website is ready to be reviewed by Google. This means having a significant amount of valuable content and making sure your website is secure with an SSL certificate. From there, you'll just need to finish your application and await your approval or make changes to get approved when you re-apply. 
---
Your nonprofit should continually strive to attract new supporters, and finding the right marketing strategy requires planning, creativity, and sometimes even experimentation. Determine who your nonprofit's target audience is to create a marketing campaign designed to connect with them and inspire them to deepen their engagement with your organization. Good luck!
---
Author: Kevin Penney, CMO & Co-Founder of Bonfire
Kevin Penney has been working in digital media for over ten years. He's the CMO and co-founder of Bonfire, an online platform that's reinventing the way people create, sell and purchase custom apparel. He enjoys strategizing, working closely with his team, and hockey, exactly in that order.