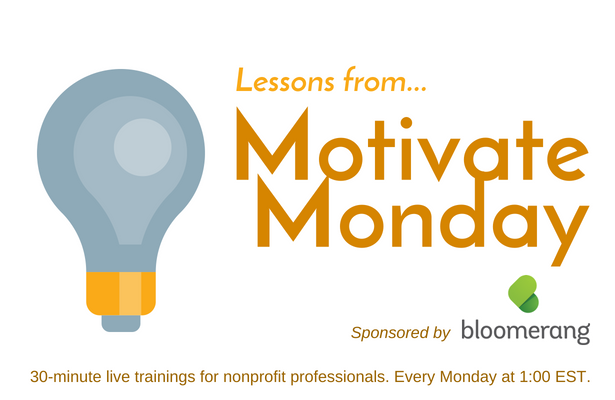 ---
When it comes to fundraising, what's really working during COVID-19?
This past Monday, Steven Shattuck (repeat MotivateMonday guest and Chief Engagement Officer for Bloomerang) returned, and he helped to answer this very question. Also worth mentioning: Steven is the author of our upcoming August Book Drawing pick, Robots Make Bad Fundraisers: How Fundraisers Can Maintain the Heart in the Digital Age.
His presentation during this power half-hour discussed some topics covered in his book. As we've said before, this unique time, despite the chaos, presents an opportunity. Many opportunities, actually. If you focus on personal touches right now, they'll be all the more impactful.
Some key points here:
How many personal phone calls should you make for a new donor?
What does the data about personal phone calls reveal?
How do phone calls impact a new donor making a second gift?
How do you retain new donors during COVID?
What does the cultivation timeline look like for doing that?
Times are still tough and we're taking it day by day. This MoMon couldn't be more timely. And this is expert information that you won't want to miss. Carve a chunk out of your day, kick back, and give it a listen. Be sure to enter this month's book drawing before it closes, too.