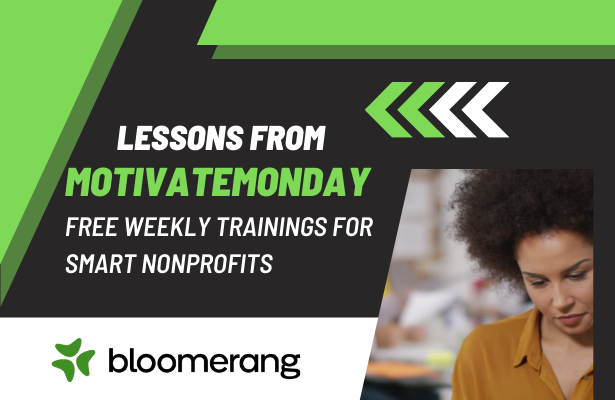 ---
We're winding down the year. Hopefully, you have all your plans completed between now and the end of the year. But, what do you do when the holiday's are over? In this week's MotivateMonday, Jeff Schreifels, Principal of the Veritus Group, shared five tips that as a fundraiser will help you start your new year strong. These tips will help you not only care for your donor, but for yourself as well.
How will you stay on track? Jeff recommends:
Stay vigilant with gift processing.
Check gift reports daily
If you know a gift was supposed to be received by year-end and you don't see it posted, follow up with your Data/Donor Ops team
Do what you can to support gift processing – and thank your team!
Promptly write thank you notes as gifts are processed – send within 24-48 business hours of the gift processing
Do a year in review.
There's no real down time in fundraising, but you can dedicate some time in your first week back at work to do a year in review
What strategies worked?
Which didn't?
What do you think you need to be more successful this year?
What opportunities do you want to pursue this year?
Do a caseload review and refresh.
You'll want to plan to do a refresh in January/February once the books are closed
Start now by assessing potential refreshes in your caseload
Are there donors you need to move to mid-level or back into direct mail?
Are there some donors you know need to move to a different tier?
You don't need to complete a full review and refresh right when you get back, but start getting an idea of where things have landed so you're prepared
Make time to thank your team.
Intentionally thank your internal team
Specifically note if people supported on an ask, provided program updates to donors, etc.
Share the impact of their support whenever possible
Take time for self-care.
Even if you take off some time over the holidays, you should still make an effort to prioritize self-care as you get back to work.
The holidays can be draining in a different way, and you've just made it through several challenging and hectic months.
Take a moment to identify your accomplishments and celebrate your successes.
Don't feel like you need to rush right back in at full force.
There you have it! Set aside 20 minutes to view this training. Download the slides by clicking here. View the presentation below.