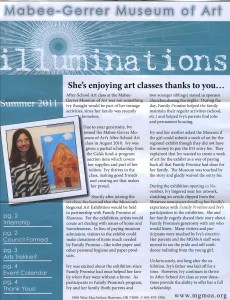 When the Mabee-Gerrer Museum of Art's latest newsletter landed in my mailbox last week I shouted "yes!" and immediately contacted their Director of Development, Tonya Ricks to ask about featuring their piece in an upcoming article.
Mabee-Gerrer Museum of Art, one of the oldest museums in the state of Oklahoma, is a member of the pilot group of Simple Development Systems.  And a core concept in the program is truly "getting" donor-centric fundraising and the lifetime value of a donor.  In one of our first modules participants were treated to a nearly two-hour webinar on Creating Profitable Newsletters featuring donor-centered copywriting king Tom Ahern.
Clearly, judging from Mabee-Gerrer's summer print newsletter, they had taken Tom's lessons to heart.
I interviewed Tonya about the changes the museum made to their quarterly newsletter – and the results!  If you're thinking of your organization's print newsletter solely as a communications or stewardship piece, think again.
---
How did the Simple Development Systems webinar with Tom Ahern change your newsletter's focus? Were there key takeaways and how is this summer issue of Illuminations different than previous editions?
The webinar helped us understand that our newsletter needed to be more donor-centered. Previously we reported on programs such as camps and workshops, upcoming or prior exhibits, new museum acquisitions, or a recent fundraiser. These articles were more general and factual and definitely didn't tell the story of how the donor's money made an impact.
How long have you been publishing Illuminations and how often do you mail?
The summer 2011 issue was the second issue of Illuminations. The first one was published in summer 2010.  Prior to these newsletters we periodically mailed a newsletter called Visions.
We plan to mail Illuminations on a quarterly basis.
Tell me a little bit about the collaboration aspect? Is this how you're produced the newsletter in the past?
After the webinar with Tom Ahern, Dane and I thought of specific stories that might be possible from each program area of the museum. These story ideas were discussed with the appropriate staff members. Then each staff member chose a story and wrote about it.  Next, Dane and I read and reworded the stories so that they were donor-centered.
Is the graphic work done in-house or out?
The newsletter was designed by a former intern/part-time worker.  She just recently graduated from Oklahoma Baptist University with a graphic design/art degree. The museum is located on the campus of St. Gregory's University and is one mile from Oklahoma Baptist University. We utilize student help as much as we can for projects.
What has been the result of your revamped newsletter?
This newsletter generated three membership renewals and two donations directly from the mailing.  This was the first time that we included a reply envelope with this newsletter. Previous newsletters did not generate any funds for the museum.
---
The Mabee-Gerrer Museum of Art was a member of our original Simple Development Systems pilot coaching program. Learn more about Nonprofit Newsletters | Basics & More™ and how it can transform your organization's donor newsletters. Click here.