I'll be hosting November's Nonprofit Blog Carnival and what better topic, as Thanksgiving approaches, than giving thanks?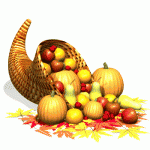 According to the author of Donor-Centered Fundraising, Penelope Burk, "90% of donors who start contributing to a particular cause stop giving by the fifth renewal request."
And fundraising expert Adrian Sargeant has noted that "Eight of 10 first-time donors do NOT make a second gift."
You read that right.
Eight of 10 first-time donors do NOT make a second gift.
It doesn't take a rocket scientist to know that it's far less expensive to market to existing customers than to keep going after new ones.  When you think about how your organization's thank you following your donor's first gift sets the stage for future gifts, you'll be putting an entirely different spin on saying thank you!
It's pretty simple really.  Saying thank you well – and often – is the most effective fundraising tool you have for building sustainable individual funding
Lately we're seeing more creative ways of saying thank you.  CharityWater recently posted this video, where founder Scott Harrison personally thanks a very special six-year old.  Handwritten notes are making a comeback.  Organizations are hosting 'Thank-a-Thons.'  Emily's List used email and their site to create a personal feel in their recent donor thank you.
We'd love to hear some of the knock-your-socks-off ideas that you've used to say 'thank you!'  We're particularly interested in how you might be using social media, including video, to express your gratitude.  Have you written a particularly heartfelt thank you letter?  Write a post!
Bonus points for offering advice that can work for small organizations with limited resources.
Want to submit?  Write a blog post, or even choose a recent post that fits the theme.  Go to BlogCarnival.com to submit your post using the form there or submit posts for consideration via email to: nonprofitcarnival@gmail.com – be sure to include your name, your blog's name and the URL of the post (not your blog homepage).
The deadline for submissions is end of day – Monday, November 28.  Check back  on  Wednesday, November 30 to see if we've included your post in the November blog carnival.
Even better?  By submitting your post to the blog carnival, you'll bring new traffic to your blog and help raise its online profile. If your post is selected for inclusion in this month's carnival round-up, you'll get a backlink to your blog post (cool for search engine traffic, no?) and the chance to get your writing in front of new readers.
So, what the heck is a Nonprofit Blog Carnival?
It is a  monthly round-up of blog posts on topics directed at nonprofits. Each month, the host creates a  theme and sends out the call (in a post like this) for posts on that topic. Then the host collects the pertinent posts together and offers these up in a round-up post towards the end of that month.
To find out what this is all about, check out the October Non-profit Blog Carnival, hosted by Lori at Wild Apricot.  Or read more about blog carnivals on About.com.
We can't wait to read your submissions – be sure to submit your posts by end of day – Monday, November 28.  Oh, and thank you for submitting!