Welcome to the Nonprofit Blog Carnival round-up for November!  It's becoming a tradition during the month of the US holiday of Thanksgiving that our November Carnival focuses on gratitude and demonstrating donor love.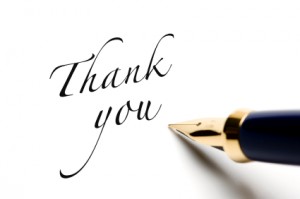 Why is donor appreciation such a critical component of fundraising?  Check out the AFP's 2012 Fundraising Effectiveness Report, where they reveal:
Every $100 gained in 2011 was offset by $100 in losses through attrition
Every 100 donors gained in 2011 was offset by 107 in lost donors through attrition
According to Penelope Burk, author of Donor Centered Fundraising, "new donors are expensive to get and rarely give much the first time."  What's more, "acquisition is more expensive than retention and often runs at a loss."
How are bloggers, consultants and organizations going above and beyond to thank donors?  Read on…
The Dean of Relationship fundraising, Ken Burnett questions if short-term gain is leading to long-term suicide in The Spirit of Christmas Past.
John Lepp and Agents of Good have created an simple, yet effective handwritten Thanksgiving card for a client.  What's that, you say?  Handwritten?  Yes, for a mere $199 you too can have your handwriting turned into a font.  No excuses.  Thanksgiving has passed, but here's an eminently swipe-able idea to begin planning on now for Valentine's Day.
Katya Andresen shared a very creative and donor-focused way to thank your donors online.
Kivi Leroux Miller offers up a terrific collection of thank you videos.  Which one will you swipe?
What does it REALLY take for your donors to stick around?
  Lori Jacobwith shares some hard data from the doyenne of donor retention.
Yes, even the President of the United States needs to thank his donors.  Jeff Schreifels wonders Why is saying "Thank You" so hard?
The Wild Woman of Fundraising, Mazarine Treyz brings us a timely post for small shop fundraisers on personalizing thank you letters.
Are you forgetting to thank your volunteers and staff?  Joyce Lee-Ibarra shares some novel ways to show your gratitude to these indispensable partners.
You may have had the experience of working in an organization where major donors were brilliantly stewarded…while others were left to fall through the cracks, receiving post card "thank you's" or worse – no thank you at all.  Ken Goldstein reminds us that Every Donor is a Major Donor.
If you were a Girl Scout, you'll remember the song:  Make new friends, but keep the old. One is silver, and the other is gold.  Joanne Fritz remembers and shares 5 Ways to Say Thanks.
Jo Miller reminds us to not forget to shower our grant partners with gratitude (an aside from yours truly: send out a letter thanking the foundation for their review even when you don't get the grant).
Looking for ways to make your thank you letter less…transactional?  This template will add a dash of creativity to your thank you letters.
Social media is a great place to show your funders some love.  Esther James shares tips.
What are 8 mistakes that nonprofits make when thanking donors?
Joe Garecht asks:  Are you stewarding your donors?
Years before I had ever heard of Penelope Burke or donor attrition, I was fortunate to stumble on Hildy Gottlieb's post, The Sound a Thank You Makes.  I've since shared it with countless clients and always recommended starting the day with 30 minutes of gratitude.
Ann Green with Thank your donors all year round.
Amy Eisenstein gives us 10 more ways to show your donor gratitude.
Gratitude doesn't need to cost money.  Betsy Baker has 6 ways to thank your donors creatively and inexpensively.
Fired up fundraiser Gail Perry weighs in with 11 Ways to Make Sure Your Donors Keep Giving.
Thanks to all who participated in this month's Carnival!  Remember:
"The single greatest thing you can do to change your life today would be to start being grateful for what you have right now. And the more grateful you are, the more you get." – Oprah
How are you showing gratitude?
The Nonprofit Blog Carnival will be taking a break for the month of December.  See you in 2013!