Is there still time to maximize your online giving?
You better believe it!  You've probably already sent your year-end letter (or are in the process) and created your email campaign.  What happens next?
I don't know about you, but I write one or two checks a month.  I do everything online – my banking, my bill-paying, and my charitable giving.  Chances are good that you're seeing more and more online giving too, as online giving continues its steady growth pattern.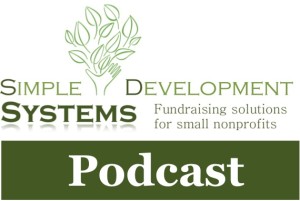 It's a given that when donors pay a visit to your website in these last remaining weeks of the month of December, they're not landing on your site to learn about your programs.  They're there to make a gift, plain and simple.  Why not make it easy on 'em?
In this Simple Development Systems podcast, Steven Screen of ÜberDirect, an advertising agency specializing in direct response marketing and fundraising for non-profit organizations, explains how your organization can skyrocket your year-end online giving through a "homepage takeover," also known as a lightbox.
It's another tool in your arsenal to make it easier for your donors.  Listen in.  Steven Screen Podcast.  And check out how Grow Report subscriber SIRE is using this technique on their website.