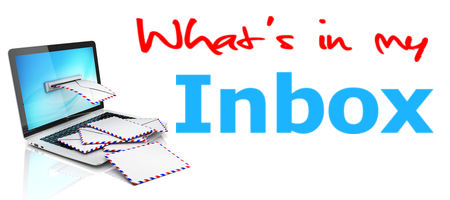 ---
Friend and FundraiserGrrl Rory Green forwarded this delightful email – Subject: Rescued – The Happy Story of Mr. Bungo – from Vancouver Orphan Kitten Rescue, along with the note: "No paid staff at VOKRA and no fundraisers and they tell better stories than many other orgs."
Here's a sweet, homey appeal for us cat lovers. The headline alone begs you to read the entire email: My name is Mr. Bungo and two weeks ago I almost died. Great photos of Mr. Bungo, a clear call to action and monthly ask, and social media links make this a delightful 'happy holiday update.'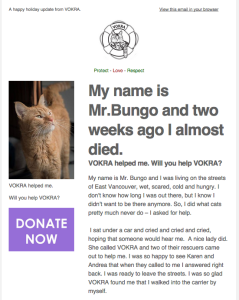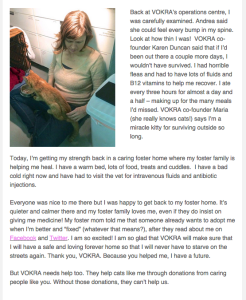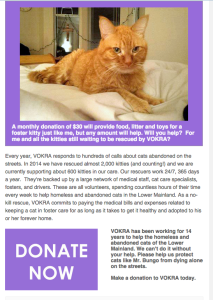 ---
What's the first rule in direct mail? Get it opened! Same with email, except you've got an even shorter window of opportunity before your potential reader clicks 'delete.' Here are just a few of the subject headers landing in my inbox:
To my core. (Humane Society of the United States) This one also carried the enticing pre-header: "Hi Pamela, we sent this message yesterday and I wanted to make sure you saw it," along with a video embedded directly within the email. A preheader is the text following the subject line when an email is previewed. A preheader is one of the first three items a subscriber sees when viewing an email.  Never ignore this critical part of your email real estate.
Check out these numbers. What's missing? (PFAW Membership)
Pennsylvania, thank you from Moms Clean Air Force!
If you don't, who will? (Brittany's Hope) Pre-header reads: A New Year represents an opportunity to make positive life changes.
There's Still Time to Save a Life in 2014 (Mothers' Milk Bank at Austin)Call me if this doesn't make you smile… (Advocates for Self-Government)
A Bird in the Hand…(Cornell Lab of Ornithology) Pre-header reads 'Is Worth Three in the Bush.' This year-end appeal is for a triple match!
You made the difference! Earthjustice 2014 year in review. (Earthjustice)
Pamela, Change lives in just one minute (Heifer International)
Who doesn't love a goat? (Mercy Corps)
Before the ball drops (WWF)
A new popular movement (Common Dreams)
New Year Resolution: Break up the Big Banks (Other 98%)
Match your gift $1 for $1 (NARAL)
If we don't, who will? (Potomac Conservancy)
Pamela, Will You Change Ben's Story? (Scholarship America)
Women's Health Protected, thanks to you (Campaign for Safe Cosmetics)
Happy holidays from the dogs and cats at Soi Dog Foundation
Still looking for that perfect gift? Here's an idea… (St. Jude Children's Hospital)
You're a force of nature, thank you (Ontario Nature)
Wrapping up a momentous year (Human Rights Campaign)
Helping Sanctuary horses is easy! (Montana Horse Sanctuary)
If you find e. coli in your water, will it be an emergency? (Splash)
Your Support Will Make a Difference in 2015 (Coalition to Stop Gun Violence)
Are You Getting Any Action!? (Brave New Films) The subject pre-header: Your support was invaluable, thank you! Inside: an invitation to upgrade to monthly giving.
Don't Let Women Be Silenced in 2015, Help Us Amplify More Voices (Women's Media Center)
It's because of you (Common Dreams)
Pamela, Just three shopping days left … (CARE Humanitarian)
Holiday Hopes for Justice (Lawyers' Committee for Civil Rights Under Law)
The cutest last-minute gift idea ever (Best Friends)
Don't Delay, Make Your Year-End Gift of More Music Today! (Concord Conservatory of Music)
The 2014 you made possible (Mercy Corps)
Last Minute Donation Ideas for the Holidays (World Wildlife Fund)
Last chance to save dolphins this year (Oceana)
Which of these subject headers would make you open? Listen in on yesterday's Simple Development Systems podcast to get the verdict. And for help crafting your headlines, check out the nifty Emotional Marketing Value Headline Analyzer, from Advanced Marketing Institute.