"When Millennials Take Over" is an invaluable tool that truly reaches far and wide as far as its audience goes. Notter & Grant have written a book that will benefit any person working within any kind of structured business organization today, in 2015, or who will be within the next 10 years. However, their newest offering traverses beyond where the current generation will ultimately end, for the authors have provided a framework to provide insight on how generations are shaped and how they work.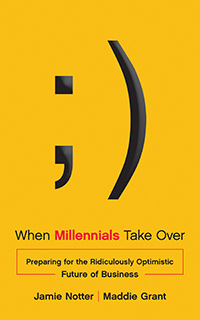 This book is not in defense of millennials. Grant & Notter aren't here to lavish them with praise, place them high up on a pedestal, or, alternately, to criticize them. Nor do they attempt to simplify them. In fact, they view millennials as no better or no worse than any other generation. The authors explain their reasoning for their choices early on: millennials are at the forefront of a business revolution and occupy an important and very specific socio-historical position, during a time when the business management is transitioning from a 100 year-old hierarchal machine structure into something decidedly more engaging and human.
The revolution is unstoppable and perhaps a bit overwhelming but this book is a giant step in helping businesses to deal with it all. Notter & Grant explain why millennials are where they are and what circumstances shaped their generation to make them who they are. Then, they delve into what their position in history means for the business world. They answer the question of what business looks like today and what it will look like in the future. Plus, the book is chock full of case studies that help a great deal, depicting real world examples of how organizations are dealing with the monumental change brought on by an influx of millennial members of the workforce.
I honestly can't recommend this book enough. Whether you're a leader or involved in today's workforce in some other measure, "When Millennials Take Over" is a must-read.