---
Guest post by Simple Development Systems' member, Rachel Ramjattan, CFRE
Have you ever had one of those moments when someone special is hurting and you're too far away for a hug? A few weeks ago my friend and colleague, Sandy Rees, lost her beloved horse, Harley. I felt her heart shatter so I did the only thing I could.
I made her this card, confident that it would bring her comfort.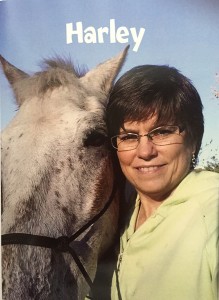 Her reaction blew my socks off!
Like me and Pam Grow, Sandy Rees is serious about #DonorLove. We teach development professionals how to cultivate strong relationships with supporters. Though it's not easy to impress us (hey, we spend more time looking at donor communications than "normal" people), she was blown away.
Sandy immediately saw how cards like this can help her clients make donors feel special. Sandy even made a video about it.
Now that Sandy's told you why cards like these score home-runs with donors (personal, relevant, timely) here's how you can do it…
I use an inexpensive tool called Send Out Cards to create and send cards to one person or thousands without having to pick 'em, write 'em, print 'em, stuff 'em, seal 'em, stick 'em, pack 'em or lug 'em to the good ol' United States Postal Service.
What? A donor mailing that I don't have to touch? And it's a real greeting card that donors receive in the mail with my own handwriting? YES!
You can create campaigns (one or more cards) that go out to a single person or a huge list on a schedule you create. Design your card series ONCE and delight your donors all year long just by adding their names to the campaign – ONCE – Send Out Cards does the rest.
Your donors will rarely (if ever) have received such personal, relevant, timely communications from another nonprofit. Talk about a way to stand out from the crowd!
Here are five ways I use Send Out Cards' automated campaigns for #DonorLove.
Welcome series for new donors/event attendees
Major donor cultivation
Save the date, event invitations
Sharing impact stories
Sponsor cultivation/renewals
Many of you likely work in small development shops where you don't have enough time to scratch your heads much less send out personal, hand-signed cards. I'm right there with you. That's why this tool can be a life-saver. It's helped me get more organized while saving time and money. Most cards cost less than $1.17 + postage, and postcards cost just 39c.
Your donors deserve the best.
How do you give it to them when there's not enough time? Work smarter, not harder. Email me at rachel@nonprofitplusteam.com to request a quick demo.
Or try Send Out Cards FREE on me.
Go to www.sendoutcards.com/rachelnpp
Click on the 3 horizontal lines in the top right corner
Choose Send a Free Card
Whatever you do, take your donors' breaths away! They'll reward you for it.