This blog was written for and published by Pamela Grow of Basics & More™ Fundraising.
---
Thank you, Pamela for being a great colleague. She introduced me to the webinar phenomenon and I've not looked back since! So, when she sends me a question, it's a great opportunity to give back.
One of Pamela's members recently asked her about Monthly giving pop-ups and how they work (or do not work) and what the negative or positive impact could be  on your donations. So, I had to do some research because pop-ups work. But they can have a negative impact on your one-time donations.
Second, I'll address a Do-not: the troubling habit of automatically pre-populating the monthly giving option on online donation forms.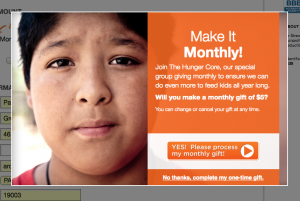 Let's start with the Monthly giving Pop-ups first. I've seen a few organizations do this, quite successfully I might add.
Here's how it works: A donor goes to the web site, makes a one-time donation, hits submit and a pop-up (also called light box) comes up that asks the donor to consider to making the gift monthly or to click no, just process my one time gift.
It's akin to what we at Reader's Digest used to use in direct mail appeals, the so called 'don't say no note'. it was a little slip in the reply envelope (or a message right there), just before the donor sealed the envelope and finalized the reply form.
Pop-ups are a powerful technique that works as a last option to persuade the donor to reconsider joining as a monthly donor. The donor will consciously hit the button and he or she knows that it's a commitment to giving monthly.
Some pop-ups will calculate the monthly amount based upon the one time donation the donor at first is planning on. It's us one third of the one time gift.
If you can organize pop-ups with your online donation processor, by all means, I recommend you test it for your organization. And here's why:
Because if you can convert a donor at the point of donating to give monthly and they commit to it, you've just increased the value of that donor many fold.
What's extremely important to review though is if this creates any "donation abandonment ", because that means the donor does not do anything and you've just lost a donation.  But if you test it and you see an increase in the number of donors who says yes to a monthly gift, you've just increased those donors' values.
It's really part of a general mindset when it comes to anything monthly giving. Think long-term!. You may have to sacrifice some short-term money for long-term gains. The more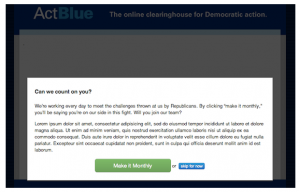 motivated you are to grow your monthly giving program, the more focused you are on the long-term, the more monthly donors you'll generate. In other words, this may create some donors to drop out before completing their one time donation, but it may also create a lot of new monthly donors. Absolutely worth testing out and evaluating.
If you find that you do see a lot of donation abandonments, you may wish to do the pop-up at a later stage in the donor cycle. For example, you let the one-time donation go through and create a pop-up after the donor gets their one time donation thank you. Worth a test. You've received the short-term funds, now try to convert them to longer-term donors.
Also, your system may now allow you to go back to the abandoned donation processes and find out why that was. Maybe it had nothing to do with the pop-up at all?
So, my recommendation, if you can do pop-ups (light boxes), go ahead.
What I see as a big Do-not though is the automatic pre-population of the monthly giving tick-box. Some online processing systems do this. I'd like to dissuade you from doing this. Why?
Because when donors join your monthly donor program, you want them to understand (and celebrate) that they are indeed making a commitment. You don't want them call you up after a month, in a rage because because 'they never authorized you to take money out of their account'!  For many donors, online giving is still relatively new and they may not realize what they're doing when they hit the button. They did not realize the monthly tick box was automatically set that way.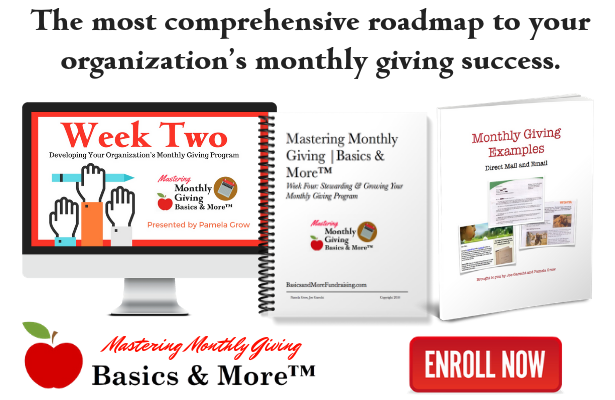 To add insult to injury, many online donation systems don't even recognize in the email confirmation that the donor signed up for a monthly gift, so it might take some time before the donor finds out that their card gets charged for a huge amount they meant to give one time. Unlike pop-ups, pre-ticking the recurring box does not change the amount.
This is just bad stewardship if you ask me. We live in a confusing world so let's be clear on what we're asking the donor to do. Is it a one time donation, that's the form they'll fill out. If they want to actively tick the box themselves to make this gift recurring, that's terrific. They realize what they're doing.
And of course, if you're actively appealing for monthly gifts  to donors with a special email appeal, direct them to the recurring only page, so they again know what they're committing to. Having a 'make this recurring' tick box is great but you want the donor to make that choice. And more and more will.
If you make sure the donor always feels in control, you'll keep that donor for a very long time!
---
Erica Waasdorp is President of A Direct Solution, located on Cape Cod, Massachusetts. Erica lives and breathes direct response and fundraising and can be considered a Philanthropyholic.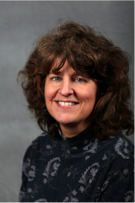 She works with non-profit clients all over the country as well as internationally, helping them with their direct mail, email, annual fund campaigns, monthly giving, PR. She is also the US Ambassador for the International Fundraising Congress (IFC), held in the Netherlands in October.
Erica Waasdorp published one of the very few books on monthly giving, called Monthly Giving. The Sleeping Giant. She co-authored the DonorPerfect Monthly Giving Starter and Marketing Kits and she regularly blogs and presents in person and via webinars on anything direct mail, annual appeals and monthly giving. For more information, see www.adirectsolution.com
For more information about monthly giving and free resources, go to www.adirectsolution.com or for questions, contact Erica at erica@adirectsolution.com
Also reviewed, http://malwarwick.com/three-online-strategies-to-improve-a-monthly-donor-sustainer-program/