Why Email?
According to Convio's latest Nonprofit Benchmark Study, online giving grew in 2009 by 14 percent – despite the economy.   Even better news?  Small organizations grew the fastest.  Convio reports that smaller organizations "grew their online revenue by 26 percent, and gifts by 32 percent."
Along with establishing daily and weekly processes for grants, public relations, and individual giving, Simple Development Systems will include a systematized process for email marketing for the small nonprofit organization.
Like social media, I feel strongly that email marketing's low cost and ease of use makes it another tool that levels the playing field for the one-person nonprofit development office.
That means that you can play with the big boys.
But you have to know how.
I'm still in the process of learning and have read a number of excellent reports including Convio's Study for 2010 and Lisa Sargent's 99 Nonprofits.  I also subscribe to a number of nonprofit – and internet marketing gurus newsletters.  Why?  With the exception of the mega-million-dollar nonprofit organizations out there, few organizations are doing it right and oftentimes in my career I've gotten much more usable knowledge from marketers than from nonprofit gurus.
Why Monthly Giving?
I've also made no secret that I believe monthly giving is a God-send, particularly for the small nonprofit.  Monthly giving simply makes good sense.  I've implemented a few direct mail monthly giving campaigns but when a client recently asked me to create a monthly giving email launch, I found myself a bit stymied.  Typically you begin a monthly giving launch with an appeal to your organization's most loyal donors — those individuals who are already enthusiastic supporters.  We were launching to an unknown group of prospects.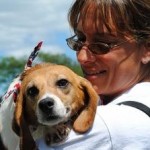 And then, as if by divine providence, Best Friends Animal Society's invitation to join their monthly giving campaign landed in my in-box.
Best Friends has an amazing mission.  They're one of those organizations that seems to do everything right, from their well-designed, totally engaging emails to their easily navigated website to the plethora of stories they regularly feature on the Sanctuary's animals.
Their monthly giving email launch was no exception.  Their persuasive pitch was one of the best pieces of nonprofit email marketing I had seen, so  I shot off an email requesting an interview with the individual responsible for Best Friends' monthly giving email campaign.  Last week I connected with Natania LeClerc, Web/Direct Mail Coordinator for Best Friends Animal Society on the phone to talk about BFAS's monthly giving email launch.
---
Has monthly giving always been an option for donors at Best Friends?
"Monthly giving has always been an option at Best Friends but it was never clearly defined.  We had another program, Guardian Angel already place and we transitioned our monthly giving option into an entire program with a name and feel to it that would make our donors understand what their gift meant."
How did the Guardian Angel email launch occur?  How did you segment your email lists?
"We first launched Guardian Angel to our email list in October of 2009 only to our members who were not currently enrolled in monthly giving.  We followed up in March with a string of email messages targeted to any new members we had gained since October.  And then we followed that up in June to a mailing to everyone on our email list that was not a monthly donor."
Does Best Friends include a gift string on their online donation page?  Why or why not?
Currently, we do not offer a gift ask string with radio buttons, etc. but it is in the plan to do so. We had some programming restrictions with the coding we had in place, but this will soon change as we are updating systems.
What's been the response to BF's Monthly Giving program?  What kind of increases have you seen to your individual giving?
Since the close of our last fiscal year, we've seen a 20% increase in our monthly revenue.
How are the wonderful stories used by BF selected?  Is there a certain type of story that you feel works better for monthly giving?
We get updates constantly from our Animal Help department, and this creates a wonderful current set of resources for stories to report back to donors with. Monthly donors are the backbone of fundraising. They help an organization budget for unplanned emergencies – so, oftentimes the best stories to illustrate how monthly giving is instrumental, is to talk about an animal that needed emergency surgery or special care.
What advice would you give to the small nonprofit organization looking to launch a monthly giving program?
"It's important to stress the benefits for both the donor and the organization.  'If you sign up for monthly giving, you'll get fewer communications, it saves us (the organization) money, you'll be making a greater impact in the lives of animals.
It's also important to target new donors during the 'honeymoon phase' when they've first made a gift to your organization using a series of welcome emails built around telling your new donor how their gift is making a difference. "
Are there specific reports, books or courses that you would recommend for a nonprofit looking to begin email marketing?
Sign up for all the email newsletters you can – these often advertise online seminars (many of them free). Convio always puts out whitepapers for online activity as well as general fundraising; as well as NPT (NonProfit Times), the DMA (Direct Marketing Association), Frogloop is a great blog for online marketing, FundRaising Success Magazine, Network for Good, NTEN (nonprofit technology network)…there are many out there. Also sign up to receive e-updates from other nonprofits – try orgs in your same category, as well as orgs that are successful in general. You never know how you'll be able to apply a concept to your own nonprofit.   Test different things and see what works for your audience.
Additional Resources
Spotlight On Sustainers – Part One
Spotlight On Sustainers – Part Two
---