Okay, I'll admit it: when I've got some time to myself, I love me some Netflix and chill. I recently took a chance on one of their comedy specials, which are often hit (hilariously funny and engaging) or miss (a complete dud that I turn off midway). This one, featuring burgeoning comedienne Cristela Alonzo, was a total hit, and my eyes were glued to the screen from start to finish. Cristela treated her audience, from those who filled the thousands of seats in the auditorium, to those watching at home, to over forty minutes of standup. Her routine was peppered with comic gold, mainly due to her unique perspective and knack for stellar storytelling. Cristela threw herself into it 1000%, using her words, voice inflections, gestures, body language, and facial expressions as tools to share her narratives with her audience.
Her onstage performance was utterly dynamic, and there was nary a dull moment. In less than an hour, Cristela managed to tackle cultural stereotypes, share her personal history with sharp wit and humor, and bring me to tears. Yes, a comedienne made me cry, and you certainly don't hear that every day. But then, through employing an ingenious twist of irony, she was able to achieve a complete 180, and just seconds later, I found myself in stitches once again, laughing through my tears.
I don't want to spoil the special for you, because I think it's worth watching, and if I let the cat out of the bag right here, I'd probably dull your potential to really experience the emotional impact of her stories, especially the one that made me do a total about-face.
Emotional impact. Do those two words come to mind when you think about great comedy? For me, now they do. It's not just about the laughs anymore.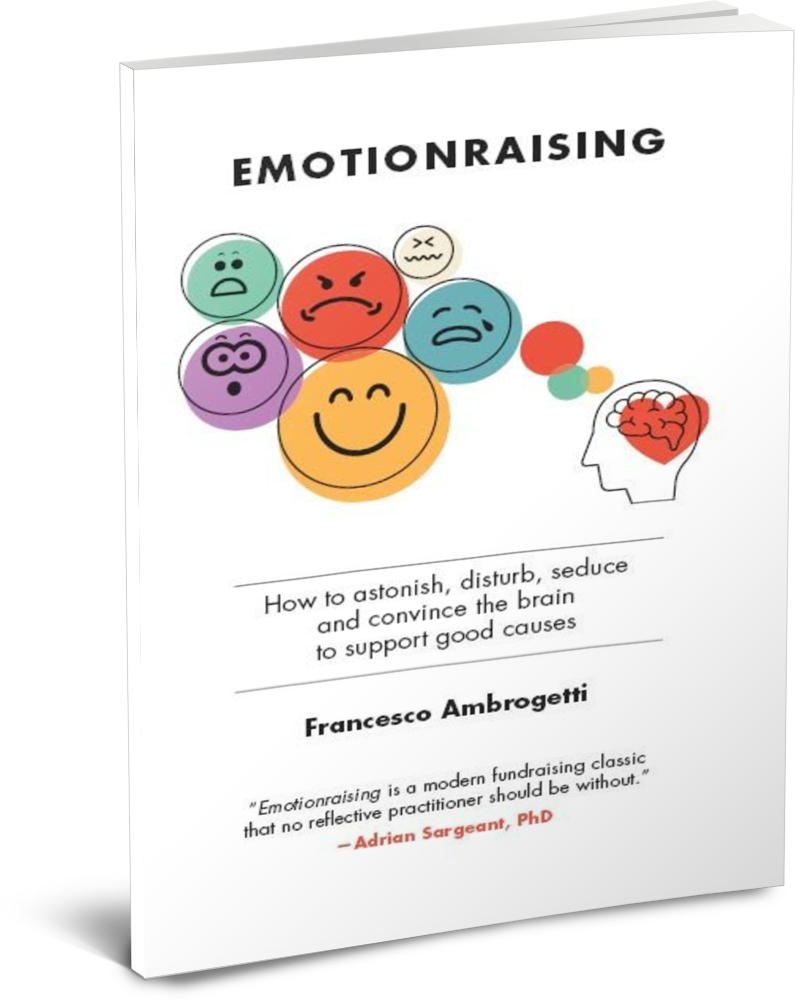 And in diving into hot-off-the-presses Emotionraising, a book straight from veteran fundraiser Frankie Ambrogetti, my mind instantly returned to Cristela's standup special, and I discovered a surprising connection between the two.
Cristela has the keen ability to inspire such an incredibly wide range of emotions in her audience through her comedy, while Frankie's book is a magnificent, comprehensive tool that will enable fundraisers to inspire a wide range of emotion in their donors. The goal of the comedienne is to make her audiences laugh and feel good. The goal of the fundraiser is to inspire donors to give, and emotion is a tool that can galvanize supporters to not only give, but give passionately.
Through utilizing a framework that is foundationally supported by the latest in neuroscience and behavioral science research, Frankie has instilled confidence in his fellow fundraisers and created an invaluable resource that belongs in every fundraising library. He truly understands not only the importance of emotional complexity, but how to capitalize off these nuances within the space of donor relationships.
The realm of emotion provides ample opportunity for fundraisers and comedians alike, because it exists on such a broad spectrum. Happiness has varying degrees, and so does sadness, and so does empathy. Through the construction of an Emotionmeter, Frankie taps into the potential of this idea. In Chapter 5, which marks the beginning of Part Two, we're introduced to this concept, as well as a number of successful visual ad campaigns that worked because of their ability to evoke emotion in a compelling way. Like comedians who tap into their audience's emotions, fundraisers should be equally aware that inspiring emotion is very reliant on both timing and context, and the examples are strong reminders of how and why emotion in fundraising can work toward the end goal of getting donors to give.
Frankie covers some of that spectrum, including negative feelings, fear, sadness, anger and disgust, surprise, and happiness. In the following chapter, he lays out ten techniques and methods for using emotional fundraising and truly bringing it to life, rationalizing their basis in psychology, communication, and marketing, as he explains each one. Plus, a chapter within part three emphasizes facial expressions, which are 55% of the equation when it comes to face-to-face communication with another human being. The tone of our voice and the words we say generate far less impact than I ever imagined (38% and 7%, respectively), because that's how our brains are wired to process these encounters. Sounds like a world of help for when it comes time to meet your donors in the flesh, doesn't it?
Just as comedians who aim to make their audiences laugh frequently use storytelling as a mode of evoking feeling during their comedy routines, fundraisers who want their donors to give frequently utilize storytelling to evoke feeling in their supporters, and that feeling is what often motivates them to give. We both communicate goal-oriented narratives to the respective groups of people that we interact with. Furthermore, we are first and foremost human beings, and storytelling is inextricably tied to our humanity, so what better way is there to view being a fundraiser than as an extension of that humanity?
I am forever using the words "delight and inspire" when referring to my own personal storytelling goals, but the reality is, it runs so much deeper than that. Make use of the spectrum that's available, and examine both internally (yourself) and externally (those around you) to find out what really makes people tick. It's a never-ending quest, but it's an amazingly satisfying adventure to have, and this book will help you get there.
I cannot recommend Emotionraising highly enough, both for fundraisers passionately engaged in promoting their causes, and for human beings who want to understand each other better. Frankie's aptitude in the science and methods behind emotional complexity shine through, and so much of his imparted wisdom is undeniably applicable for fundraisers everywhere. What's more, they retain a sense of permanency, and in our chaotic world, sometimes, that's exactly what we need.