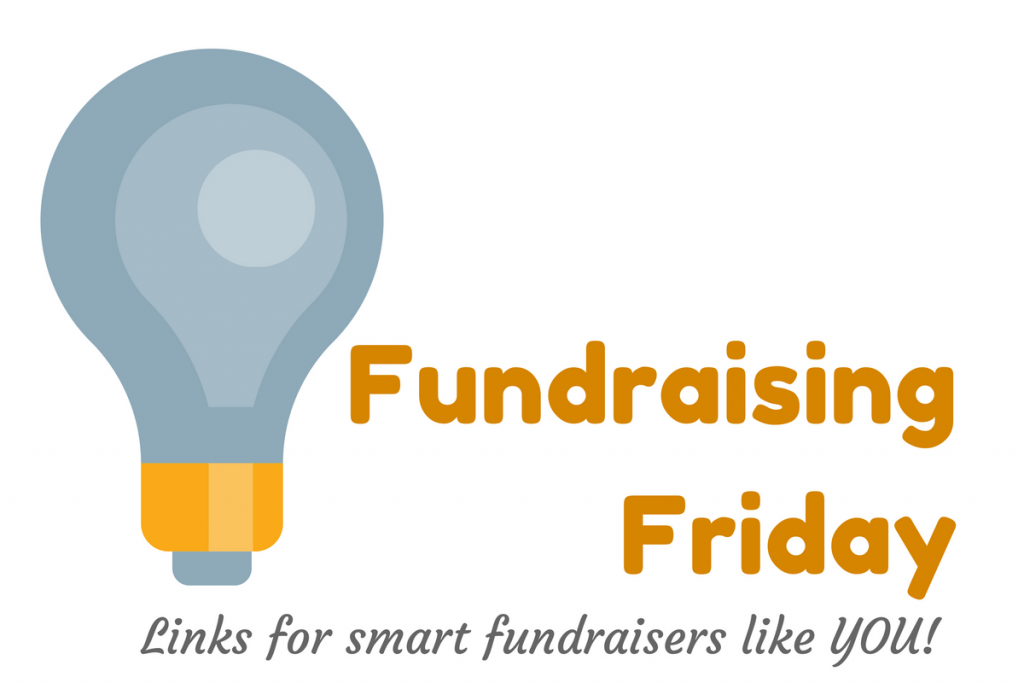 ---
See why Mary Cahalane calls this week's What's in My Mailbox "a smart ask – not limited to monthly, but the way you'd do monthly."
We've got a trio of feral kittens we've been caring for (they're on medication and as soon as they've gotten a clean bill of health, they'll be adopted), and winning them over has been sheer delight. If you're a cat fancier (like me), you're sure to appreciate Ancient battle-scarred feral cat meets tiny kittens. This week's Power of Nonprofit Storytelling.
"I just wrote an offer for $435K!" a good friend, one of the most successful federal grant writers in the country, told me about her recent real estate endeavor. "Good thing, too," she added, "because there are NO GRANTS right now." She then revealed to me that she hasn't worked since May! Fundraising in a Climate of Political Uncertainty, a revisit to a 2008 post.
Our good friend, Andy Robinson, one of the best trainers in our field and co-author of Train Your Board, is developing a brand new Training, Facilitation, and Consulting Certificate Program for smart consultants and trainers. If that's you, check it out.
What's often missing in our donor communications, particularly our email communications, is consistency. Or, rather, what I refer to as the conditioning piece. The very best email marketers I observe are those who maintain a regular schedule of communications. Usually, that involves a weekly email, arriving on the same day and time, without fail. Training Customers. New from Seth Godin.
Is our sector driven by "anecdotes and passed-along rules of thumb largely free of any empirical or scientific validation?" A thought-provoking two-part series on The Agitator, Eminence vs. Evidence In Fundraising and Eminence vs Evidence In Fundraising – Part 2.
Should nonprofit employees be expected to give? It's a question that arises often and usually results in an angry debate. Why You Should Always Give to the University You Work For. What side do you fall on?
I can relate to Mary Cahalane, can you? Are you feeling stressed? Why good might be better than perfect
From the Archives
You've hit a rough patch. Your latest appeal isn't pulling like you thought it would (even though you followed all the best direct-mail guidelines), the donor you're trying to set up a meeting with appears to be avoiding your calls, and then the day's mail brings a declination letter from the foundation that has funded you for the past three years. How Do You Keep Your Passion for Fundraising Going?
Learning Opportunities
We're bringing together an all star team of fundraising experts dedicated to one goal: your year-end fundraising success. Through a series of seven+ live webinars (they'll be recorded and yours to keep forever and ever), you'll be guided through the process of creating your most successful year-end fundraising campaign ever. From your organization's best story and campaign theme to your letter, to your online campaign, to your social media campaign, to a plan for bringing everyone on board, we'll leave no stone unturned in our quest to ensure that you beat your goals. And I am absolutely psyched to report that Beate Sørum, one of the world's leading digital fundraising experts, will be joining us. You might be surprised at all the money you're leaving on the table due to poor donation form design. Beate will set you straight. Learn more and see the full line-up of presenters here.
How will you be *warming up* your donors for year-end fundraising? Join us for a very special edition of Motivate Monday, my free weekly webinar series, when I team up with my good friend, Erik Anderson, to give you real world examples and ideas you can begin implementing now. Be ready to take notes! Save your seat here.