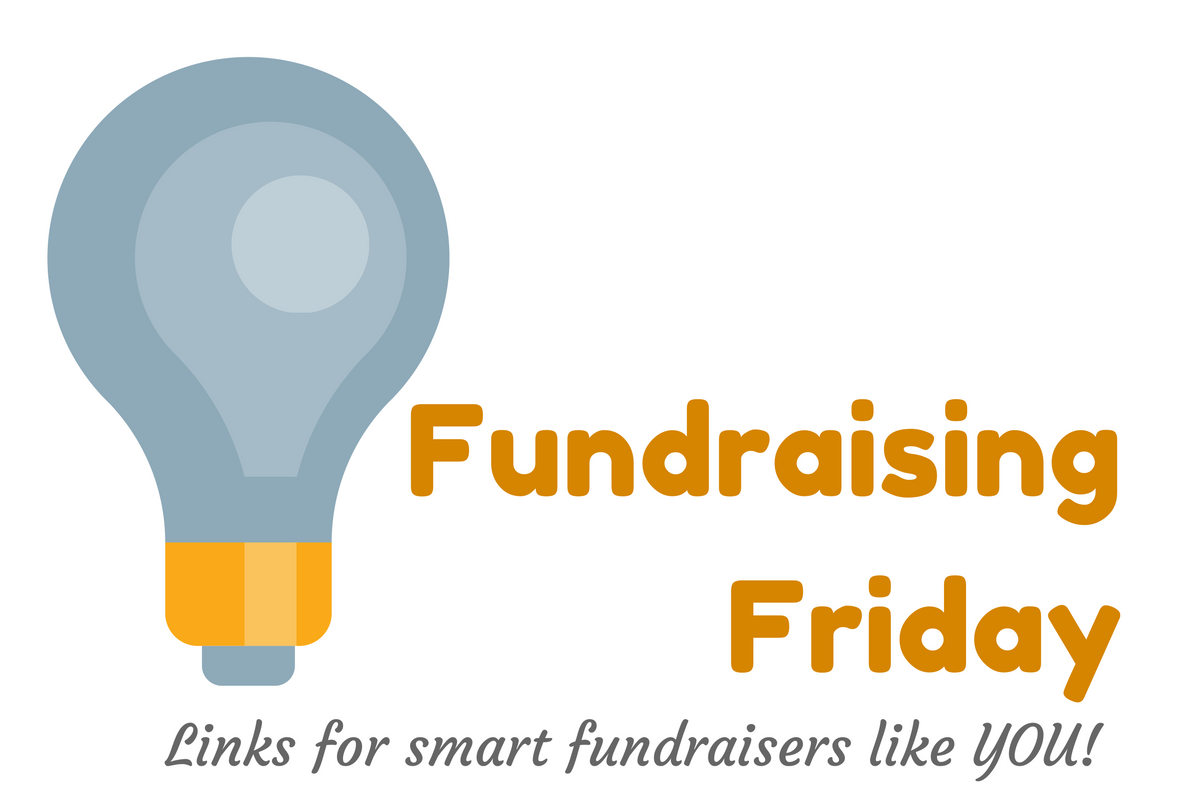 ---
When it comes to your digital communications, are you keeping it simple and direct? This week's What's In My Inbox.
Can you believe it?? Year-end fundraising is right around the corner. How are you warming up your donors? This week's What's In My Mailbox.
How do you get more people excited to attend your events without being pushy? And how do you boost donations during your event with technology? John Haydon with 5 Tech-Savvy Fundraising Strategies for Your Next Event.
When should you stop snail-mailing and emailing people? New from Kivi Leroux Miller.
What does your organization's culture look like? Adrian Sargeant needs 16 minutes of your time to give feedback for a major study on how best to measure an organization's "philanthropic orientation." Take the survey here.
Are there secrets to retaining corporate and foundation support? I'm a big fan of sending out thrice-yearly *foundation news*, repurposed and tailored specifically for my foundation funders. New from the Veritus Group.
Does the thought of SEO make you crazy? Mary Cahalane's guest blogger has some great tips for SEO metrics to track for your nonprofit website.
What can donor surveying do for YOU? Nick Ellinger with How Donor Opinion Can Steer You Right. Then register for Raise More Money With Donor Surveys where you'll discover the secrets to successful survey design.
Archives
Your donor database is one of the most important *systems* in your arsenal of fundraising tools. And selecting a CRM  should never be something that you base solely on price. The Pitfalls of Choosing Your Organization's CRM.
Learning Opportunities
Imagine raising big money — without an ask! That's the miracle of supporter surveying. Announcing Raise More Money With Donor Surveys, our newest Basics & More™ class. In this four-week course, you'll learn how to develop a survey to uncover potential major gifts, planned gifts, and legacy gifts, the biggest mistake you're probably making in your survey, how to incorporate surveying and donor feedback in your communications throughout the year, and so much more! This class will revolutionize your fundraising.  Learn more and register now.
Could a monthly giving lightbox on your website translate to more monthly donors? Plan to join us for our next free Motivate Monday training where you'll discover how Grassriots has used monthly giving lightboxes to increase single gift value, upgrade donors to monthly, and more! Monday, July 23 at 1:00 pm EST. Save your seat here.