Located in South Carolina, Palmetto Animal League (PAL) is a key player in the no-kill animal movement. This Ridgeland-based nonprofit is an animal rescue organization dedicated to saving the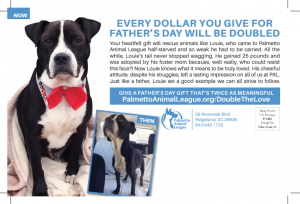 lives of neglected and abused animals. Their facility includes a community clinic, adoption center (which serves as PAL's headquarters), and thrift store. PAL facilitates fostering and adoption by placing animals with loving families. Additionally, PAL works to create relationships between the animals and the community, encouraging people to visit, volunteer, and get involved.
Last year, PAL released its first matching campaign. Called the *Be Manly* Matching Gift Campaign, it featured adorable photos of a handsome feline named Manly. Launched to coincide with Father's Day, the campaign offered a $10,000 matching goal put up by a generous donor.
PAL only reached a little more than 35% of their goal. They turned to me for analysis of their 2018 campaign hoping to gain some insight into what they could have done better. Here are a few key points from my review:
Direct mail isn't just alive, it's thriving. The numbers don't lie. "Direct mail still pulls a higher response rate than any digital direct marketing medium. Its response rate ranges from about five to nine times greater than that of email, paid search, or social media (ANA/DMA, Response Rate Report, 2018)." Despite the importance of direct mail to any fundraising campaign, there was no direct mail element to PAL's 2018 campaign. In the case of matching gifts, direct mail almost always boosts the average gift and leads to greater donor commitment.
There was a lack of clarity in the matching gift aspect of this campaign due to the emphasis on Father's Day. Matching gifts should have been the focus of every piece. The photos of Manly made me smile but should've highlighted the match. Emails should've focused on the urgency of the match much more than they did. Languaging needed to be more donor-focused.
I provided recommendations by way of a five-step formula for matching campaign success. One of the key steps involves the optimization of the response form. PAL used PayPal, which isn't the most donor-friendly platform. But creating a good integration design can mitigate the clunkiness and make things a bit smoother.
In 2019, PAL was again offered a generous match from one of its best donors. The resulting campaign included a special landing page, a special donate page, a donated column in the local paper as well as donated advertising, an email series, various social media, and a direct mail piece sent to donors only.
So what outcome did their 2019 campaign have? Lindsay Perry, the Marketing Coordinator at PAL, had this to say:
We took your analysis of our 2018 Father's Day matching campaign and made adjustments based on your suggestions. In 2019 we tweaked the campaign copy to focus a little less on Father's Day and a little more on the match. We also added a direct mail component and streamlined the donation page by using a new app rather than the clunky old PayPal donation page from our 2018 campaign. The 2018 campaign only raised $3,535 toward the $10k match (but the donor went ahead and gave us the $10k anyways, which was so sweet). The 2019 campaign garnered a net income of $23,332 including a $12k match from the same donor. This particular donor will likely continue to offer the Father's Day match every year in honor of her late father.