Recently I put out a Twitter call, asking followers to pass on the best thank you video they've ever seen.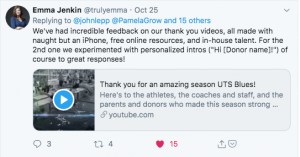 Emma Jenkin, Marketing & Communications Coordinator at University of Toronto Schools, was one of the people who reached out, and I'm glad that she did. The video she sent clocks in at just over one minute. Coincidentally, I've been finding lately that the videos that resonate with me most tend to tick in near the one-minute mark.
Titled "Thank You for An Amazing Season UTS Blues!" this clip is a lively celebration of what UTS community and donors have made possible through lending their support. It's an action-packed video that doesn't just tell supporters what they've helped to accomplish. It shows them. The caption below the video reinforces how supporters made UTS' season an unforgettable one. It's incredibly inspiring, and you can watch it below…
Emma went on to say…
"We introduced increasing video as part of our communications strategy, and I've been exploring time- and cost-effective ways of video storytelling and stewardship. I'm always on the lookout for great examples from the "Big Charities" (e.g. hospitals, international aid) and formulate ways to recreate them with me and my phone. Video has been exceptionally helpful throughout our capital campaign (the "Building the Future" playlist).

I make use of free resources (expect YouTube's free music library) and starting this year have been dedicated to captioning all our videos with large type, so they are easier to watch for older eyes, people for whom English isn't a first language, and let's be honest, since so much video is consumed when audio isn't an option (on-the-job, in the office, while commuting) that way people don't lose out on content if they can't hear it.

(Can you tell I'm really excited about our direction with video?)"
Special thanks to Emma for sending this video our way. It clearly comes from a place of genuine gratitude. Do what it takes to clearly communicate thanks to those who make your work possible. Be passionate and genuine about it, and speak to your supporters directly. The results will be worth it. Gratitude is bound to move them. It has the power to inspire them, make them feel good, and encourage them to continue to support you.