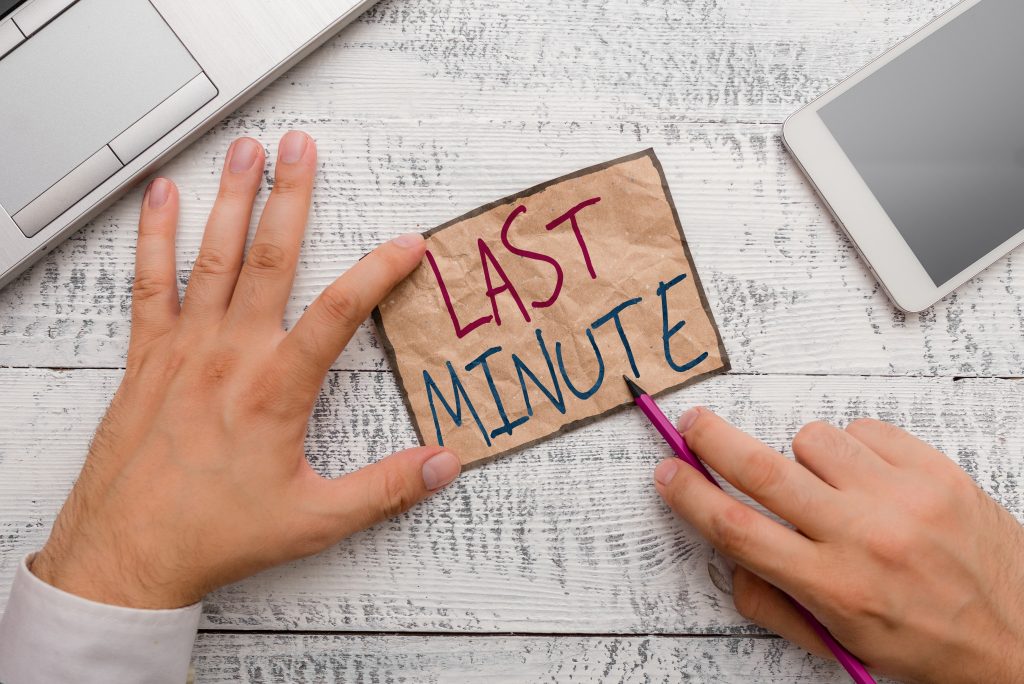 Are the changes in our tax law wreaking havoc on our sector? Word on the street is that year-end giving is down.
It's December 12 already and maybe your EOY campaign isn't going as well as you'd planned. While I'm not going to advise you to relax and count on the last few days of 2019, there are still steps that you can take to significantly accelerate your year-end fundraising. Read on…
Phone calls
Make a plan for the best (and oddly least used) tool in your arsenal: the good old fashion phone call. Who should you call? It depends. Call your best donors who haven't yet responded to your appeal. Call the lapsed donors you included on this year's mailing.
Why phone calls? It's cheap, it's personal, it will absolutely give your fundraising a boost. But what do you say? Last year fundraiser extraordinaire Simon Scriver presented for our annual year-end fundraising webinar series program. Download your call script, adapted from his training.
Signature lines
Signature lines are another basic but often overlooked tool. Use yours to draw attention to your EOY campaign and link to your donate page. Make it personal and create email signature lines for each of your board and staff members.
Nancy Schwartz of Getting Attention writes:  "Email signatures (a.k.a. sig lines) are powerful, low-cost, high-return marketing tools (a virtual business card or ad) for your foundation or organization. What's interesting is how seldom sig lines are used."
Here's a great example from BARCC:

Change the language on your donate buttons
Give Now. Donate. The "donate button" has become ubiquitous in nonprofit email communications, and as interactive as it is, it's grown a little bit stale. Whether it's the single d-word or the word "now" coming after, perhaps inspiring a hint of urgency, your donors don't just need to know they're making a difference — they need to know how.
In a NextAfter test, one organization saw a 64% uptick in traffic simply by changing the language of their donate button. Click here for examples of creative calls to action.
Incorporate a lightbox or a home page takeover on your website's home page
Chances are good that anyone visiting your website this month is going there for one reason only: to make a gift. Your website needs to be focused on that alone.
Here's a great example from the Coalition for Sonoran Desert Protection.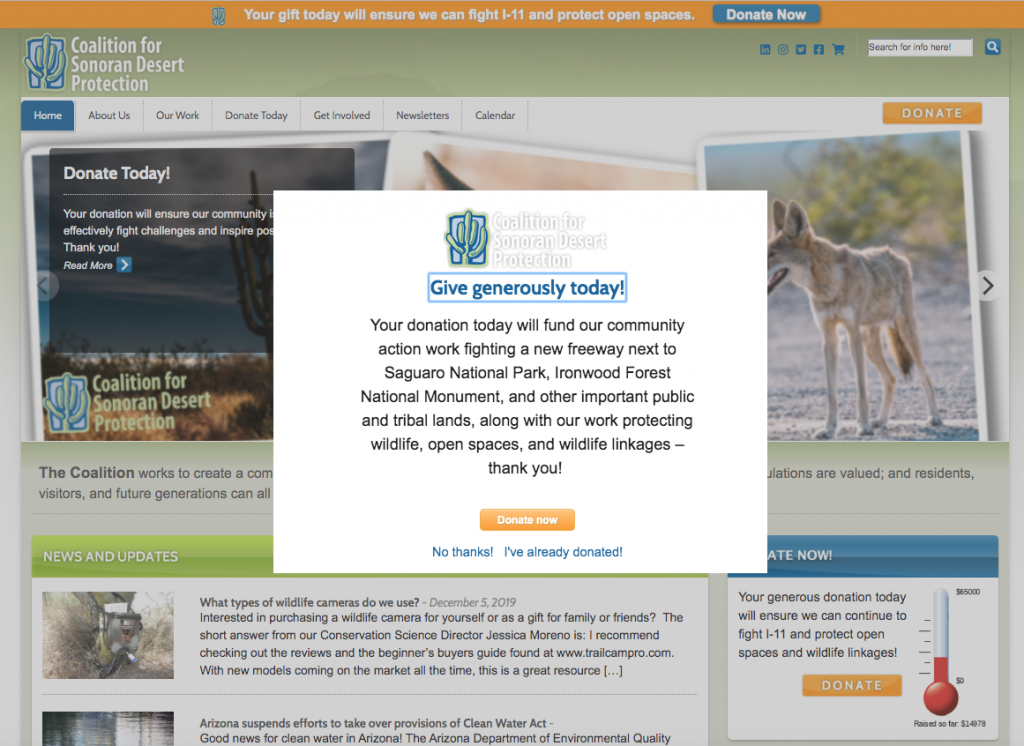 Did you include your volunteers in your campaign?
After all, who has a deeper commitment to your organization than your selfless volunteer base? Yet many organizations fail to ask for a financial gift from their volunteers. Perhaps going by the wrongful thinking "they already give so much." Mary Cahalane thinks differently.
Bump up the email…
Email is ephemeral and one or two emails just won't cut it. Clean up your list and only include subscribers who've engaged in the past 90 days. Include a minimum of three links to your donate page in every email. And remember that giving intensifies the last three days of the year. Plan to send as many as three emails on the 31st.
Kill the superfluous in your online giving
Did you go through your online giving systems with a fine-toothed comb before you launched your campaign? Do you know how many prospective donors arrive at your donation page, only to abandon it? Spend some time now making an online gift and scrutinizing the process every step of the way. Make a gift both via desktop and mobile. Use the 18 point donation page form checklist from Steven Shattuck and you can't go wrong. Identify the hiccups in your systems and fix them.
Send a second mailing
If your budget allows it, follow up your initial letter with a reminder postcard or a short letter emphasizing how much your donor's renewed support means.
If your organization sells tickets, include an extra ask during the purchase period
Perhaps it goes without saying, but if people are going to your website to buy tickets of any kind during the remaining days of the year, take a minute to ask them at the point of purchase.

Consider showing Facebook ads to your direct mail recipients
Again, if your budget allows it, consider targetting your direct mail recipients with Facebook ads. A NextAfter test showed a 154% increase in revenue using this tactic.
What else?
Download this Emergency EOY Fundraising Tip Sheet, featuring advice from the #FundraisingSaviours list on Twitter. Click here to get yours.
If you're not able to implement every one of these tactics, pick two or three and run with them. I highly suggest you start with the phone. Get busy!