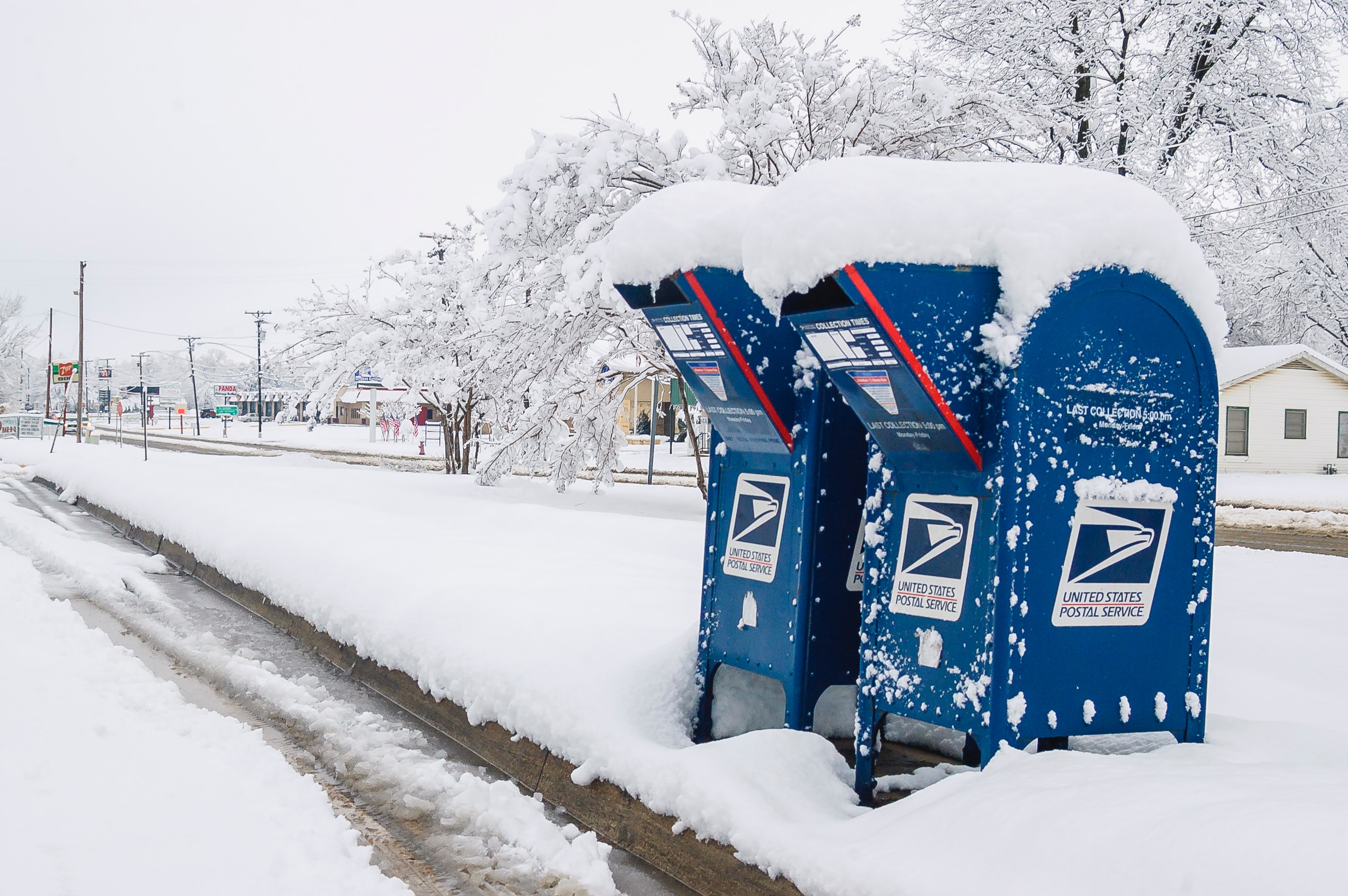 As we enter into the month of August, I've been hearing increasing stories of US postal mail slowdown.
In my region of the suburbs of Philadelphia, some towns are reporting no mail delivery for up to five days. And when I asked friends on Facebook whether they were seeing signs of a slowdown in mail delivery, most reported that they had. Only two had seen no change, and both were living in Red states.
One friend of mine, who is an executive director for a small nonprofit in California, reported, "Blue state but very red county. Mail is definitely slow. Had 2 donors contact me that checks were returned — address undeliverable. We've been there 14 years!!"
It's clear that something is going on.
On July 31, 2020, American historian and Professor of History at Boston College Heather Cox Richardson wrote:
"On May 6, the board of governors of the United States Postal Service appointed Louis DeJoy to the position of Postmaster General. The board of governors consists entirely of Trump appointees, since the Senate stopped confirming appointees to it during President Barack Obama's term, and began to confirm them again in 2018.

DeJoy was a top donor to President Trump and the Republican National Committee, giving more than $2 million since 2016. For two decades the Postmaster General has risen from within the ranks of the agency, but DeJoy has no experience with the USPS. He was appointed after the vice chair of the board of governors, Democrat David Williams, resigned, citing the attempts of Treasury Secretary Steven Mnuchin to politicize the traditionally non-political USPS.

The pandemic is crippling the revenue of the agency since most mail is sent by businesses, which suddenly shut down in March. The USPS is projecting a $13 billion revenue shortfall by the end of September. In an early coronavirus relief bill, Congress allowed the agency to borrow $10 billion from the Treasury Department to help stem the bleeding. But Mnuchin refused to loan the money without terms that would turn over much of the operation of the USPS to the Treasury Department. Williams and the other Democrat on the board refused, but the three Republicans on the board were open to at least some of Mnuchin's terms.

On July 14, DeJoy put major changes in place. These, he said, were intended to cut costs in order to keep the USPS afloat, but this explanation is suspicious since as soon as Trump was sworn in, his Office of Management and Budget produced a report that called for privatizing the USPS.

The emphasis on DeJoy's changes is significantly less time spent managing the mail. For example, letter carriers must now leave mail behind at distribution centers if it would delay the completion of their routes according to new, tight schedules. Traditionally, letter carriers make multiple delivery trips to ensure letters and packages are delivered on time; now the materials will wait for the next day. There will no longer be any overtime, and postal hours are being cut. Already, post offices are seeing a growing backlog of mail.

Trump has long criticized the USPS, apparently both because he blames it for the financial success of Amazon CEO Jeff Bezos, who owns the Washington Post, which is highly critical of Trump, and because he would like to privatize the agency's highly valuable assets.

The USPS is self-funding; it does not receive support from tax dollars, and it is required to serve the entire country. It employs more than 630,000 workers, including a large proportion of people of color, women, and more than 100,000 military veterans. It has a valuable fleet of vans and real estate, but more than that, it has proprietary information highly sought after by private mail carriers. It does not, in fact, undercharge Amazon or any other large customer; by law it cannot do so."
For many nonprofits, large, small, and in-between, direct mail fundraising has been the pillar of their fundraising programs. Statistically, online fundraising has been growing year after year but still does not begin to approach the revenue from direct mail.
With year-end fundraising season rapidly approaching, what should smart fundraisers be doing now?
The big question: should you still mail?
Yes. Absolutely stay the course. But consider that you may need to move up your deadlines two to four weeks for your year-end multichannel campaign to ensure that it reaches its intended audience in time. Increased holiday mailings from businesses and nonprofits alike at year-end will no doubt slow delivery down even further.
Segment your mailings to your best donors (loyal, monthly, major). Create special packs exclusively for them, and consider using first-class postage. Discuss the slowdown with your print shop. If they are local, they should be aware of the discrepancies between post offices. For instance, when I was sending out a 70k mailing, I learned that the closest post office had a habit of sitting on bulk mail, often for weeks. We knew to send it from another post office. A good mail house should know your region.
Complement your direct mail with even more personal touches, including phone calls, personal emails. Early data from Bloomerang, explored in last week's Motivate Monday session, reveals the gains made from more personal touches.
Consider investing in a Facebook advertising campaign to target your direct mail recipients.
I reached out to a few colleagues as well. Monthly giving and direct mail expert, Erica Waasdorp, said, "Frankly, I typically recommend as always, stay the course. You cannot control what the mail will do or will not do but you can control what you're doing about it. We cannot control a hurricane in Florida or Hawaii."
Erica also recommended including Informed Delivery® by USPS®, a service where, if available, will allow you to "digitally preview your mail and manage your packages scheduled to arrive soon."
Blase Ciabaton, The Direct Mail Man, of Naples Print Source in Florida said:
"A few things to help give your issue some context:
1) The USPS has been inadequately funded for at least the last 15 years. This is regardless of the party of the president or the party split in Congress. Nobody wants to touch postal reform.
2) There's a tremendous problem with Congress's pre-funding mandate for future USPS retiree health benefits which has been a requirement since 2006. This combined with decreasing mail volumes have been the primary issues related to the USPS financial woes.
3) I'm sure COVID impacts delivery times because USPS workers work in a high-risk environment from a COVID-19 pov-I'm sure many have been infected because of the nature of what they do, and of course this will slow down/complicate delivery.
4) first-class standards were reduced in 2005 as a money-saving measure. So first-class mail was already being delivered more slowly than you & I were used to in our professional lifetime.
5) We strongly recommend that mail-tracking be added to any bulk mail campaigns so that the nonprofit sending the mail can have an accurate understanding of what percentage of their mail is getting delivered. This typically adds about 5 – 7 cents apiece when clients use us for this service. We also find when the USPS knows someone is looking, they do a much better job.

Fortunately, we're not experiencing the issues you've reported in your neck of the woods."
Consultant Aimee Vance suggested exploring a multi-channel marketing tool such as Interweave by CMS. Interweave promises to combine "your direct mail with 7 digital technologies to create an omnichannel experience that increases your return on investment by reaching your target audience on multiple channels simultaneously." Find out if your mail shop offers something similar.
Here's what Tracy Howard from Mile19 had to say: "YES, there DEFINITELY has been a slowdown – both with the mail going out and making it "on time" for the in-home date, as well as how slow the donations are coming back to the non-profit. So it's already happening and I would think it will continue for a while. Our guess is that it has to do with COVID and less staffing, shorter hours, etc.
You could send a bit earlier to try to make up for it, but that could bite you the other way – it shows up too early. We've had mailings be right on time for some zip codes and a few days late for others. There isn't a real rhyme or reason to it. More than anything I would suggest that they follow their calendar and production schedule as planned, but in the appeal make sure to offer a way to give online (that contains a vanity URL so it can be tracked that the donation actually came from the direct mail piece). This way people don't have to hassle with the mail at all and the donation is immediate."
Shannon McCracken, Chief Executive Officer of The Nonprofit Alliance said:
We've done a good bit of informal polling over the last two days. Reports of mail delays are sporadic and seem to be anecdotal rather than chronic — which is not to say that there isn't a problem, since the inconsistency in and of itself is challenging. Members of The Alliance of Nonprofit Mailers also sit in on our government affairs committee and they did not report any alarm bells.

Postal continues to be part of our everyday radar here. What we've been advising members is to assume, for all number of reasons, that mail delivery as we head into the latter part of the year may continue to be inconsistent. Plan production and mailing calendars accordingly, and:

– Revisit messaging that references a deadline (like a matching gift) to either soften the deadline or ensure that there is ample padding should outbound mail be delayed.

– Consider the timing of follow-ups.

– Actually read your mail monitoring reports …

– Ask your caging partners to track postmarks on return mail.

– Right now, test net impact of more first-class outbound mail. It may not be the best option in "normal times" but in 2020, it could be a good alternative for a larger part of your donor file.

– Especially in the run-up to November 3, assume there could be mail delays because of higher mail volumes overall. Regardless of policy … human nature with postal processing staff will be to see campaign mail and vote-by-mail returns and prioritize those bins over third-class mail as Election Day approaches. We can demand better, but should still be smart enough to plan for it.

– Think carefully about year-end. In the scenario where we do not immediately know on November 4 who was elected President, we could be looking at weeks of uncertainty, and that will have all sorts of impact on markets, consumer confidence, and donor sentiment. Waiting until Giving Tuesday to launch a year-end campaign that will make-or-break your year is risky (emphasis mine). What can you do to pull some of that giving into September and October?
So, while reports of a mail slowdown may be purely anecdotal, given the highly erratic nature of 2020, I am urging readers, students, and clients to be vigilant and to plan early. Smaller nonprofits, in particular, who are preparing their campaigns in-house need to plan ahead.
A strong multichannel campaign with direct mail at the core has always been key to your nonprofit's successful year-end fundraising campaign. Now is the time to reinforce your direct mail with the personal touch, including phone calls and personal emails, as well as your email campaign series. Also, consider bolstering your campaign through the use of Facebook ads targeted specifically to your direct mail mailing list.
See also
 Mail Delays Fuel Concern Trump Is Undercutting Postal System Ahead of Voting
Internal documents confirm Trump's Post Office changes are fouling up delivery
U.S. postal service reorganization sparks delays, election questions
Where the Post Office Goes, So Goes America