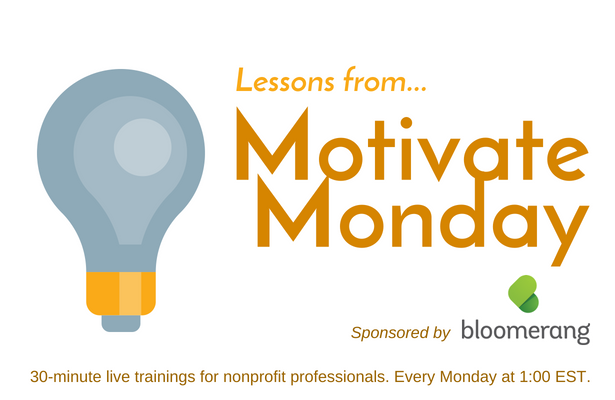 ---
Is your organization's grant strategy a practice of "spray and pray?"
Once you've determined that, yes, it does make sense for your nonprofit to seek grant funding, you'll need to hone your game plan. If you're a small shop fundraiser who's handling everything from data entry to major gifts to annual giving to event planning, having a team will help.
Join us for this episode of MotivateMonday, when Diane Leonard, Grant Professional Certified trainer, leads us through a jam-packed session. You'll discover what a grant calendar is, how to engage your colleagues in developing the calendar, and how to facilitate your strategy in using it.
Check out the video below. And click here to download the slides from this presentation.
MotivateMonday is a 30-minute *flash* training session held every Monday at 1:00 pm EST. Sponsored by Bloomerang, MotivateMonday has featured some of the top names in the sector, including Ken Burnett, Beth Kanter, Kivi Leroux Miller, Harvey Mckinnon, Tom Ahern, Jay Love, Erica Waasdorp, Gail Perry, Andrea Kihlstedt, Roger Craver, and more.
Every Monday we get together to:
Share wins
Highlight a special guest who shares their best tip
And get inspired for the week ahead!
Click here to save your seat for the next episode.