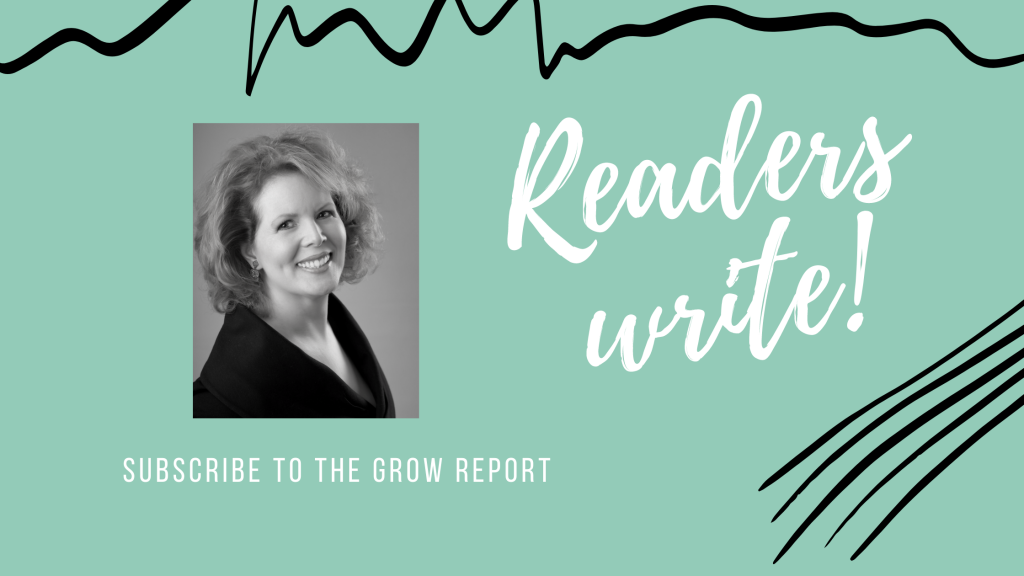 ---
Recently one of our Grow Report subscribers wrote in:
Hi, Pam

My director of development & communications is giving serious thought to taking our hard copy newsletter and changing it to an e-newsletter. This change would leave many of our donors (without email addresses) in the dark when it comes to news and feel-good stories about the organization.

How do I convince her that a printed newsletter is worth the investment? We continue to solicit donors using direct mail and emails. And, I strongly believe our communications plan should continue to include hard copy print. A copy of our summer newsletter is attached for your review. It also includes a business reply envelope.

Many thanks for your professional advice,

Bonnie
In my book, Simple Development Systems: Successful Fundraising for the One-Person Shop, and in all of our Basics & More classes, I outline the necessary elements for a strong fundraising program powered by donor communications.
One of the most necessary components of your organization's Ask/Thank/Report/Repeat donor comms system is a print donor newsletter. Here's why:
Donor retention continues to be the biggest problem in nonprofit fundraising. I predict that as many nonprofits see greater success with digital, they'll abandon print. As a result, our sector's donor retention stats will decline further. Small to mid-sized nonprofits will be at the greatest risk.
Strong donor retention is the foundation of your loyal giving, your monthly giving, your mid-level giving, and your major gift program. This can all lead to the final gift of a bequest. A strong multichannel approach is essential to growing your donor relationships. This slide from Steve MacLaughlin of Blackbaud displays the differences in donor retention rates between online-only, offline only, and multichannel.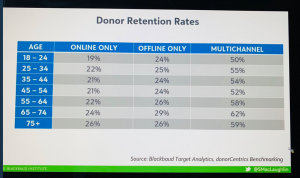 2. Bonnie herself noted that transitioning to an email newsletter "would leave many of our donors (without email addresses) in the dark when it comes to news." You don't want to do that to the wonderful people who support your mission!
3. The newsletter Bonnie included with her email was better than many I see. On the plus side, the colors and overall design were fresh and appealing. Plus, her organization is raising money with their newsletter. But they're not raising nearly as much as they could be. With a few simple tweaks, they'd be well on their way to raising more. These issues, which are pretty typical, include:
Too many blocks of long texts (and small font) make her newsletter tough on older eyes. For better readability, indent your paragraphs, use a serif font, and take it up a point or two.
The stories can be tightened up. Run them through the HemingwayApp and aim for a fifth-grade reading level or below. In Bonnie's case, I noted that a story from a parent packed a strong emotional punch, but again, could be trimmed. That particular story could also benefit from callouts: "What's the point of anything? There's nothing to look forward to anymore" speaks volumes about what kids' lives are like these days and really draws the reader in.
The photos need captioning.
Put the donor in the picture. For instance, a headline like Helping Families in Need becomes:
Helping Families Through Crisis
Your Support Makes it Happen!
There's a very specific revenue-generating formula we use in my Donor Newsletter class that is essentially foolproof. It was originally created by the Domain Group in Seattle (formerly owned by Richard Perry of Veritus), then adapted by Tom Ahern, and then tweaked by yours truly.
I advised Bonnie to make some changes to her next newsletter. I suggested that her organization segment their mailing. For example, certain donors might receive the addition of an extra thank you letter or note. Or they might mail to their major donors using first-class postage. Once they're raising significant revenue, they can transition to three or four newsletters a year.
Producing a revenue-generating donor newsletter is both an art and a science. And it does require that your organization make a commitment and make an investment in donor care. But the results are well worth it. Lisa Sargent calls the print donor newsletter "your retention engines."
And who doesn't remember the story of Nashville Rescue Mission's donor newsletter?
The beauty of all this is that everything that goes into your print newsletter can be repurposed for your email newsletter.
Speaking of Bonnie's email newsletter, she'll also want to consider how her organization is growing its email list. "Sign up for our enewsletter" is not terribly compelling, is it? One of my favorite methods of list-building involves creating some sort of lead magnet that an organization could offer on both their home page and on their Facebook page. Make it something of benefit to the potential subscriber.
Print newsletter or email? You need both!