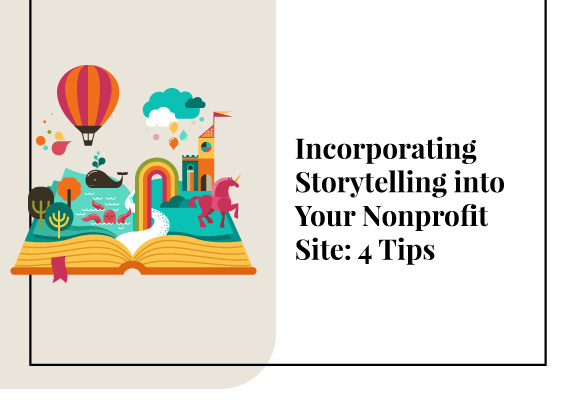 ---
Everyone loves a good story. Stories create a sense of connection, illuminate different perspectives, and stick in our minds for much longer than straightforward facts and figures. 
That's why storytelling is so important for your nonprofit communications. Telling your organization's supporters straightforward facts about what your nonprofit does and why it matters will only get you so far. Delivering this information in a well-told, cohesive story is much more compelling and engaging for your target audience. Stories connect with nonprofit supporters on an emotional level, helping you build a stronger relationship with them. 
As one of your most important digital platforms, your nonprofit's website is an effective place to tell your story. To incorporate storytelling into your website, adopt these four strategies:
Build your story arc.

Choose your storytelling mechanisms.

Support your narrative with data.

Bring supporters into the story.
These tips will ensure that all website visitors leave your site with a clear understanding of what your nonprofit's story is all about and why you're worthy of support. 
Bonus Tip: According to Kanopi's roundup of best nonprofit websites, the top mission-driven sites tell stories of strength and hope. Keep this in mind when developing your story by focusing on success stories and empowering visitors through engagement opportunities.
With that in mind, let's dive in!
1. Build your story arc.
What is your story? You should have a clear idea of the message you want to share so that your website delivers a cohesive narrative. 
Condense your nonprofit's story into a structured and concise portrayal that has the same elements as any good story, including a conflict and proposed resolution. 
Getting Attention's guide to nonprofit storytelling recommends starting your story by presenting a specific goal. This goal might be:
Raising more money through fundraising

Recruiting more volunteers

Engaging casual supporters to become engaged advocates for your cause

Growing your recurring giving or membership program

Boosting conversions for different website pages

Expressing gratitude to donors
For instance, let's say your nonprofit tackles the issue of environmental justice in the southern United States. The conflict you face may be a lack of public awareness and legislative support for combating environmental injustice. 
You can use your website to talk about how your organization got started in the office of one environmental justice lawyer and blossomed into the major influential nonprofit it is today. Then, wrap up your story with a proposed resolution. This is where you describe how you're combating environmental injustice with pro-bono legal services for residents impacted by pollution and other environmental problems. 
No matter what type of nonprofit you are, avoid centering your organization in your story. The main characters should be the ones who help you drive your mission forward, including volunteers, donors, and the community members who benefit from your nonprofit's support. This shows supporters how much your organization values and relies on their contributions to achieve success. 
2. Choose your storytelling mechanisms.
What media will you use to tell your story? Your website offers several multimedia options to display your organization's story, and you can use each mechanism to share your narrative in a slightly different way. Here are a few different ways to display your story: 
Videos:

Share brief, one-to-three minute videos on your website's home page or about page. Showcase interviews with community members who have been impacted by your nonprofit's mission or volunteers who have put time and energy into your work. 

Photos:

Images help build an emotional connection between your nonprofit's work and your website visitors. The more original, high-quality, illustrative photos you have throughout your website, the better. 

Blog posts:

Your website's blog allows you to go in-depth with your storytelling, using a combination of written text, images, and videos to provide an engaging multimedia experience for readers. Use your blog posts to tell your constituents' stories, share event recaps, and provide project updates. 
No matter what media you choose to share your story, provide a professional, streamlined product for audience members to engage with. Your videos should be well-produced and professionally edited, images should be high-quality, and blog posts should be well-written and edited by at least one other team member. 
In addition, ensure your website content is accessible to all visitors. Include descriptive image alternative text, typo-free video captions, and hierarchically-structured blog posts to create a positive user experience for everyone. 
3. Support your narrative with data.
Incorporate data into your story wherever possible. This helps support the emotional side of your mission with hard facts that show your nonprofit's real impact. 
Choose data points that are:
Relevant to your story.

This is a basic, but crucial tip for keeping your website content focused. For instance, don't mention your monthly giving program participation rate in a blog post about your last fundraising event's attendance numbers. 

Specific.

Use specific numbers to showcase your progress. You might even create charts or graphs depicting statistics such as your fundraising campaign totals or volunteer hours. 

Examples of overarching trends.

Telling your supporters about how your nonprofit's Giving Tuesday campaign earned $100,000 lets them know the impact of a single year's campaign. However, by telling supporters that you earned $100,000, which was a $20,000 increase over last year's total, you show them how your organization has been making strides to grow and earn more support in the past year. 
Your website's blog posts and annual reports are excellent platforms to weave data into a well-written story about your organization's projects and programs. The emotional elements of your story reel supporters in, while the data and facts provide a well-rounded, compelling case for support. 
4. Bring supporters into the story.
Your nonprofit's website shouldn't just place supporters and constituents at the center of your stories. It should also encourage supporters to take a more active role in engaging with your organization. 
Giving your supporters ways to interact with your nonprofit's mission helps them feel like true partners in your organization's success, rather than passive bystanders. 
Use these website elements to engage supporters in your work: 
CTAs:

Calls-to-action (CTAs) are the buttons or links you use throughout your website that encourage visitors to take a certain action. This might include filling out your online donation form, registering to volunteer, signing up for your email newsletter, and any other activity you'd like supporters to engage in. Descriptive, concise CTAs give website visitors clear next steps they can take to get more involved in your organization's efforts. 

Easy online donation opportunities:

Your

online donation page should be seamless

to allow donors to fill it out quickly and easily. Ensure this page has simple navigation and mobile-friendly design and that it only asks for necessary information such as supporters' names and payment details. You can even incorporate storytelling into your donation form by including a brief description of your organization's mission and how fundraising supports your efforts. 

Volunteer registration page:

Volunteer opportunities give supporters a way to engage hands-on with your mission. Your volunteer registration page should be equally as streamlined and user-friendly as your online giving form. Make sure this page is branded to your organization and that it asks volunteers about their skills and interests. This shows new volunteers that you're invested in providing them with an experience that's tailored to their preferences. 

Event sign-ups:

Whether in-person or virtual, your nonprofit's events offer unique and fun experiences for supporters. Encourage

event sign-ups

with a detailed page that tells supporters the what, where, and why of your event. Keep your entire event sign-up process within your website for greater security and a more cohesive experience for attendees. 
For each of these important elements and pages, be sure to stick with proper nonprofit web design best practices to give visitors a uniform experience. This includes optimizing these elements for mobile devices, reducing page load speed, and standardizing your digital branding. 
By making these engagement opportunities easy and user-friendly, you encourage supporters to become more central characters in the story your nonprofit is writing. 
Nonprofit supporters have expressed greater interest in more genuine, personal relationships with nonprofit organizations over the past few years. That's why we predict that storytelling will only grow more important for nonprofits. 
Once you've designed and structured your website to tell your organization's story, you can use other marketing platforms like social media and email to share content from your site and reinforce your message. This helps create a more cohesive, uniform marketing message, boosting brand awareness.
---
As Founder and CEO of Kanopi Studios, Anne helps create clarity around project needs, and turns client conversations into actionable outcomes. She enjoys helping clients identify their problems, and then empowering the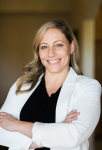 Kanopi team to execute great solutions.
Anne is an advocate for open source and co-organizes the Bay Area Drupal Camp. When she's not contributing to the community or running her thoughtful web agency, she enjoys yoga, meditation, treehouses, dharma, cycling, paddleboarding, kayaking, and hanging with her nephew.
https://twitter.com/Anne_Kanopi
https://www.drupal.org/u/annabella
https://www.linkedin.com/in/annestefanyk/