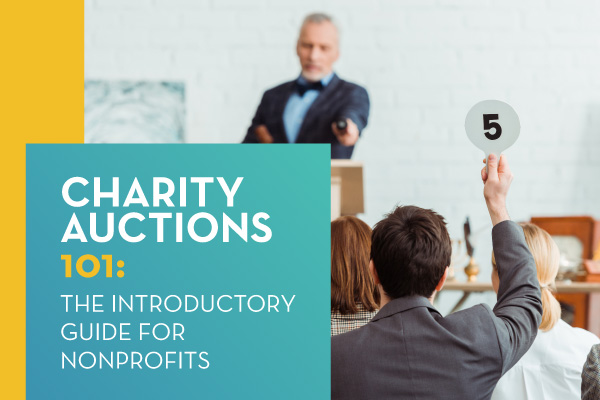 ---
If your nonprofit is in the process of planning your next fundraising event, consider hosting a charity auction to bring your donors together in support of your current project. Charity auctions are a mainstay of nonprofit fundraising for a few reasons. They're:
Flexible and easily adapted for different audiences and formats

Extremely engaging for audiences of donors

Great opportunities for generating revenue through bids, donations, add-ons, and sponsorships
Plus, charity auctions offer the perfect atmosphere for some good old-fashioned donor stewardship and relationship-building as donors mingle with one another and your team. Not to mention, they'll also get the opportunity to take home some exciting items, so both they and your organization benefit!
As with any type of special event your nonprofit may be thinking of hosting, charity auctions require upfront planning and strategy. Even a small-scale auction built into a larger event will need plenty of attention in order to succeed, especially in today's digital age.
However, this doesn't have to be difficult, especially with the help of technology that can streamline the process for both you and donors while opening up new ways to engage. This crash course will answer some common questions you may have about the charity auction planning process, including:
What are the types of charity auctions?

How have auctions changed since 2020?

How can technology help auctions run smoothly?

How do you procure charity auction items?

How do you promote an auction and stay in touch with attendees?
Ready to get started with your charity auction? The first step in the process is to choose the right type of charity auction to suit your organization and your supporters.
What are the types of charity auctions?
Auctions come in all shapes and sizes. They can be standalone events or activities built into larger events or even virtual fundraising campaigns. What they have in common is that your donors will place bids to win the items you've procured, with the highest bid receiving the prize when the bidding period ends. The primary types of charity auctions include:
Live auctions.

Think a live auctioneer, paddle raising (or mobile bidding—more on this below), and an exciting atmosphere.

Silent auctions.

These involve donors browsing a selection of labeled items and placing bids silently as they mingle and enjoy the event.

Online auctions.

Taking your auction online gives you more flexibility in terms of audience and timeframe.

Hybrid auctions.

Incorporate both in-person and online auction activities with a hybrid event that offers dual experiences for guests.
As you choose which type of auction to host and in which format, there are a few important considerations to keep in mind. Try answering these questions:
What is our organization's budget for the auction?

What are our fundraising and donor engagement goals?

Are there particular donor segments that we want to engage with the auction?

What are our donors' event preferences and in-person/virtual comfort levels?

Will the auction be a standalone event or part of a bigger campaign or gala?
Once you've answered these questions, you should have a clearer sense of which type of auction will best suit your needs, goals, and donor interests. You may land on a traditional live auction incorporated into your next gala, a hybrid event with in-person and virtual bidding in a silent auction, or even a full multi-day online auction with livestreamed programming. There are plenty of flexible ways to build auctions into your events, so get creative! 
Just remember that successful fundraising is donor-centric. Your donors' interests should always take central importance when it comes to any type of event planning. 
How have auctions changed since 2020?
Since the start of the COVID-19 pandemic, the entire nonprofit event landscape has changed dramatically. Here are a few key changes as they pertain to auctions:
Virtual auctions

, whether held as standalone events or as part of larger virtual events, have become a popular new option for nonprofits of all sizes.

Hybrid auctions

are on the rise and offer even more flexibility for organizations to create distinct experiences for broader segments of donors. 57% of surveyed nonprofits

hosted a hybrid event

in 2021.

Nonprofits are

increasingly relying on technology

to plan and facilitate auctions. Mobile bidding was already an industry best practice, but the shift to virtual and hybrid formats has accelerated this push. 33% of nonprofits increased their technology budgets in 2021, with only 3% reporting a decrease.

Nonprofits of all sizes are working to

diversify their fundraising efforts

using lessons learned during the pandemic, and auctions are playing a key role. 65% of organizations hosted some form of silent or live auction in 2021.
Explore these statistics and more trends in the OneCause Fundraising Outlook and 2021 Insights Report.
The main takeaway is that nonprofits have discovered and tapped into the inherent flexibility of auctions as fundraising events. If you have the tools for donors to place bids and a selection of items they'd want to bid on, you've got an auction! The format in which you deliver it can be easily adjusted without dramatically changing the nature of the event or its appeal for donors.
How can technology help auctions run smoothly?
As mentioned above, technology has become central to how nonprofits plan and run their auctions. Here are a few key tech features that organizations rely on:
Mobile bidding.

The ability for guests to place bids and receive notifications on their smartphones is a major plus for all types of auctions—live, silent, virtual, in-person, and hybrid alike.

Event management capabilities.

Auction software should help you manage the backend of your event with registration and ticketing tools, data tracking, and CRM integrations.

Item catalog creation.

Software should also empower you to create a comprehensive, user-friendly auction item catalog for your event.

Virtual event centers.

For virtual and hybrid events, look for auction software that comes as part of a broader suite of fundraising tools. Platforms that allow you to create and run a seamless virtual program that engages your audience will ensure a positive experience for all of your guests.
When you choose charity auction software that offers all of these features, you can drastically simplify the planning process and better engage your donors with any type or format of auction. If you're ready to expand your nonprofit's auction toolkit, do some research to learn more about your options, but look first for a comprehensive solution. This will reduce the need to find add-ons over time.
How do you procure charity auction items?
Even with all the right technology backing you up, your auction's success will still primarily hinge on the items you've procured. The right auction item catalog will spark tons of interest and friendly competition (meaning more donation revenue for your mission)! 
If you're new to auctions, procurement can be tricky since it requires more strategy and outreach than you might first assume. First, you might wonder where and how to gather items. Consider these options:
Ask your nonprofit's board members.

Board members can be amazing sources for auction items due to their business affiliations, social networks, and personal connections.

Ask local business owners.

When you ask local business owners for contributions to your charity auction, ensure that they understand that their donation also serves as a form of publicity for the products and services they provide for your community. Offer them some demographic information about your audience.

Compile your potential sources and write request letters.

Your organization may not be able to reach out in person to everyone to request items for your auction. When a face-to-face ask is impractical, try writing a letter asking for the donation of an item in support of your organization's fundraising effort. Don't forget to send

highly personalized thank-you letters

to everyone who contributes items to your auction!
Additionally, you'll need to put careful thought into exactly which types of items to offer. Think about your auction's audience. Does it consist of several broader segments, or are you specifically targeting higher-value donors? What types of items, packages, and services will they find valuable? 
A mix of item types spanning a few price points will often be your best bet, but make your catalog your own—you know your donors best. Just remember that your items should be 1) appealing and 2) affordable for your unique audience. Get started early and recruit a team to help, as item procurement can easily take the longest out of all the steps of planning an auction.
Once you've begun gathering items, don't forget to price them strategically. How you set your starting bids and bidding increments relative to each item's fair market value will directly impact the event's ultimate ROI. To learn more, study up with this OneCause guide to pricing strategies.
How do you promote an auction and stay in touch with attendees?
As with any fundraising event, auctions require plenty of communication both before and after the big day to maximize the value that they generate for your nonprofit. Effective digital marketing before the event will ensure your auction is financially successful, while post-event outreach will help to deepen your donor relationships and set the stage for future engagement.
To promote an auction, we recommend these strategies:
Take a multichannel approach.

Spread the word about your auction far and wide on multiple platforms, including email, social media, printed invitations, your newsletters, and more, whatever makes the most sense for your event and audience.

Recruit ambassadors to spread the word.

This form of peer-to-peer fundraising involves recruiting and managing a smaller group of high-powered volunteers to

secure registrations

and donations leading up to your event. It's especially useful for auctions taking place as part of larger-scale annual events.

Release teasers of your item catalog.

The items up for auction are the main draw, so use them to help promote your event! If you're building your catalog around a main showstopper item, try teasing a few other items in the weeks leading up to its big reveal.

Clearly explain how your event will work.

If you're hosting a virtual or hybrid auction, the feeling that your event will be complicated to join might deter some donors from registering. Use some of your promotional materials to clearly explain how the process will work for guests who join remotely.
After you've exceeded your attendance and revenue goals during the auction, don't forget that there's still some outreach work left to do. Start by thanking everyone who attended, with one message for general attendees and another for those who won items. If you'll be shipping items to them or coordinating pickup, provide additional explanations as needed.
Then, sort your auction attendees into a post-event stewardship email stream. This automated email cadence can keep attendees up-to-date on upcoming events, show them the impact their donations have had, and generally deepen their attachment to your mission. However, for higher-value donors, avoid sending them too many one-size-fits-all messages and instead focus on fully personalized outreach.
Follow-up communication should be an ongoing activity for your nonprofit, but it's especially important after a special event that you may not host very regularly. It shows donors that you appreciate and value their participation, and it helps to ensure that they'll be primed to lend their support again once it's time for your next auction or campaign!
Auctions have many moving parts, which can make them challenging to plan for the first time. However, they're also extremely flexible fundraising events that can work in all kinds of formats and for all audiences. Keep studying best practices and you're sure to see success.
The bottom line: The pandemic has taught nonprofits of all sizes the value of offering diverse fundraising opportunities to donors, and auctions are a worthwhile addition to any organization's calendar. Once you master the essentials and build a reliable toolkit, you can easily incorporate auctions into future campaigns and events.
---
Author: Kelly Velasquez-Hague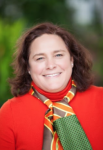 Kelly Velasquez-Hague brings over 20 years of fundraising, nonprofit management, and sales/marketing experience to her role as the Director of Content Marketing for OneCause. As a member of the OneCause sales and marketing team, Kelly manages all of the company's content strategy and execution. She is passionate about empowering great missions and loves that her current role allows her to continue to help nonprofits reach new donors raise more funds for their cause.