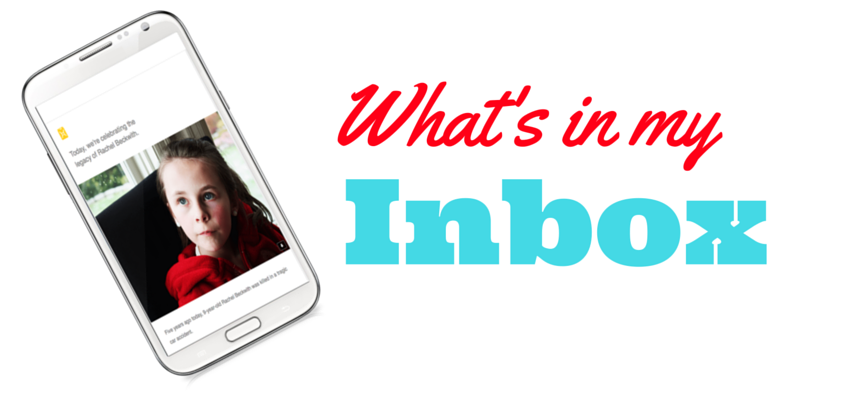 ---
Generally speaking, if you're looking for examples of good fundraising, you're wise to avoid political fundraising altogether.
Candidate and party emails tend to be primarily of the "crash and burn" technique.
And then along came John Fetterman.
John Karl Fetterman is an unconventional American politician who has served as the 34th lieutenant governor of Pennsylvania since 2019. He is the Democratic nominee for the 2022 U.S. Senate election in Pennsylvania.
I've highlighted the Fetterman campaign's fundraising before, both here and here (he's even got his dog fundraising!) .
Fetterman's camp is running on all cylinders with robust direct mail, television, and digital fundraising. His materials highlight his values and unwavering commitment to the state of Pennsylvania.
And they do it with solid storytelling and great simplicity. And oftentimes humor.
The other day this email, with the subject line, Cheesesteak photoshoot" landed. The email opened with a tweet from Dr. Oz, the New Jersey resident currently running for Senate in the state of Pennsylvania. Oz is pictured at Geno's Steaks.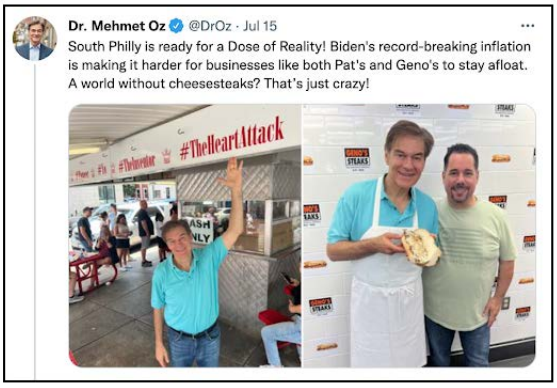 As Fetterman notes:
Because nothing says "I'm not from here" than choosing a cheesesteak joint that serves more tourists than actual Pennsylvanians.
Now, if you're not a Pennsylvanian, you have no clue what this email is about. But here in Pennsylvania, particularly Philadelphia, we pride ourselves on our cheesesteaks. If you haven't had a Philadelphia cheesesteak, you haven't had a cheesesteak. And, yeah, as a nearly 30-year Pennsylvanian, I can attest to Fetterman's assertion. Geno's is a tourist's joint.
Fetterman goes on to note that
"REAL Pennsylvanians know you're probably better off going to Dalessandro's or John's Roast Pork to get your fix."
Using humor, he made his point: his opposing candidate does not even live in Pennsylvania.
When does humor work in fundraising?
There's no question. We need a good laugh right now. Laughter is something that almost everyone has in common. And I'd argue that right about now our sense of humor is critical.
We also need to see more blunt realness in our storytelling. Who are you and what do you stand for?
I would argue that our fundraising also needs risk. Desperately.
But the use of humor is tricky and shouldn't be undertaken lightly. As Jeff Brooks notes:
There's a more fundamental problem with humor that makes it bad for fundraising — even if your donors somehow get the joke. The psychological foundation of most humor is a sense of superiority — sometimes gentle, sometimes cruel, but always there.

When you use humor in your fundraising, you pollute the atmosphere. You make empathy and kindness difficult.
And Julia Campbell made a good point:
Humor is always a good thing, until it's not. When thinking about humor in fundraising, it's critically important to consider the person or people making the joke, and the nature of the joke. Humor at the expense of others is rarely ok, but sometimes making fun of ourselves works to lighten the mood. A great example of using humor to bring people together is the When You Work At A Nonprofit Tumblr account: https://workingatanonprofit.tumblr.com/ Fundraisers could also explore using popular memes (sparingly), as Steven MacLaughlin writes for sgEngage: https://npengage.com/nonprofit-news/top-12-internet-memes-for-nonprofits/ 
Download this What's In My Inbox email by clicking the image below. What do you think? Can humor work in fundraising?