Movie Mondays for Nonprofits, a free weekly resource featuring the country's best fundraisers, recently asked their subscribers to vote for who they would like to see featured on the 200th episode of Movie Mondays.
Who did you vote for?
Bill and Melinda Gates?
Fundraiser Jerry Panas?
Seth Godin?
President Obama?
Bill Clinton?
Guess again.  In his recent video,  MM founder Chris Davenport revealed that the #1 answer was:  a panel of donors.
And somehow I was reminded of the last scene in the classic film, The Wizard of Oz.
You remember it.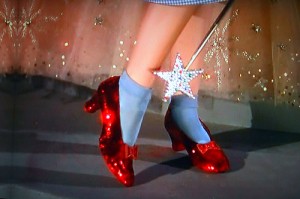 Dorothy has just missed taking off in the hot air balloon to return to her beloved Kansas and is despondent until Glinda, the Good Witch tells her "You've always had the power to return to Kansas."
During the scene, The Scarecrow scolds Glinda for not letting Dorothy know that she possessed this power all along and that she didn't need The Wizard, or anyone else.  Glinda laughs and replies, "she wouldn't have believed me, she had to learn it for herself."
Do you often think that there must be some special magic to fundraising?  Some way to get into the heads of your donors and find out why they give?  Why they gave to your organization?
What are you waiting for?
After all, you've already got a panel of donors, right at your fingertips.  Are you making it a priority to reach out to them on a regular basis?
Spend some time this summer reaching out.  Here are some tips:
How are you surveying your supporters?