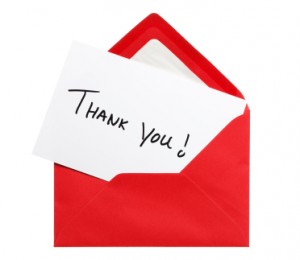 How can your organization create an "Attitude of Gratitude" and develop a focus on strong customer donor service in your organization?  This month's Nonprofit Blog Carnival is all about giving thanks for the donors (and volunteers) who make our work possible.  What tips can you swipe?
---
Creating a healthy, donor-centered culture isn't all about the thank you letters.  Nancy Schwartz of Getting Attention with a marvelous case study of an advocacy organization thanking their volunteers with a video in a hug.
Gayle Gifford shares another case study:  this one an inspirational story of how one organization loved their lapsed donors back into the fold.
There are a lot of ideas out there but nothing beats real world examples.  Kivi Leroux Miller shares a series of before and after letters you can learn from.
The Veritus Group asks Are You Truly Thankful for Your Donors?
NonprofitHub says These 12 Ways to Thank Donors Will Keep Them from Saying Goodbye.
Did you forget about your board members? We love to complain about them, don't we?  Dani Robbins with a timely reminder about the power of thanking our board members.
Erik Anderson of Donor Dreams offers up Simple Ways that Even Small Nonprofits Can Thank Their Donors.
My friend, Craig Linton, with an intriguing suggestion in Beyond Thank You Letters:  On a scale of 1-20 how would you rate your giving experience? 
Are you putting purpose before plan?  How are you saying thank you, from Febe Galvez-Voth.
Just in time for Thanksgiving, Grow Report subscriber, Mr. Holland's Opus Foundation delights with a very special thank you.
Ann Green with Create a Thank You Plan.
What Can David Lee Roth Teach You About Fundraising?  You might be surprised.
Sometimes just figuring out a new and inspiring thank you letter opening seems hopeless — just how many ways can you say thank you?  One of my favorite ladies in the whole world, Shanon Doolittle, to the rescue.
"Can you recall the last time you had an extraordinary experience with a charity?" – See more at: http://agentsofgood.org/2012/09/speechless/#sthash.P9A3802g.dpuf
"Can you recall the last time you had an extraordinary experience with a charity?"   Speechless from Agents of Good.
Tony Martignetti interviews Simple Development Systems member, Julia Wilson of OneJustice, and Claire Axelrad in Creative and Low-Cost Ways to Thank Donors.
Do you struggle with getting your donor thank you's out quickly?  Claire Axelrad offers Three secrets to getting your donor thank you out in 48 hours.
Elaine Fogel asks Do you make your donors feel special? 
Folks, this stuff is pretty simple.  Thank me.  Tell me how my support had made a difference.  Ask me for a larger gift.  Offer me opportunities to support in other ways.  Rinse and repeat.  Seriously, is it that difficult?  Lucy Gower with Your Donors are Not Widgets.
My dear friend, Mary Cahalane, brings us The best fundraising ideas I ever stole part 2:  Fix your thank you letters! 
How can small, resource-strapped organizations manage to say thank you like they mean it?  From Lori Halley and Wild Apricot.
Sidekick Solutions with Following the Golden Rule, Three Tips for Thanking Donors.
---
The Thanksgiving tradition provides a prime opportunity to open ourselves to gratitude — and I'm a big believer in the power and benefits of being grateful. Of course, creating a healthy donor-centered nonprofit organization involves more than merely getting your donor acknowledgement processes down pat. But, hey, it's a start.
Don't miss December's Nonprofit Blog Carnival topic,  The Nonprofit Ride in 2014 – Scary or Fun?  Joanne Fritz of about.com wants you to take some time out to write about trends and resolutions for 2014, or recap the trends you saw in 2013. What do you think your "ride" will be like next year, or what it was like in 2013? Terrifying or pretty darn good?