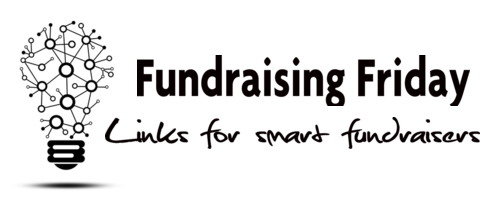 ---
My past two years of 'being a donor' has taught me more than any training I've taken. Pet peeve? The everything but the kitchen sink approach to giving options. Fundraising 101 with Does being donor-focused have to mean giving donors choice?
Why do your donors give to your organization? The Agitator with a Tale Of Two Donations.
We talk a lot about nickel and dime fundraising and what that means. John Kenyon with Why Amazonsmile Doesn't Turn My Frown Upside Down. Focus people, focus.
Top Of Roger's 2015 'To Do' List. Some killer resources from our friends at The Agitator.
What would happen if people quit paying any attention to Sarah Palin? What would happen if nonprofit organizations quit applying for some of the ridiculously micromanaged grants out there? Vu is back with with Yo mama is a double-dipper: The micromanaging of nonprofits must stop. As hard as I laughed, we return to…focus people. Focus.
A regularly updated blog of the best nonprofit conferences in 2015.
Are you a Chopped fan too? I love Claire Axelrad's latest, What "Chopped" can Teach Fundraisers about Productivity and Passion.
Check out this week's What's in my Mailbox for a nifty example of how you can quickly and inexpensively repurpose content to keep your donors in the loop.
Let's face it: fighting the stupid can be a never-ending battle. Kivi Leroux Miller to the rescue with Use the Trends Report to Fight the Stupid.
This week's What's in my Inbox features simple, stunning graphics, a 'call to action that can't be beat,' and a reminder to always, always, bring it back to the donor.
Archives
Charitable giving is deeply personal. The more you know about your donors' motivations, the stronger your donor communications program will be. The shocking secret ingredient to growing your nonprofit's individual donor base.