---
Today's What's in my Mailbox post comes to us courtesy of Mary Cahalane. And it's a great reminder to those of us who are getting to work on year-end appeals: all this great stuff you do? Your donor gets the credit!
Mary writes:
Got back from vacation with a pile of NP mail to go through. Most of it was pretty lackluster stuff. Lots of "Your annual fund enclosed" (Really? I have an annual fund? And you can fit it in an envelope?)

I opened one from Dana Farber that was a little different.

They credited everything to the donor. All the way through – the message is "everything we accomplish happens because of you". That's the right message!

My only quibble is that while everything inside was addressed to both of us, the envelope was only addressed to my husband. Weird choice there.
Click the image to download this package.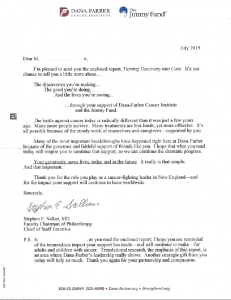 ---
What the heck is What's in my Inbox, What's in my Mailbox, and the Power of Storytelling? Glad you asked. Simple Development Systems is all about creating your sustainable fundraising program by always keeping your donors front and center. It's a simple rinse-and-repeat system of sharing your gratitude, and your stories – online and off – on a consistent basis. Join us every week for Power of Nonprofit Storytelling (Mondays), What's in my Inbox (Tuesdays), and What's in my Mailbox (Wednesdays).