---
I've been a monthly donor to Living Yoga in Seattle for awhile now. Living Yoga brings the study and practice of yoga to kids, youth and adults in correctional facilities, drug treatment centers, and behavioral/mental health facilities. It's a wonderful mission and I love the occasional handwritten thank you notes from clients, such as this one.
Never underestimate the power of handwritten (click to tweet!) – and thank you notes from clients add a very special touch. Click to view.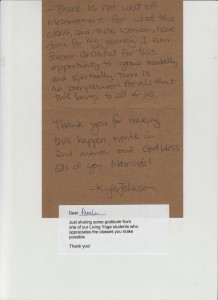 ---
What the heck is What's in my Inbox, What's in my Mailbox, and the Power of Storytelling? Glad you asked. Simple Development Systems is a program for creating your sustainable fundraising by always keeping your donors front and center. It's a super simple simple rinse-and-repeat system of sharing your gratitude, and your stories – online and off – on a consistent basis. Join us every week for Power of Nonprofit Storytelling (Mondays), What's in my Inbox (Tuesdays), and What's in my Mailbox (Wednesdays).