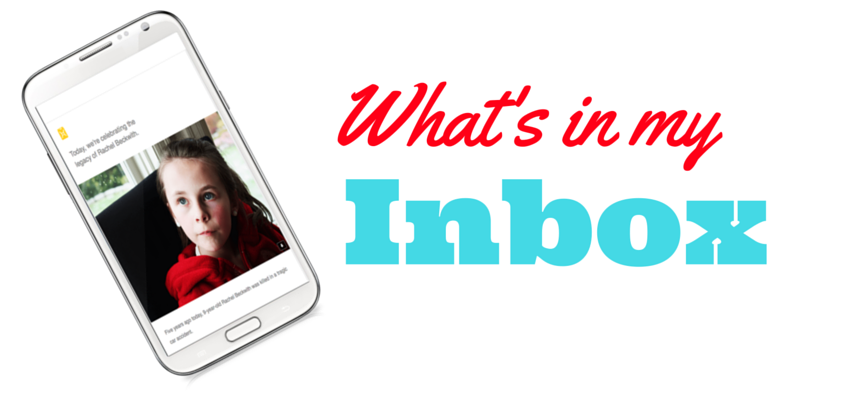 ---
The sharp knife of a short life, oh well

I've had just enough time

-Kimberly Perry
A legacy is often all the more poignant if it is the outcome of a child's young life cut short, and in the case of Rachel Beckwith, her legacy has spurred thousands of people to make thousands of donations totaling $1.2 million. The cause? Rachel lent her support to her nonprofit of choice, charity: water, on her ninth birthday. Rachel would be 14 if she were alive today, but shortly after her pledge, a fatal car accident took her life.
I was overcome by Rachel's story, and grateful to charity: water for sharing it with me. The email itself contains a condensed version of her narrative, and if you click on the button just below it, you're directed to the beginning, middle, and to be continued… that is her story. There, with her smiling face staring back at me, I received the totality of her emotional impact. The result? I was moved to tears. Because this is emotional storytelling at its most compelling, told in words and pictures.
So read on to see how, even after death, this special child's spirit lived on, and how it continues to live on here and now. How she provided water to thousands of people in Ethiopia who were without this basic, life-saving necessity. How she empowered a community thousands of miles away and transformed lives, positively impacting thousands of futures. How she shined her bright light upon a community and provided its people with hope, reminding us all of what we so often take for granted. How she brought people together in the name of a crucial cause that she felt passionate about at the age of nine, and how many supporters not only wanted to give, but wanted to give again. How she involved charity: water in her life and ultimately, her legacy, inextricably wedding herself to their work and mission.
Her legacy encompasses so much, because Rachel accomplished all of this and more. Her positive actions radiate beyond charity: water and the community she empowered. Her love and good will has diffused all across the world, and people, myself included, continue to be drawn into her orbit of unwavering support and bright light.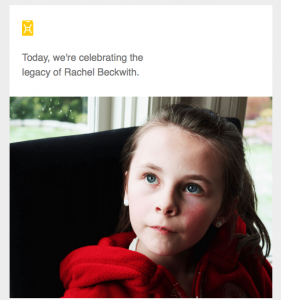 ---
Rachel Beckwith's Mom Visits Ethiopia. from charity: water on Vimeo.