---
Thanks to Andrea Kihlstedt and Megan Hodges for this week's terrific Power of Nonprofit Storytelling. From baseball and books to real life: Harlem RBI covers all of the bases.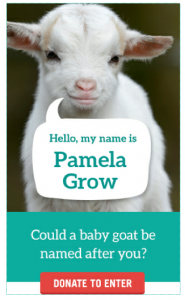 How did Heifer International get it right AGAIN? Why with a baby goat named Pamela Grow. This week's What's in my Inbox.
What lessons can a poorly done newsletter teach us? This week's What's in my Mailbox isn't the worst newsletter I've ever seen. In fact it's pretty typical of about 80% of what crosses my desk. We can all do better than this.
Should you ignore your region's largest foundations? Maybe just maybe you should. Time is money. If you're a small shop development staff of one, spend yours wisely. New from NonprofitPRO.
From the brilliant Richart Turner, Question yourself.
The Agitator weighs in with Do Fundraisers Abuse Emotion? My take and what I've been saying for years: know your donors. You'll be astonished at how smoothly your fundraising flows when you have this critical piece in place.
One of your biggest lessons in fundraising. See how ALS does it right. New from Jeff Brooks.
It's August! How will you be rocking your organization's year-end fundraising campaign?
Why Basic Can Be So Boring Yet Necessary in Major Gifts. "But teach me something NEW…" It's the whining refrain of nearly every nonprofit. No. You need to nail the basics. New from Veritus.
Archives:
Is your organization living hand-to-mouth?
Motivate Monday
Join us every Monday at 1:00 pm EST when I'll share a gem in 15 minutes (or less!) that will:
Brighten Your Day
Boost Your Productivity
Cat scan my "fundraising brain" Q&A session
Include free "Success" crib sheets when possible
On Monday, August 8th, our special guest will be Andrea Kihlstedt. Save your seat here.