It's hard to ignore all the talk about Big Data these days. But what does it all really mean for fundraisers? I turned to nonprofit data expert Steve MacLaughlin for some answers. He's just published a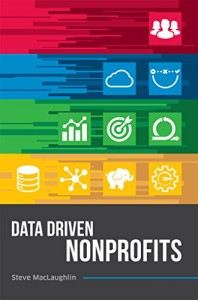 new book called Data Driven Nonprofits that explores this topic in vivid detail.
Why did you decide to write a book about data and the nonprofit sector?
To be honest, this book project started because I did not want to write another book. For a number of years, I have really been focusing on the use of data and information in the nonprofit sector. I was reading just about every book in print on the subject of Big Data and analytics. Jill Dyche's book on Customer Data Integration. Dataclysm by Christian Rudder. Thomas Davenport's Analytics at Work and Big Data at Work. John Foreman's Data Smart. Charles Wheelan's Naked Statistics.
I was hoping that one of these books could be a slam-dunk recommendation for nonprofit leaders that wanted to understand how to improve their use of data. But there was something missing from all these books. And I felt that someone needed to explain how we got here, why certain challenges persist, and how nonprofits can improve their results by being more data driven. All of this told me that I needed to try and write Data Driven Nonprofits.
Is Big Data just something for large nonprofits?
In short, no. During the course of writing the book, I interviewed people from all types of nonprofit organizations. From large to small and serving very different causes around the globe. The size of the organization had very little to do with how important their use of data was at the nonprofit. For example, the Denver Rescue mission is over a hundred years old, but for most of its history it was a very small organization. Up until 1987, it had four employees and an annual budget of $200,000. Today, Denver Rescue Mission has more than 180 employees and operates an annual budget over $30 million. A lot of their fundraising success is a result of focusing on data, metrics, and a growth mindset. This focus on being data driven is absolutely not just for large nonprofits.
How do nonprofits get started being more data driven?
It all begins with quality data. If you start out with bad data, then things never get better — only worse. Building a culture that values data and makes sure data health is a priority is very important. I think that because it's sometimes called data hygiene that people equate it with a trip to the dentist. The reality is that keeping your address, deceased, phone, email, and other key pieces of data is very affordable. In many cases, nonprofits end up saving money because health data reduces bad mailings or campaigns that never reach anyone. There are several other things that I outline in the book, but data health is the most important first step.
What was the biggest thing that surprised you while writing the book?
When I began interviewing people across the nonprofit sector it was surprising how many successful organizations weren't sure just how data driven they were being. But as we talked about their strategy and day-to-day operations it became clear how central using data to drive decisions had become. When using data, information, and insights becomes a habit, then it just becomes second nature. As nonprofits take those first steps to being more data driven, then there will be change management challenges. But over time they won't be able to imagine not using data more as a part of their decision making and measurement practices.
---

Steve MacLaughlin is a Director of Analytics at Blackbaud and best-selling author of Data Driven Nonprofits. MacLaughlin has been featured as a fundraising and nonprofit expert in many mainstream publications, including The New York Times,The Washington Post, The Los Angeles Times, The Chronicle of Philanthropy, USA Today, Bloomberg, and has appeared on National Public Radio. Steve is a frequent speaker at nonprofit events and serves on the Nonprofit Technology Network (NTEN) Board of Directors which supports both the growth and professionalism of the nonprofit technology field as well as building knowledge and information sharing capacity throughout the sector. MacLaughlin earned both his undergraduate degree and a Master of Science degree in Interactive Media from Indiana University.