You need more major donors, right? And lately it seems like mid-level and major gift fundraising is all the rage. The experts are hammering the point home that smaller nonprofits aren't raising major gifts (duh). And there's seemingly been an influx of major gifts fundraising classes, too.
Of course, who wouldn't want Oprah or Ellen to notice their organization and put them on the map? Or have the local billionaire step up, out of the blue, to write a check?
But you know better, don't you? Fundraising isn't about asking rich people for money.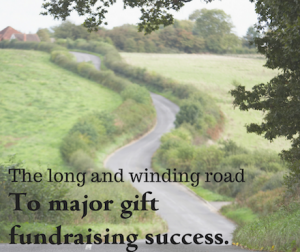 Fundraising is about the systems that take your first-time donor…to lifetime donor.
Your organization's major donors are, after all, right in your backyard. Yep, they're already in your donor database, and you've just got to know how to work them. Here's the 411: if you're not honoring your first-time or small donors, if your systems are broken, you're going to have a hard time getting from here…to there.
What does your donor experience when she makes that first online gift? What if it's "only" a $10 gift?
What systems do you have in place to understand your new donor's motivations, and bring in the second gift?
Have no idea how to answer these questions? It's prime time you take a walk in your donors' shoes by making a gift to your organization, and carefully observing what that process looks like to them. And ask yourself these questions, too:
1.Are you getting your thank you letters out promptly (even for online gifts)? Is it the kind of thank you letter that has the ability to really "wow" your donors, or are you half-assing it? Download your thank you letter template and worry no more.
2. Are you making those donor thank you calls consistently and promptly? Particularly for your first-time donors, and are you doing it on the regular?
3. What does your thank you email look like? Is it a receipt, or is it actually a meaningful communication that reinforces the simple truth to your donors: that they are wonderful? 
4. Have you thought about your donor's motivation for making a gift? What about including a text box on your donate form, like SolarAid, or after the gift in your thank you email. Smart move. 
5. What systems do you have in place for welcoming new donors? We've got examples of welcome kits here and here.
Doubting the value of welcome kits? Fundraiser Karen Fromel recently noted:
"I have numbers from our new donor welcome packet for Jan-Oct of last year. The welcome packet is a thank you letter, a bookmark and a brochure. There has been a 47% capture rate since 1/1/16. This has resulted in a 163% increase in donations…
Click To Tweet
6. Which donors have the capacity – and more importantly, the commitment – to become major donors? Look within your database. Typically 10-20% of your donors are responsible for 90% of individual giving. Resolve to focus a minimum of one hour a week on these donors. Download Creating Strategic Plans & Goals for Every Major Donor and create a Marketing Impact Chart for your first prospect.
7. Get your board and staff involved in the gratitude process, because it's everyone's job to be totally present when it comes to communicating thanks to the supporters who make your wonderful work possible. Take a look at this thank you! 
As Bloomerang's Jay Love notes in his recent post, there must be a focus on moving new donors to repeat donors.
"It is nearly a TRIPLING of the donor retention rate once a donor gives for the second time! If you calculate donor lifetime value, your organization will see dollar amounts that could revolutionize your mission impact!

The findings revealed by such analysis will be so outstanding that many in a leadership role at your charity will refuse to believe it. Such findings and results can and should lead to greater focus and spending on donor stewardship. If this is done properly your donor retention will soar and mission dollars will flow in at a rapid pace!"
Take a cue from Britany's Hope Foundation. Three years ago, during a session of mystery shopping, I made several online gifts to a number of small nonprofit organizations, and Britany's Hope was one of them. Imagine my surprise and delight when I received a thank you phone call, merely 15 minutes later, from their Executive Director. The crazy good feelings and vibes didn't even there, though, and neither did my giving. I'm now a monthly donor at the $35 level. Though I'm far from being a major gift supporter by any nonprofit's standards, Britany's Hope makes me feel like a major donor, because they've cared about our relationship from day one.
Mai-Lynn Abel Sahd, MSW, Executive Director of Britany's Hope, explains their donor philosophy best:
"No matter the gift (large or small), all gifts are important and special to us here at Brittany's Hope. Whether we receive a donation for $35 or $5,000 we make sure we recognize, thank, and welcome all those who support us.  Of course, a large donation warrants a detailed report and may be recognized with naming rights (i.e. project plague), but a continuous monthly support is just as valuable in our eyes. This may sound cliche, but our communication and place of importance are equally the same for all our donors regardless of dollar amount. The term "small donor" is never used here at our office when segmenting our donors; quite simply we do not measure our donors based on the dollar amount rather on their vested interest, time, talent, passion, and resources.   

In many cases,  what could be considered as a "small/mid-size donor" typically gives a larger percentage of their income than "large" donors. Also, at our organization,  this group holds the highest retention rate and our strongest advocates in spreading the mission. That is not to say one donor segment is more important than another; rather all donors represent a different quality and attribute, therefore all deserve the same time and respect.

I truly believe the secret behind our donor success lies within the personal relationship and authenticity with our donors."
Do you see what I mean now? I've just given you the tools to begin your organization's major gift fundraising program. Every donation, even your $10 donor is an opportunity for so much more, if only you take the time to really reach out and nurture those amazing possibilities. Work with what you've got, and maximize the potential of each and every human being your organization comes into contact with. Yes, human beings — not dollar signs.