Whether you're an executive director, development director, staff member, volunteer, or, yes, even a donor, Greg Warner's newest book that he "never intended to write" is what you need right now. And that's because Greg has a sharp and comprehensive understanding of not only how the fundraising climate looks in 2018 (and beyond), but how fundraisers should best strategize to keep their donors engaged (and giving).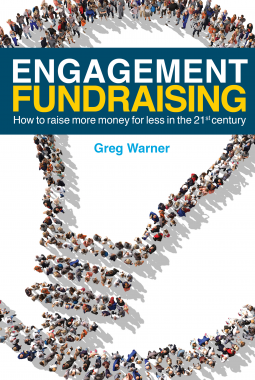 You already know. Today's fundraising is chaotic, with loads of shiny objects and misinformation to cut through. The metrics that used to measure outcomes and inform fundraising practices no longer compute. Donors have different expectations these days. It's a complicated situation, and as a fundraiser, you're in the thick of it.
Through Engagement Fundraising: How to raise more money for less in the 21st century, Greg proposes a solution that not only takes all of these changes into account, but embraces them through technology. At its core is donor-centric communications. What donors want from nonprofits has changed, and fundraisers have struggled to keep up with the shift. But giving your supporters what they need from you, while understanding why they give in the first place, is necessary, especially in the face of competition.
Despite the changing climate, this truth remains: a donor makes a gift to feel good about themselves. And that's what you really want to tap into and work with, while also understanding that each donor is an individual and has unique needs.
Greg's book contains invaluable tools, techniques, and strategies for prioritizing your donor relationships. He tackles the problems he sees in fundraising by offering implementable solutions useful to anyone involved in the sector. Consider Engagement Fundraising a manual for fixing a broken system. His writing style is clear, accessible, and inviting, and his use of stories is not only entertaining, but extra effective. I'm glad I've added this book to my fundraising library and you'll be glad, too.