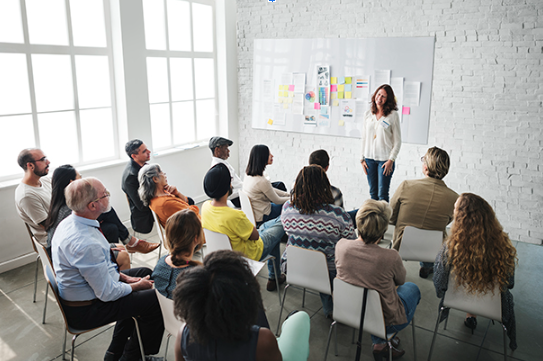 ---
As a nonprofit, your fundraising approach has to be as airtight as possible in order to stay afloat. If you want to take it a step further and really soar, you have to dazzle your audiences with your programs and offerings, but every nonprofit is doing that. So, what will set you apart from your competitors in the space? 
The secret ingredient in the fundraising success sauce is donor engagement. You have to maintain a healthy relationship with your donors to boost loyalty. Constantly replacing your donors is a waste of your precious time and money. Play smarter, not harder, by prioritizing donor retention and engagement.
There are many ways to engage your donors, but the common thread is to make the giving experience personalized, straightforward, and fun! Without further ado, let's learn how to keep your donors coming back for more by building a community with them.
Connect across digital channels.
The digital age has presented fundraising coordinators with the opportunity of a lifetime: the internet. The internet allows you to conduct new levels of outreach and communication. Take advantage of digital mediums such as email, social media, a digital newsletter, and your blog. 
Giving your supporters more opportunities to connect with you makes it more likely that they'll feel attached to your nonprofit and give in the future. Plus, digital channels are easy to set up, affordable, and more environmentally friendly than traditional paper correspondence. 
Invite donors to be a part of your story.
No matter your focus area, every nonprofit is built on a powerful story. Telling your story effectively is how you'll attract the most loyal donors. If you're leveraging it correctly, it should be a critical part of your brand messaging. Hopefully, it's all over your promotional materials and woven into your dialogue with supporters. 
Your donors give not only to support you but because they want to be part of that narrative themselves. Simply put, you should let them! Highlighting your supporters and integrating them into your ongoing story is crucial for increasing donor satisfaction and retention. 
Make concerted efforts to learn about why your donors gave to your campaign and how they feel about your mission. Then, offer some loyal supporters the chance to be featured at events or on social media. This will make them feel special and heard within your organization. Plus, it'll get other donors lining up to be your next spokesperson!
Make unique and accessible fundraisers.
As fun as it is to get dolled up for a night of high society, expensive fundraisers like galas aren't accessible to everyone. With such high barriers to entry, you could be boxing out a large amount of your audience who really want to participate. So, you should prioritize fundraisers that your target audience can feasibly participate in. 
Moreover, once you've determined that they can participate, you have to make sure they want to. Skip cliche campaigns your donors have seen a thousand times. Instead, pique their interest with a unique fundraising idea to drive participation. Here are some unique and accessible fundraisers that allow the highest possible participation:
Discount card fundraiser.

A discount card fundraiser

is a campaign the entire family can get involved in! Collaborate with a fundraising provider to secure discounts from numerous vendors around town. Then, sell your discount cards to give out great best savings and reap the profit. Not only will your donors love it, but you'll make friends with business owners who appreciate your driving business. It's a win-win for everyone involved!

Donation box.

This classic fundraising method makes it simple for people to give, even if it's just their spare change. A

donation box

is exactly what it sounds like – a box or jar placed in the community meant for people to drop their donations in. This is an effortless and accessible campaign that you can maintain even while hosting other events. Plus, there are many ways you can customize your donation box to make it fun for your donors to participate.

Cookie dough fundraiser.

Who doesn't love some cookie dough? Consider working with a fundraising product company to make your donors' lives a little sweeter

through a cookie dough campaign.

Your organization will sell your cookie dough through an online store and keep the profits as fundraising revenue. It's really that easy, and delicious too!

A-thon event.

Everyone loves a little friendly competition! Leverage that trait by hosting an a-thon campaign. Your participants sign themselves up to complete a certain activity, such as running, dancing, or reading, over a short period of time while earning donations from family and friends. Whoever raises the most money by the end of the campaign can win special prizes (and for the highest honor of all, bragging rights). Maybe your donors can't run a marathon, but they'd love to dance the night away!
These are just a select few of the hundreds of events you can throw to wow your donors and get them invested in your cause.
Use virtual fundraising platforms.
There is, indeed, an app for that! The biggest part of donor engagement is meeting your supporters where they are. In this day and age, they're online, and for good reason. The internet provides flexible and user-friendly alternatives to old-fashioned and clunky fundraising techniques, such as mail-in forms. 
According to Double the Donation, there are numerous software solutions to give nonprofits of all sizes virtual fundraising options. Streamlining the donation process by automating it online will make it easier for your donors to give. Plus, your supporters will love being able to contribute to your campaign without changing out of their pajamas!
Partner with community organizations.
Remember that discount card idea from earlier? It isn't the only way to forge relationships with local businesses to access their client base. Say you want to host a fundraising event and need food for it. Your organization can order the same old catering that your attendees have had a thousand times before. Or, you can reach out to a beloved restaurant in the community and ask for an in-kind food or catering contribution. 
Winning your attendees over with tasty, locally-based eats is a perfect way to earn their trust and get them to come back to more fundraising events. You can even give your loyal donors a boost by consulting one of their businesses first. They'll certainly love the publicity, the tax benefits, and most importantly, supporting their favorite nonprofit!
Host donor appreciation initiatives. 
If there's one group of people that your organization should be thanking whenever possible, it's your donors. Chances are they provide the majority of your financial backing. Nobody wants to support a nonprofit that doesn't show appreciation for its contributions! 
A great way to encourage donor retention is by going above and beyond the typical thank you follow-up message. In fact, you can go all out with specific events centered around donor appreciation. Some examples include:
Donor appreciation luncheon

Gala celebrating major donors

Summer cookout celebration

Giveaways, with prizes such as gift cards and branded merchandise

Physical or virtual donor recognition wall 

Donor feature on social media or on blog
Your supporters will be more likely to engage with your nonprofit again if they feel their contributions are valued and your organization cares about them. So, pull out all the stops to make your donors feel honored and admired!
Train your fundraising team.
Whether your nonprofit has a fundraising team of one or 100, it should be fully equipped to best serve your organization and your donors. Thankfully, they don't have to go in blind! 
According to NXUnite, there are many fundraising training tools and courses available to make your team feel more prepared to serve beneficiaries and donors alike. Ensure that before your fundraisers take the floor, they're fully trained and ready to handle the role. Donors are more likely to engage with your nonprofit again if they have a positive initial experience and know that they're in capable hands!
Collect detailed data. 
Once your campaign is over, your job isn't done yet! Be sure you're actively collecting detailed data before, during, and after your fundraiser. Here are some key data points you should be tracking:
Number of donations

Total amount raised

Number of new donors

Number of repeat donors

Number of social media followers and impressions

Average gift amount

Average donor age
Once you've monitored these key performance indicators (KPIs), you can determine which parts of your campaign went well and which fell short of your expectations. Then, you will have a better idea of what will increase donor satisfaction and engagement in the future. If you want to go the extra mile, consider sending a survey to your donors to gain their feedback on your fundraising activities.
Ultimately, your donors are already predisposed to love your cause because they've given to you in the past. But, your goal is to increase retention and encourage your donors to get involved with your mission over time. If you want more specialized guidance before you begin, reach out to your most loyal donors and ask what they'd like to see your organization do in the future to drive engagement. You know your nonprofit better than anyone, so take this opportunity to leverage your mission to stand out and get your supporters involved!