If your nonprofit is in the process of planning your next fundraising event, consider hosting a charity auction to bring your donors together in support of your current project. Charity auctions are popular fundraisers because they're enjoyable to attend and highly effective.
Your charity auction creates the perfect atmosphere for your donors to mingle with one another and with members of your nonprofit's team, learning more about your work and why their support is so essential while enjoying a fun, party-like environment. They'll also get the opportunity to take home some exciting items, so both they and your organization benefit!
As with any type of special event your nonprofit may be thinking of hosting, charity auctions require some planning. However, this doesn't have to be difficult, especially with the help of technology that can make the whole process much smoother for your attendees and your organization. Today, we'll answer some common questions you may have about the charity auction planning process, including:
How do I choose the best type of charity auction for my nonprofit?

How can I use technology to make my charity auction run more smoothly?

How can I gather items for my organization's charity auction?

How can I stay in touch with my charity auction attendees?
Ready to get started with your charity auction? The first step in the process is to choose the right type of charity auction to suit your organization and your supporters.
1. How do I choose the best type of charity auction for my nonprofit?
If your nonprofit is considering hosting a charity auction as your next fundraising event, you'll need to identify the best type of auction to suit your organization's needs. Choose the type of auction that your team is most capable of executing and that your supporters will be most motivated to attend.
Other factors to consider include:
What is my organization's budget for the auction?

What are our remaining revenue needs and fundraising goals?

Do I have other goals for the event beyond raising money, such as creating opportunities for in-person interactions with donors?
Once you've answered preliminary questions like these, you'll be ready to choose the right type of charity auction for your next fundraiser. Effective fundraising options include:
A live auction. While live auctions require a bit more planning on your nonprofit's side, they're fun and exciting for guests. Live auctions engage donors who are motivated to bid quickly and compete with one another to win. Live auctions can raise significant amounts of money for your organization too!

A silent auction.

Silent auctions are popular for multiple reasons: they're effective fundraisers and they encourage interaction among your donors. They give supporters the chance to donate and take desirable items home with them. You can check out

the OneCause guide to planning a silent auction

to get started with this type of charity auction.

An online auction.

Want to give your supporters more time to bid on items or let them participate virtually in your auction from wherever they may be? Consider an online auction that your organization can host with the help of your event planning software. This is a cost-effective option that can also run for longer periods of time than an in-person auction.

Donation-only events.

Live donation appeals—events at which supporters are asked directly to donate and help your organization reach a defined fundraising goal—are becoming increasingly popular. Gamification elements and mobile bidding technology can make these events just as exciting for guests as a traditional auction.
As your organization decides on the best charity auction format for your next event, remember that successful fundraising is donor-centric. Your donors' interests should always take central importance when it comes to any type of event planning. If you know that they'll prefer the excitement of a live auction, the social aspects of a silent auction, or the flexibility of an online auction, try to design your fundraising accordingly.
Whichever type of charity auction your nonprofit decides to host, you'll save time and energy by implementing helpful software solutions that can facilitate management of every step of the process.
2. How can I use technology to make my charity auction run more smoothly?
Once your organization has selected the type of charity auction that your supporters will enjoy, you can begin planning the auction details. For starters, you'll need to book a venue, arrange for food and drinks, and procure items. Planning the event may seem like a lot of work, but you can make the whole process easier with the help of charity auction software.
The best software solutions for your charity auction facilitate the management of your event at every step of the process. Depending on the type of auction you choose to host, you'll have slightly different needs. However,  high-value features include:
Event management capabilities.

Auction software does more than just facilitate bidding on items. Look for one that provides easy registration for the event, tracks attendee information, and either integrates with your CRM or allows for easy export of data for your organization's donor management.

Online auction sites.

If you're hosting an online auction, you'll need software that enables the creation of online auction pages where remote guests can place their bids. Ensure that your online auction site is easy to access and use so that your donors can bid anywhere and anytime.

Mobile bidding.

Make your auction process more convenient for both your guests and enhance the experience at your event, by selecting charity auction software that is mobile optimized.
When you choose charity auction software that offers all of these features, you'll simplify the process of planning and carrying out your auction and engage your attendees more easily. You can check out re: Charity's list of top fundraising software solutions to learn more about your options and select the fundraising software that's right for your organization.
Charity auction software can encourage your supporters to attend and participate in your auction by making it more convenient for them to do so. You can also motivate them by gathering items they're sure to want to bid on.
3. How can I gather items for my organization's charity auction?
Charity auctions benefit your organization by bringing donors together in support of your cause and encouraging them to give in a fun, social atmosphere. Your guests can also benefit from the event when you provide them with exciting items to bid on! Encourage participation in your charity auction by gathering items your guests are sure to want to take home.
The most effective mixture of auction items includes both tried-and-true popular prizes known to draw crowds and more unique options that your guests aren't likely to expect. Be sure to vary your selection so that there's something for everyone, taking into account your guests' ages, families, geographic locations, interests, and similar factors.
Looking for sources for your items? Turn to your community and those already connected to your cause. To gather items for your charity auction:
Ask your nonprofit's board members.

Board members can be amazing sources for auction items, due to their business affiliations, social networks, and personal connections.

Asking local business owners.

When you ask local business owners regarding contributions to your charity auction, ensure that they understand that their donation also serves as a form of publicity for the products and services they provide for your community and that you include demographics of your attendees and donors

Writing letters.

Your organization may not be able to reach out in person to everyone to request items to your auction. When a face-to-face ask is impractical, try writing a letter asking for the donation of an item in support of your organization's fundraising effort. Don't forget to send

highly personalized thank-you letters

to everyone who contributes items to your auction!
With easy ways to register and participate in your auction and plenty of exciting items to bid on, your next charity auction is sure to be filled with guests who are excited about your organization and your work. You'll want to stay in touch with them after the event, so ensure that you gather all of the necessary information you need to remain connected.
4. How can I stay in touch with my charity auction attendees?
When they choose to attend your charity auction and contribute to your organization by bidding on items, your guests demonstrate their interest in your cause. Whether they're familiar donors or new supporters, your organization will want to make sure that you're able to stay in contact with all of your charity auction guests.
These days, most people turn to their computers and smartphones when they want to reach out or stay in touch. Online methods are some of the most convenient and effective ways of communicating with your supporters. Ensure that you're able to reach out to your guests after your charity auction has ended by:

Getting them on your email list.

Emails are an effective and efficient way of staying in touch with large numbers of supporters. Your organization can segment your email list to create more personalized communications for different groups of donors. Don't forget to include a link to your online giving page in your emails.

Keeping your website updated.

Use your website to keep your supporters updated on future events as well as projects, fundraising campaigns, and other efforts. If your website hasn't been updated in a while and could

use an overhaul

, ensure that your most recent projects are shown front and center and that your giving page is easy to access and use. Looking for inspiration? You can check out some of the top nonprofit websites

here

.

Staying connected with them on social media.

Your social media accounts make great locations for keeping your donors updated on your organization's plans and progress. You can also use these platforms to encourage them to make online donations and offer them personalized thanks when they do.
Personalized communications on any platform inspire donors and encourage them to give again. A fun event such as a charity auction is an excellent way to initiate and strengthen connections with supporters that will make them want to stay in touch with your organization.
A charity auction provides a great opportunity for bringing your supporters and your organization's team together for a fun event that can raise significant amounts in donations to your cause. With good planning and helpful technology, your auction is sure to be a success.
---
Author: Kelly Velasquez-Hague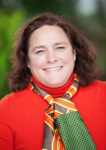 Kelly Velasquez-Hague brings over 20 years of fundraising, nonprofit management, and sales/marketing experience to her role as the Director of Content Marketing for OneCause. As a member of the OneCause sales and marketing team, Kelly manages all of the company's content strategy and execution. She is passionate about empowering great missions and loves that her current role allows her to continue to help nonprofits reach new donors raise more funds for their cause.