I was as nervous as a long-tailed cat in a room full of rocking chairs. 
Eight weeks into my first job as a development director, I was about to present before my organization's board on our annual campaign. For the past five years, their appeal had gone downhill, losing dollars and donors. The mailings had been ridiculously expensive. And they'd been so badly handled by the mailing house that they had incensed the local community.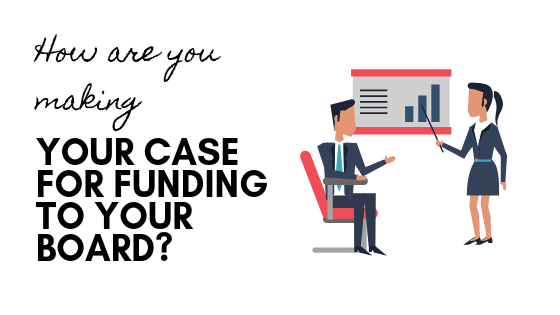 Anxious to turn things around and make a good impression, I met with our most valuable volunteer who told me, "If you can turn this around, you'll be golden."
I had a matter of weeks to perform a miracle.
So I went before our board, spreadsheets in hand, and made my case. And, while I wasn't given my requested budget for acquisition that year, I did get the go-ahead to do the campaign the right way. My way. No more full-color fancy brochures. A simple, heartfelt *ugly* letter went out, along with special touches, to our best donors. 
That campaign brought in 25% more, compared to the previous campaign. It reduced costs well over 30%, too. Our pass-it-on pack brought in over 100 new donors without a budget for acquisition. We continued to grow. The following year, I got my acquisition budget. 
I got it all because I went forth and made my case.
How are you making a compelling case for investment and communicating it clearly to your board?
There's a winning little story that I refer to often, and it involves a nonprofit known as Nashville Rescue Mission. You've probably heard it before. If you've not, here's the scoop: Nashville Rescue Mission raises $2 million every year solely from their donor newsletters, and it's a print newsletter, too! I know, I know… Your eyes are probably lighting up right now.
But here's the catch: NRM spends roughly $300,000 a year on writing, printing and designing the newsletter.
When I reveal that reality, faces often fall. Yet wouldn't you agree that spending $300,000 to generate $2 million is a more than substantial return on investment? 
You love your donors (at least, I hope that you do). You know that the basic system of *Ask, Thank, Report, Repeat* is the best route to sustainable fundraising. But it's not an easy road.
Susan wrote to me about her challenges that arise from "Having to 'sell' the donor-centered sustainability model to stakeholders who have been hardened by various consultants promising to bring in $$ and did not. It's a bit of a tricky situation I'm in, but a really great challenge!"
Emily described her attempts to build a new donor system at her organization: "This is always a struggle because our leadership doesn't understand how important this is! My ED was lecturing me about ROI when I send out welcome packets and monthly giving letters to my new donors because if they "only" give $10, we spend 1/4 of it sending them mail in the first few weeks." 
Let me be clear: there is no free ride here. You've got to put in the effort, and if you're looking to succeed, you'll need to spend mone. You need a budget for donor communications and donor care. Whenever I get called in to do a development audit on a nonprofit in trouble, 99.9 times out of 100, I can point to a lack of a consistent communications program as the culprit.
The thing is, everything flows from your donor communications system; from your small donors, to your mid-level donors, to your monthly donors, to your legacy donors, and, of course, your major donors.
So, while every organization is different, a basic system of 3-5 appeals a year, coupled with 3-6 donor newsletters, combined with an abundance of gratitude (that, along with listening, is your secret sauce!) will ensure that your organization is well-funded throughout the year.
Yet nonprofits are so busy tripping over dollars rushing to pick up pennies that they often can't see straight.
Imagine where Amazon would be today if Jeff Bezos had never invested a dime into customer service and retention. On the contrary, he made customer service his number one goal.
Facilitating change — true change — in your organization's culture requires building your case. Over and over again. 
Here are some resources that will help:
Jay Love writes that, "Understanding the concept of Lifetime Value can have an immense impact on your fundraising practices." This is a concept you must communicate to your board! This insightful Bloomerang piece that Jay wrote will provide some helpful advice on how to do that.

How did one organization realize an annual revenue increase from €250,000 to €3 million and a donor retention rate increase from 57 percent to 69 percent in a matter of a few years? Download the Nana Murphy: lessons in donor care case study. You and your team will see for yourself the power of focus and commitment.
A dashboard reporting mechanism is also a great tool for keeping your board on top of the metrics that really matter. Bloomerang has a built-in dashboard. But, if your donor software doesn't incorporate a dashboard, check out Fundraising Report Card.

Invest in training. According to a study conducted by Dr. Adrian Sargeant, "There is a strong correlation between the range of training and educational opportunities afforded to staff and overall fundraising performance. Each additional form of training/education is associated with an increase of $37,000 in income."
Throughout everything, please remember that you will frequently need to reinforce the case for your budget. Over and over again.