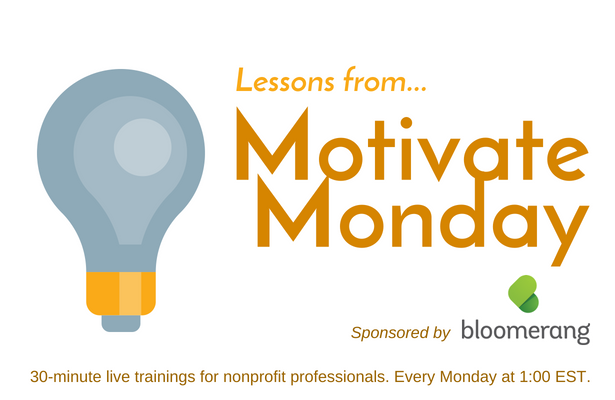 ---
During the latest Motivate Monday, I focused my attention on monthly giving and did my best to get you to focus your attention on it, too. The timing of this was intentional. It's January right now. That means it's time to get things in order so that you can have a fabulous fundraising year in 2020. It's my hope that you're taking a close look at your systems and figuring out what you can do better. In some cases, you may even be exploring how to get things started. And figuring out where to begin is often the toughest part, especially for monthly giving. 
I still hear from nonprofits who aren't sure how to get their monthly giving program off the ground. Heck, I even still hear from organizations who view monthly giving as merely an option. 
And that just is not the way.
Still not convinced? Understand this sobering fact: 77% of first-time donors won't give to your organization next year.
Yikes! How do you combat that? Well, retaining your donors so that they don't slip away helps. And monthly giving provides an avenue for you to do that.
But in terms of getting it started? You need a strong case for your donors. I provide some helpful examples, including one of the best ones I've seen, which is from charity:water. 
I also discuss how to make things easy for your supporters, the importance of having already-strong stewardship in place, how to schedule your monthly giving, and more. I even bring Mandy Fischer, Director of Development and Special Projects at Intervale Center, on board to talk about their monthly giving program, including how they segmented their donors.
When you get a chance, pour your beverage of choice, grab a comfy seat, and give this power half-hour a listen. I'm confident you'll come away with some invaluable monthly giving know-how.