The new book, Monthly Giving: The Sleeping Giant, leads with this quote from Mark Victor Hansen "Don't wait until everything is just right. It will never be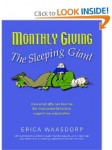 perfect. There will always be challenges, obstacles and less than perfect conditions. So what. Get started now. With each step you take, you will grow stronger and stronger, more and more skilled, more and more self-confident and more and more successful."
I couldn't agree more. Monthly giving is the holy grail of fundraising. So why aren't more organizations, particularly American organizations, using it? Could it be that they simply don't know how to get started?
Author Erica Waasdorp to the rescue.  Her book takes over where Harvey McKinnon, in his landmark book, Hidden Gold, leaves off and gives readers the nuts and bolts of starting a monthly giving program. And she does it in a detailed way that's easily understood and easily implemented, from branding (her advice? don't stress, keep it simple), to targeting (you might be surprised at her suggestions), to how to use a variety channels (she's even included telemarketing scripts). Factor in a fabulous contribution from Jerry Huntsinger that will, quite literally, guide you step-by-step through the process of drafting your first monthly giving program letter, and you've got a real winner.
Erica has graciously answered a few questions I had on setting up monthly sustainer programs for small shops.  And look for Erica's Simple Development Systems webinar coming up in May.
---
Q.  You note that setting an ask amount is "never easy." I'm just beginning to see face-to-face or street fundraisers in my area and I've noticed that the organizations that they represent offer one set amount. How many ask amounts do you recommend setting for your first foray into monthly giving?
A.  What they have found for face-to-face is that one ask amount is the easiest way to get a new monthly donor. The offer needs to be easy and as specific as possible because the prospect does not really know the organization yet and you don't really know what the donor can give. The same applies typically for television.
But, if you're using direct mail, email and telemarketing for instance and you're aiming your monthly giving ask at existing donors, you do know their giving history. So ideally you'd like to offer multiple options, the donor will decide what they can afford to do. It all depends on the organization and how you as the fundraiser can 'financially' motivate someone to make a difference to your organization.
It's if you don't ask, you're not going to get. In other words, if you only ask for $5 a month that may be all you're getting, whereas other donors may be very willing to give $10 or perhaps $20 or perhaps even $50 a month depending upon what their single gift levels are.   I have done tests where asking for a lower starting amount will certainly increase response rate for the program but you'd still get some donors who will go for the second or third option.
Q.  I love that you tell readers to become "best buddies with your IT and donor services staff," but what about the small shop fundraisers who are doing it all? Do you have any special tips to help them systematize their monthly gifts?
A.  Small shop fundraisers should become best buddies with their database vendor/tech folks or customer service rep if need be (ideally, they should actually already be that 'chummy' to make sure they get the reports they need. I'd recommend using your online payment system to offer credit card sustainers for small shops… pay pal is really easy to set up the recurring giving option and even Network for Good has that…
Q.  I run across many organizations who started monthly giving programs a few years back…and then let them lapse. They've got a handful of monthlies and might pick up a couple a year via their monthly giving option on their communications but they're not seeing real growth. What's your best recommendation for these organizations?
A.  If they're lapsed sustainers, do go back to them and try to reactivate them, especially if they still give gifts, ideally do this by phone because you can have a conversation with them and explain about this new exciting way of giving.
If they lapsed because it was a pledge by check (envelope) program, you can say that you now have this exciting easy way of giving, namely automatic. And then start growing your 'new' program using the various tools in your tool box.
Q.  Recently, in a webinar with another fundraiser, we both noted that we were monthly donors to a couple of organizations and neither of us had received anything by way of stewardship. Oh, maybe an initial thank you letter — but nothing since. How do you recommend an organization steward its monthly donors?
A.  Well, it all depends on your resources. I'd definitely recommend sending a thank you letter, include the special email or phone number to be in touch if you have questions and send a nice certificate. As to stewardship, if this is a small shop and you're not doing a newsletter and you're only mailing four appeals a year (if that), send them those appeals and simply put in the introduction a special thank you for their continued support as a monthly donor.
If you do a newsletter, make sure to include the monthly donors in that group.
In other words, do not stop communicating with them!! they do wish to hear from you and they WILL give you another gift if asked… I'm seeing that those are my highest responding groups.
But also, if you are short staffed, no need to create a special newsletter or track for them.. you do wish to keep it simple for you and the donor.
Q.  If you could say anything to the head of a small nonprofit organization about monthly giving, what would you say?
A.  I'd say, the easiest way to set it up is through your online giving page, they take care of your processing. Also, put something in your thank you letters announcing this program and how it will save money and make that the organization has the basic revenue coming in to ensure that the mission can continue.
If you have emails, you can offer the monthly giving option in your email as long as you have the recurring giving set up on your online giving page.
If you have a newsletter that you send to your donors, put in a story about the recurring donor and the ease etc. testimonials is great… if nothing else, your board and staff should be able to support you this way.
In other words, start small but DO START…
---