My regular newsletter readers have heard me tell this story many times.  How I first read this article called The Sound a Thank You Makes by Hildy Gottlieb over a decade ago.    About how it so resonated with me that I put her advice into practice from that day forward, in every development position, and with my consulting clients.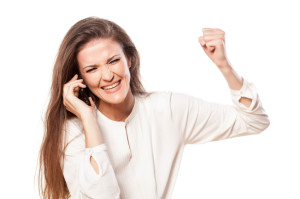 In fact, from 2004 on, I've made it a practice every day to start my day out with donor phone calls. As my years in fundraising passed, I found that remembering that one small habit did much more than grow my relationships with donors.  By infusing my day with gratitude, my work started off with a lighter step, even on those days when I could have used 10 extra hours.  Relationships with the most contentious colleagues seemed easier.
So I've passed on that tip to readers too…many times.  And you're even thinking 'oh no here she comes with another post on phone calls.'  But there's a reason for that.  A three minute thank you call can reduce donor attrition by a third.
Until recently though, despite giving to a number of charities, I had never received a thank you call in response to a gift (except for my SDS members; they know smart fundraising, what can I say?).
And then it happened!
I made a recurring gift to Brittany's Hope Foundation…and received a thank you call 15 minutes later from their executive director.
Yes!  Fifteen minutes later!
Imagine how it made me — the donor — feel.
How would you feel?
I wondered about the processes behind Brittany's Hope's donor service.  So I sat down with Mai-Lynn Abel Sahd, MSW, the Executive Director of Brittany's Hope Foundation to learn how she does it.
Mai-Lynn is busy, just like you.  With not enough hours in a day.  Running a small nonprofit with a big mission.
So how does she do it? 
Simple: making her donors feel loved and appreciated is a top priority for Mai-Lynn.  And she and her small staff of three create the processes to make it happen.
"It's our procedure as well as our mission to acknowledge and thank donors appropriately," Mai-Lynn said.  "We started making the calls last year — and it doesn't matter if you donate $1 or $5, our job is to thank appropriately — and make it a point to reconnect a few months later."
Mai-Lynn said that she recognized early on the importance of investing in Brittany's Hope's donors, and the great potential of her small donors, many of who give recurring gifts.
How many times have researchers and bloggers written about the importance of a donor phone call?
How often do you actually DO them?
The most common excuse for not making calls is the time factor, especially for small shop fundraisers.
And yet, from the time you were two or so, you've made it a habit to brush your teeth every day (hopefully twice a day). It doesn't take long and NOT doing it can have an impact on your health for years to come.
Pay the same kind of attention to your most valuable resource: your donors. And make daily donor calls a habit.
Are you really interested in building donors for life? The kind of donors who become monthly donors, major donors…bequest donors? Or are you content to remain on the acquisition treadmill?
Resources
How to reduce donor attrition by a third in 3 minutes 
The Sound a Thank You Makes article
Download your Donor Love Toolkit and learn ways organizations just like yours are making their donors feel loved.
A wonderful thank you call script from Karen Osborne of the Osborne Group.