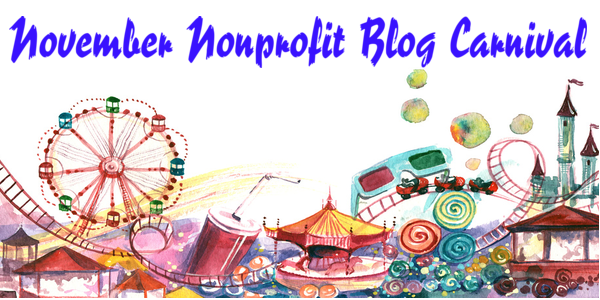 Here in the US, November marks the month of Thanksgiving and showing gratitude for our blessings. In keeping with the theme, for the past few years, our November Nonprofit Blog Carnival has celebrated with inspiring ways nonprofit organizations throughout the world are celebrating the donors who make their work possible.
SDS member Rachel Ramjatten of Catholic Charities of Miami says:  "Pam, Thursday was Give Miami Day and we called every donor we had a number for. And every donor received a superhero badge via email within an hour of their gift. One said that she had never ever received a thank you call from a nonprofit after donating. Another wept. He had given a memorial gift in honor of his dad because it was his dad's birthday and he loved helping people. He was thrilled to share his dad's story with us. Another wrote me a thank you for helping her feel like a hero and bringing out the hero in her. You're so right… gratitude is the most important thing."
Direct mail, social media, email

 

and video…you're sure to find a wealth of ideas to inspire you in creating your organization's 'attitude of gratitude, now and throughout the year.  
---
Nonprofit marketing guru Kivi Leroux Miller shares a plethora of thank you videos guaranteed to inspire you.
On a budget?  Fundraising expert Amy Eisenstein with Holiday Donor Gifts that Keep on Giving – Without Costing a Thing
Are you coming from a 'spirit of gratitude?'  Our friends at Veritus with tips on practicing gratitude on a daily basis.
Nonprofit Hub with Tips on Recognizing the Importance of Gratitude.
Holly Minch of LightBox Collaborative shares Donor Thank You's with Mission Impact.
When you're creating your donor thank you's, don't forget about your email thank you's.  A receipt just doesn't cut it.  Take a look at the best email thank you I've received to date in What's in my Inbox.  
And, when it comes to thank you's, don't forget the very personal power of hand-written.  See what a child sponsorship organization and a yoga nonprofit did.  
The born do-gooder and queen of gratitude, Shanon Doolittle gives us a fundraising lesson from Frozen.
Gratitude is better when everyone's on board!  Wild Apricot with Should Your Organization Take The "Gratitude Challenge"? 
 The legendary Simone P. Joyaux shares what good stewardship is all about in I'm a donor…And I just had an extraordinary experience.
Cindi Phallen of Create Possibility gives us 4 Steps Toward an Attitude of Gratitude.
Fundraising Authority Joe Garecht with Are You Stewarding Your Donors?
The always donor-centered Claire Axelrad brings us Losing Too Many Donors? 5 No-Brainer Ways to Keep Them.
Nonprofit marketing wordsmith Erica Mills with Words of Gratitude – Use Often [#WordsThatWow] 
Our friend, the fabulous Gail Perry, weighs in with a reminder that it's about more than thank you's…How A Donor Communications Program Keeps Donors Giving and Giving
Are there things you SHOULDN'T do when thanking donors?  Mary Cahalane answers in Dear Fundraiser: Things I wish you wouldn't do  
Think a 'Gravy-Boat Stewardship Challenge' might trump the 'ice-bucket challenge?"  Erik Anderson's got some fun ideas for social media stewardship.
Don't forget those donors you've lost along the way…Donor Guru Lynne Wester with Welcoming Your Lapsed Donors Back.
When I saw Agents of Good's latest 'Gratitude Report,' I couldn't wait to share it with you.  Here's what your next 'annual report' should be:  Ana's Story.
Ann Green reminds that we should Be Thankful for our Donors throughout the year. 
A very special 'knock your socks off' thank you arrived in my mailbox by way of one of my Simple Development Systems' members.  Take a look.
How can you thank your grant funders 365 days a year?  From Diane Leonard.
Being 'good at gratitude' is a gift, yes, but it can also be learned.  Beth Ann Locke shows us how. 
Agent John Lepp and fundraiser extraordinaire Rory Green teamed up to bring you a Star Wars themed direct mail thanks.   
How do you wow a fundraiser with a thank you?   See how a very small nonprofit used video.   From Agents of Good.
---
Keep the ball moving.  December's Nonprofit Blog Carnival is hosted by Fundraising Authority Joe Garecht.  Joe's challenging us all to go big in 2015!