Last Friday I went to the Vancouver Fringe Festival – a large festival where hundreds of plays are put on at every imaginable venue in town over a few short weeks. As I waited in the lobby I noticed poster's everywhere announcing that it was "Dianne's Day".
"Dianne's Day! Diane would like to thank the artists, volunteers, staff, and Fringe friends for making the Festival such a great experience every year… AND her husband for making Diane's Day possible! Diane Kent has made a huge impact on the 2016 Festival and beyond. If you happen to run into her today be sure to give her a high five."
Wow! What incredible donor stewardship! This is a brilliant way to make all the ambiguous things we spend money on (rent, space, staff time) – so real, tangible and special for the donor.
Then, as the lights dimmed for the play to start, an announcement was read about Diane:
"Diane Kent first attended the Vancouver Fringe in 2005 to see her nephew in the very Fringey "Three Sisters: A Black Opera in Three Acts". Impressed by what she saw, she has been increasing her attendance at and donations to the Fringe ever since and encourages you to do the same. Diane would like to thank the artists, volunteers, staff, and Fringe friends for making the Festival such a great experience every year… AND her husband for again making Diane's Day possible!"
Fundraisers – this is an idea I want you to copy and steal! A private school or university could have donor days on special days of the year (first day, sports day, the school dance). Other festivals, art galleries, and concerts could easily do something similar.
In fact, this reminds me of a brilliant idea my mom came up with in a provincial election campaign: the opposing political party was outspending them on advertising so they asked their loyal donors to step up and donate $1,000 – the cost to run one commercial. Each donor got a phone call (sometimes from their local candidate) saying: "Hi Pam! Thank you so much for your donation of $1,000. I wanted to let you know that your commercial will be playing tomorrow at 8 pm on channel 21. We hope over 7,000 people will see it – all thanks to you".
It was a huge hit! They exceeded their fundraising goal and donors loved getting their friends and family together to watch their commercials.
Brilliant fundraiser Caoileann Appleby did something quite inspired at ASN, a very small charity she volunteers with. They needed to raise funds to pay the salary of their Executive Director's salary, not the easiest thing to raise fund for. But what they did was brilliant – every donor who gave at a certain level supported a day of the ED's time. And at the end of that day, got an e-mail from the ED about what she had done that day: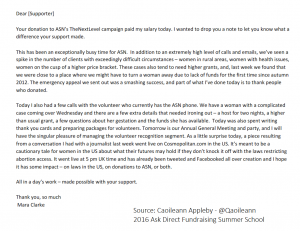 How amazing is that? This could be easily replicated with a camp councillor working with kids, a vet from your animal clinic, a therapist or councillor – or any of your program staff!
So there you have it fundraisers – three great ways to connect donors with the more intangible things their donations are spent on.
Got amazing ideas?
Share them below in the comments!
---
Twitter: @RoryJMGreen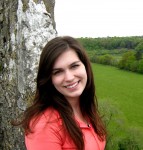 Rory Green is currently the Associate Director, Advancement, for the Faculty of Applied Science at Simon Fraser University in Vancouver, BC. She has also worked in major and corporate giving at BCIT and the Canadian Cancer Society. Rory's passion is donors. How to listen to them. How to talk to them. How to help them feel joy through philanthropy. In her spare time, Rory is the founder and editor of Fundraiser Grrl, the fundraising community's go-to source for comic relief.