There are over 1.5 million nonprofit organizations in the United States. Some of the bigger nonprofits have nationwide (and global) appeal. Their names and brands are instantly recognizable to the masses. UNICEF. Big Brothers & Big Sisters of America. St. Jude's Children's Hospital. Smaller nonprofits can often feel like little fish in a big ocean. And if you're sole development director at one of these smaller organizations, chances are, you've felt overwhelmed in your position at one time or another. After all, you're responsible for a lot. You're senior fundraising manager. You're in charge of creating your organization's strategic fundraising plan for the whole year…and then making it happen. You're expected to deliver results, and all eyes are on you.
But here's the thing about being a DD at a small nonprofit: you have an edge when it comes to one-on-one donor communications. You have the opportunity to make things not only personal, but unforgettable. If you work it right and engage your supporters on an individual level, they're likely to respond in a positive way. 
I've asked fundraisers about how they personalize their donor communications often, and I've gathered hundreds of answers over the past few years alone. I'd like to share some with you in hopes that these ideas inspire and invigorate your communications. The options, along with opportunities for creativity and individual engagement, are endless. 
Here's what some of your fellow fundraisers had to say…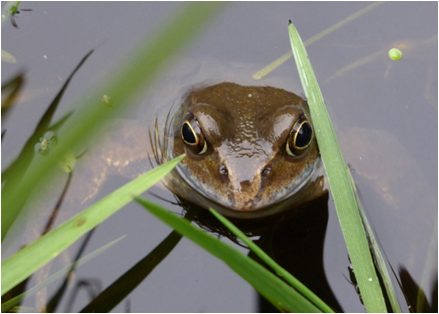 "We now send a thank you letter to everyone who renews their 'Friends' subscription. We are a small environmental charity in England. We send them lovely notes with pictures on, taken by one of our volunteers. Here's a picture we have used a lot. It's called the smiling frog. He popped up once we had cleared his pond with our volunteers and he really is smiling, isn't he?
-Julie Wickham, Fundraising & Marketing Manager, Stroud Valleys Project
"One of the ways I recently implemented to thank donors was a "Thanking Calendar". It is based on your 12 months Fundraising and Marketing calendar. I want to ensure donors of all levels feel the love. So, there is something planned each month. Either we send an e-mail with a quick update on funds being used, such as our Bursary program – i.e. in September we sent out a picture of happy students gathered with a note that said, "41 families are able to attend our school because of you". And for those who specifically supported capital we sent out an e-mail with a picture of happy students chatting and engaging with one another using the new space that said, "Thank you for developing our community". Or we send an article through e-mail or mail by a student expressing their gratitude for the school for one reason or another. "
-Gillian Doucet, CFRE, University fundraiser
"I am originally from Colombia, South America, and I travel there once or twice per year. Since I'm a coffee lover, I always find out who of my organization's supporters are coffee lovers too. I buy a bunch of premium organic Colombian coffee in nice-looking authentic bags, and upon my return I personally deliver them. They love it! It doesn't cost much, and my donors feel truly special."
-Claudia Soto-Neira, Director of Marketing & Development, KidWorks Community Corporation
"We feature a "donor in the spotlight" in each of our newsletters, most of our donors love the public recognition."
Randy Barnes, Associate Director of Development, Anti-Defamation League – Southwest Region
"I am hugging my donors by inviting them to help pack our food to distribute to the children – this way they get to see the impact of their donation."
-Lynne B. Kahn, Executive Director, Baltimore Hunger Project
"I try to vary my thank you process between calling donors and writing hand-written cards thanking them and telling them about the impact of their gift.  I often get thank yous for my thank yous sent to me along with additional gifts. That's not the motivation for doing it but it sure is a nice side benefit."
-LeNae Williamson, Development Manager, Union Gospel Mission Twin Cities
"We do "cookie calls" with cookies from our food service people. Hot and mouthwatering always brings a smile when we share them as part of a thank you to our donors. The other thing we are doing since we work with abused and abandoned kids if to provide a Thank you from the children. Attached to a picture of the donor from an event or visit in a small inexpensive frame. One donor said to me that of all the awards, certificates and plaques that he has ever received. This one means the most because it comes from those he helps."
-Bob Krouse, Director of Development, The Children's Home Network
"For the sponsors of one of our fundraising events, we had one of our program participants, (a single mom who had just started her own business making beautiful balloon animals and "sculptures" for parties) create incredible balloon bouquets for our top sponsors. We hand delivered the bouquets to our sponsors a week before the event, both as a thank you and as a way to promote our event to their customers!"
-Cara Gosse, Vice President of Communications & Development, Family Services of Northeast Wisconsin
"We routinely ask our donors how we can pray for them.  We gather our staff each day to pray for requests. We have been touched by how people open their hearts and lives to us, knowing that we care for their concerns that are not related to our nonprofit. We even hesitate to call these folks "donors", they are truly ministry friends."
-Michele M. Rickett, President/Founder, She Is Safe
"My Executive Director and I work as a close team to create a culture of philanthropy! In fact, every Monday at 1pm we kick-off our weekly one-on-one meeting by participating in Motivate Monday! We just completed raising funds to expand a new project, and received the largest gift we've ever secured (as an agency and as individual development people!), to fully fund the capital investment and three years of operations!"
-Beth Levine Cupp, Director of Development, Classroom Central
So what do you think? Do these ideas inspire you to take a look at the ways you've been communicating with your donors? What has your nonprofit been doing to make it personal? Are you leading with gratitude? Are you thinking of creative ways to communicate with those who make your work possible? Are you speaking to your supporters as individual people? When it comes to creating a fundraising plan, which includes communicating frequently and well, all of this (and more!) matters.