Gratitude is not only the greatest of virtues, but the parent of all the others.
-Marcus Tullius Cicero
For seven years, I worked for a private family foundation. During that period, I learned a lot about the inner workings of grant-making as we established our first areas of programming and grant application guidelines.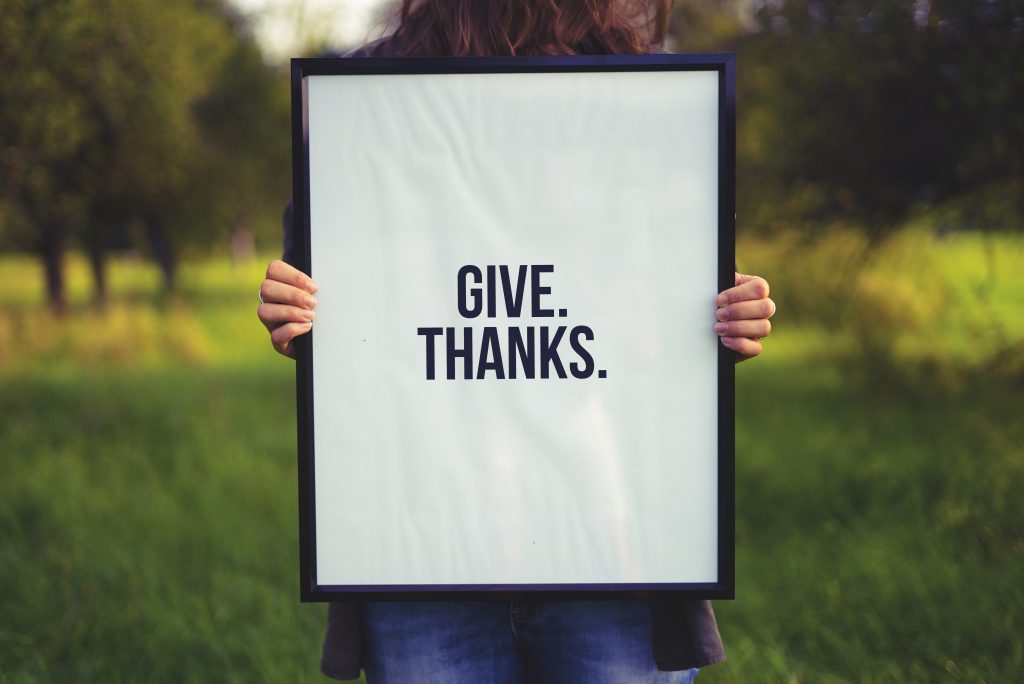 But one of the lessons that impacted me the most was the day our vice president of programming received a thank you letter. We made hundreds of grants throughout the year and received hundreds of thank you letters.
So what set this one apart?
This letter was from an organization whose grant proposal the foundation had declined. And the letter, sincere and heartfelt, thanked us for our time and the attention spent during the review process. The vice president was touched. "We do work really hard to do this work well…to make thoughtful decisions." She felt seen. The letter was filed away with the application. And the organization's grant proposal was fully funded the following year.
The power of sincere gratitude is strong.
Despite this fact, as a sector, we continue to debate the value of thanking ad nauseam…in blog post after blog post, in study after study, in test after test, in argument after argument in Facebook post after Facebook post in nonprofit groups.
And yet, not a single study, post, or test has pointed out that thanking is simply the right thing to do.
Not one single study, post, or test has pointed to the magic of cultivating gratitude as a way of life.
The scientific community has reams of research pointing to the connection between gratitude and the human brain and, specifically, the efficacy of gratitude in improving mental health. Within the past few decades, studies have consistently found that people who practice gratitude show less depression, more optimism and happiness, stronger relationships, and more generous behavior.
An article authored by professors Joel Wong and Joshua Brown, and published in The University of California – Berkeley's Greater Good Magazine, reveals fresh insight about the relationship between gratitude and mental health. In addition to psychological counseling, mental health professionals are trying to figure out manageable activities their clients can perform in order to improve their mental health. Practicing gratitude is one of them. Wong and Brown sought to further explore how practicing gratitude can lead to better mental health by performing their own research. 
Wong and Brown conducted a study involving 300 adults who were mostly college students seeking mental health counseling at a university. These participants, on average, reported clinically low levels of mental health, and especially struggled with depression and anxiety. They were assigned into three groups. The first group was instructed to write a letter of gratitude to another person on a weekly basis for three weeks. The second group was asked to write about negative experiences. The third group was not given a writing task. All three groups were provided with counseling services.
So what did Wong and Brown's study reveal? Those who wrote gratitude letters reported significantly better mental health four weeks and 12 weeks after their writing exercise ended. This is strong evidence that those who struggle with mental health can benefit from practicing gratitude. While counseling alone can be helpful, counseling in conjunction with practicing gratitude results in an even greater benefit. Furthermore, when Wong and Brown dug deeper into their results, they found evidence of how gratitude might actually work on a psychological level.
You can read more about Wong and Brown's research and the fascinating insights that they discovered here.
The point is, gratitude is unbelievably powerful. Practicing it positively impacts the brain. It's been scientifically proven.
Why wouldn't you begin every day with a gratitude practice? And what better way to connect with your supporters?
Imagine if every organization valued their donors to the extent where every new donor, regardless of the size of their gift, received an immediate thank you call (preferably from the executive director) within minutes of making their gift?
In the nonprofit sector, gratitude is often overlooked. We're impossibly busy. We're doing important work. Such vital work, many of us are inclined to think, we shouldn't need to make our case for support or thank our donors. We never once stop to consider our work from the perspective of our funders.
Stewardship is the very core of your development plan. In 2020 make a plan for your gratitude practice. Incorporate it into your day and plan for it. Will you be calling donors every morning before you begin your day? Perhaps you'll be writing hand-written thank you notes or sending out "just because" thank you post-cards.
Here are some resources to get you started:
A free thank you letter template you can swipe!
What's in my Mailbox | Are you following your online gifts with a snail mail thank you?
Latest Report Reinforces: Your Thank You Matters
The Dos and Don'ts of Donor 'Thank You' Calls