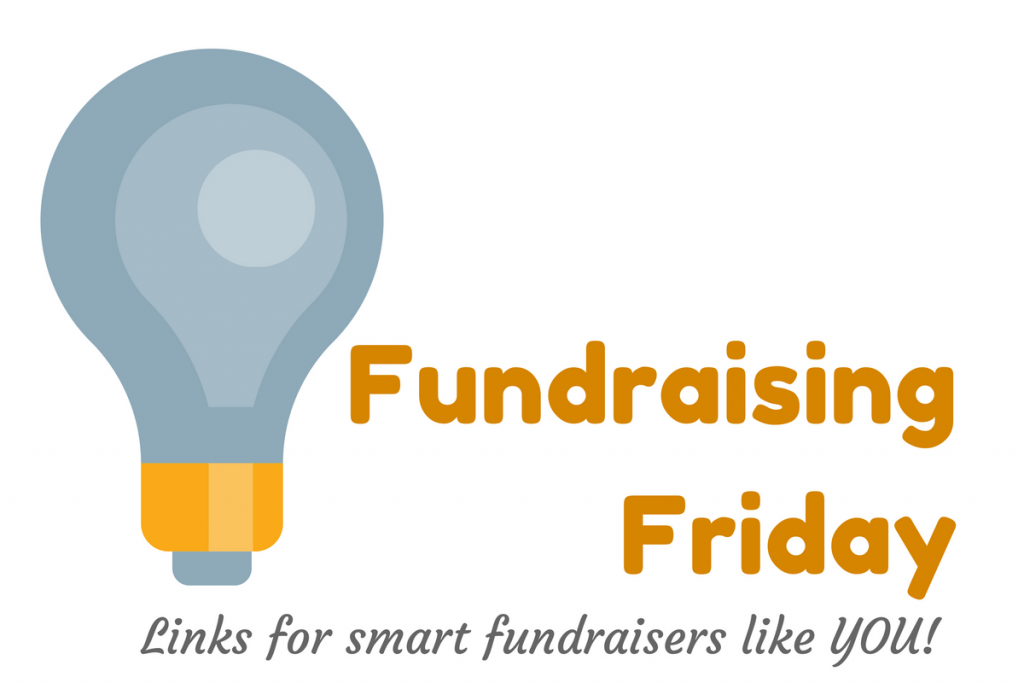 ---
Fundraising
Emergency Year-End Fundraising 2019. Here's what you can still do to surpass your goal (Tip Sheet added).
How will you "inspire and delight" in 2020? Maybe a subscription box is in your organization's future.
A marvelous holiday gift from Mark Phillips: Why Do People Give? The Podcast with Ken Burnett. You're in for a real treat.
Saying "thank you." It's not a "have to" or an obligation. It's a privilege. T. Clay Buck with Why Can't You Just Say Thanks?
Duct Tape and Baling Wire. In other words, the state of nonprofit databases. This week's must-read from Nick Ellinger.
The very smart Abby Jarvis over at Qgiv knows: recurring givers rock. Mission: Possible—Turn One-Time Donors into Recurring Donors.
This past summer Instagram launched its donation sticker for nonprofits. So, are the donations flowing in? Insight from Givepanel.
Why doesn't social proof work for Wikipedia fundraising? New from Chris Keating.
As our challenges grow, you'll find no end to the consultants who will advise you to focus solely on major donor fundraising. Of course a major donor will rarely land on your website and make a 6-figure gift; they're typically nurtured from that first $25 gift… Mary Cahalane with Why you should care about ALL your donors
How can you make time for the relationship building that leads to a great workplace culture? M+R with A fun trick to sweeten your office culture.
Forget the spin, how did this year's GivingTuesday really go? GivingTuesday Stats and Revenue from 2019. New from NextAfter.
Joe Waters shared this one in his newsletter (you should subscribe). Goodwill's Influencer Program is a Model for Nonprofit Media Relations.
And lastly, T. Clay Buck with a must-read Five Fundamental Questions of Fundraising. Donor Communications
See how one of my local charities made their EOY fundraising ask fun and playful. What's in my Inbox.
Political fundraising…it's such a drag, isn't it? Usually all about the money and the deadline. And nothing whatsoever about the kind of world we want to create for future generations. But every once in a while a candidate shares the kind of communication we could all learn from. What's in my Inbox? Liz Warren.
More on EOY email fundraising with an exceptional example of a matching gift ask. What's in my Inbox.
Planning on sending a reminder before the end of the year? Here's an example of a postcard mailing. What's in my Mailbox.
And more from Mark. See if you recognize any of these 12 Appeals of the Year.
The email's subject header grabbed me immediately: I had the same textbooks in tenth grade that a fifth-grader had in private school. Another What's in my Inbox.
Need to Know
If your organization uses the .org domain registration, now is the time to secure the price for as many years as possible. It's also time to join the fight. From Amy Sample Ward, The digital home of nonprofits is under attack.
The Chronicle of Philanthropy recently reported that, according to a survey by the Better Business Bureau, "only 19 percent of people highly trust charities." Nineteen percent! But building trust is far easier than collecting as many "seals of approval" from the ridiculous self-appointed charity watchdogs and displaying them on your website. Building Trust for Your Nonprofit.
Can friendship actually hold us back in our careers? H/T to Lisa Sargent who turned me on to this thoughtful post. How Friendship Holds Women Back in Their Careers—and What They Can Do About It
Survey
Do you donate to your own organization? My friend, Ephraim Gopin, is running a survey to discover how nonprofit staff feel about employee giving. Do me a favor and take a minute or so to respond?