Fundraising is an art form. It's also a science. And there's power – real power – in the art of the thank you.
A recent study called Learning to Say Thank You: The Role of Donor Acknowledgements, authored by Jen Shang, Adrian Sargeant, Kathryn Carpenter, and Harriet Day, is rooted in science and backed by concrete evidence. What I call the thank you letter, this study calls a "thank you acknowledgement," but they mean the same thing. The authors' research delves into what thank you acknowledgements are and what they do, the barriers that exist in creating a successful program, and how these programs can be made more effective. The authors explain the thank you in five ascending levels, beginning as a functional gift receipt and ending at a communication that appreciates donors as individuals, rather than what they can do for the organization.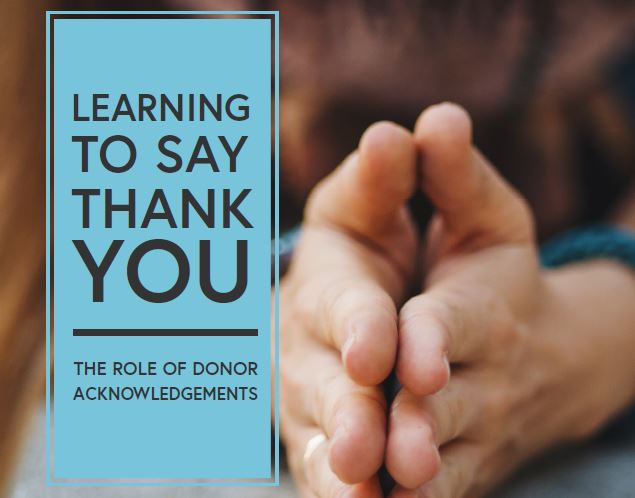 The authors present an understanding of the thank you as a tool to inspire good feelings in supporters, lead to positive donor behaviors, strengthen donor relationships, and appreciate donors as individuals. What especially resonates is the idea that donors feeling "adequately thanked" means more than the organization receiving a second gift. Positive feelings are the primary measure of success. I like how clear the authors are about this. It's about long-term success, after all, and a second gift means little, compared to the donor's actual relationship and feelings toward the nonprofit.
Those who received the thank-you gave on average $45.32 more than those who did not receive the thank-you
Click To Tweet
Learning To Say Thank You is a valuable read. It works both as a comprehensive exploration of the power of thank you and a resource for nonprofits to use for creating (or tweaking) and implementing their own thank you program. For these reasons, I recommend you download it and print it.
You know that your donors are humans, and humans like to feel good. Good feeling has the power to motivate action. Your donors like making a difference through your organization, so you have the chance to make them feel positive things. So how are you making your supporters feel about their gifts? This is worth talking about, and using examples is a great way to clearly communicate that the thank you isn't just important, it's critical. In my work, I encounter a steady supply of good examples, many I believe are worth sharing with you. I spotlight many of them in weekly posts on my blog.
What kind of communications do your donors receive post-online gift? What does that thank you look like, and how does it make them feel?
Your email thank must do more than function as a receipt in order to be successful. So what does yours look like? Is it compelling like some of these, or is it the tired perfunctory receipt? As a donor, I dread the latter, and I know plenty of other donors who share my sentiments. Because it's not about receipts and records. At its core, it's about saying thank you like you mean it. It's about communicating with your donors in a genuine way, which has the potential to secure a meaningful, long-term relationship. The kinds of feelings you inspire are an indication of what that relationship will look like.
You want your donors to experience joy and delight through your communications, and you want them to feel inspired. You can inspire good feelings in them throughout the year, and this pretty much guarantees that they won't forget you. Reaching out post-gift isn't just important, it's critical.
So is your thank you all it can be? Even a great thank you letter can be improved. Case in point: this thank you letter rewrite from the Queen of Thanks, Lisa Sargent. Sometimes, a letter is down in the dumps and in serious need of an overhaul. But other times, just a few tweaks can elevate already great thank you letter to amazing new heights.
If you understand that your thank you is about your donor and how you make them feel, you're in a positive place. You have the power to make your thank you letters truly shine.
Click here to download Learning to Say Thank You from The Philanthropy Centre. And then avail yourself of the following free resources for improving your organization's thank you's.
Free Thanking Resources
The SOFII Thank You Letter Clinic
Are you saying thank you like you mean it? Taking your donor from first-time to lifetime.
How did an already great thank you letter scale new heights with a makeover from Lisa Sargent? Before and After.
Lisa Sargent Copywriter's Gratitude Grab Bag for You to Steal With Abandon. An invaluable cheat sheet for making your donors feel the gratitude.
A free thank-you letter template to download (no optin required).
How are you making your online donors feel? The Thank You email — A *Before* and *After*
New donors to your organization need a special plan. Download our New Donor Timeline (no optin required).
How are you taking your donors from first-time gift to lifetime? Download the Donor Love Toolkit and learn ways organizations just like yours are saying *thank you.*